Are Groceries Getting More or Less Expensive?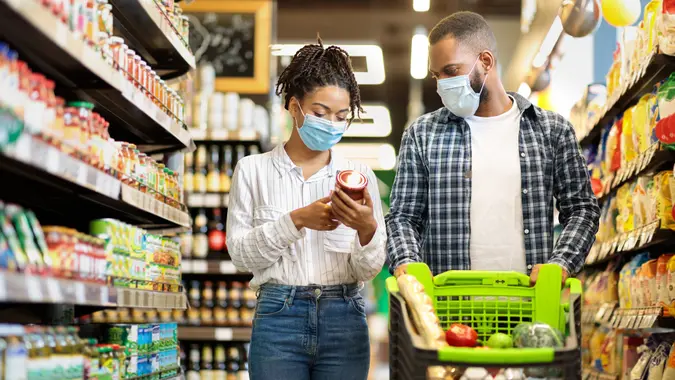 Prostock-Studio / iStock.com
By now, most of us have heard about rising inflation; prices increased by about 5% in 2020. You may have heard that "everything" is becoming more and more expensive. While it is true that prices have been increasing as a whole, there are nuances to it that don't necessarily mean increases across the board. With any average, there will always be outliers on either side.
Read: Shopping Mistakes You're Making and How To Stop
Related: 20 Ways To Pay Less at Costco
Groceries are no different. While some items have significantly increased in price, others have increased only modestly or even gotten cheaper. Thus, to answer the question of whether groceries are getting more or less expensive, GOBankingRates looked at the finer details of how grocery stores are being affected and the new prices on some of consumers' favorite items.
NEW POLL: How Much Will You Spend Over the Holidays Relative to Last Year?
How Are Grocery Stores Affected?
When prices increase at the grocery store, it tends to raise eyebrows. Of course, none of us likes paying higher prices, but it's more than that. Sometimes it can be difficult to understand why you are seeing these changes as they don't seem to align with the latest jobs report or inflation numbers.
Make Your Money Work for You
However, the prices on the shelves don't always align with figures that would drive demand. In reality, the consumer price index (CPI) lags behind, according to Scott Moses, group head of grocery, restaurants and pharmacy group at Solomon Partners. "In-store grocery prices tend to lag PPI by about a quarter. There has been steep recent cost inflation such that retail prices are likely to remain elevated for at least the next three months."
To highlight the difference in cost at different times, GOBankingRates looked at how prices changed during three time periods, dating back to September 2020.
See: 11 Foods Only the Rich Can Afford
Which Items Have Increased the Most in Price?
While several items have increased in price, this is a look at those that have increased the most using data from the Consumer Price Index (CPI). Price changes were analyzed over three time periods:
September 2020 – September 2021

July 2021 – August 2021

August 2021 – September 2021
Meats, Poultry, Fish and Eggs
This category is the one that saw some of the biggest price increases. During the first time period, September 2020 to September 2021, the price of meats, poultry, fish and eggs increased 10.5%. Worse still was beef and veal, which increased 17.6% during the same time period. It increased a further 1.7% in the second time period and 4.8% in the third time period.
Make Your Money Work for You
Poultry increased by 6.1% in the first time period, though just by 1.4% in the second and actually decreased in price 0.5% in the third time period.
Discover: 50 Purchases Buyers Almost Always Regret
Fruits and Vegetables
While not as pronounced as meat and poultry, fruits and vegetables also saw some big increases. Most notably, the price of apples increased 7.8% from September 2020 to September 2021. The price of apples then decreased by 1.5% from July 2021 to August 2021. However, it increased again by 3.8% from August 2021 to September 2021.
Other Foods
The "other foods at home" category includes butter and peanut butter. The price of peanut butter saw a big jump in the first time period of 6.2%. Similar to apples, the price then decreased 2.8% before increasing by 3% in the third time period.
Learn: 30 Things You Should Never Buy Without a Coupon
Has Anything Gotten Cheaper?
Some items have seen only modest increases in price or even a decrease overall. For instance, ice cream increased by 0.3% in the first time period; after that, it decreased by 1.1% and decreased again by 0.3%. Butter decreased by 1.3% in the first time period, increased by 0.1% in the second and decreased 1.7% in the third time period.
Make Your Money Work for You
Have Groceries Gotten More or Less Expensive as a Whole?
If you noticed that the increases in price outweigh the decreases, you would be right on point. The GOBankingRates report also looked at the changes in price for all three time periods both for food at home and all items. That means it analyzed six different numbers, and all of them showed increases in price.
However, just as the numbers in earlier sections suggest, the overall price changes were the biggest in the first time period of September 2020 to September 2021: 4.5% for food at home and 5.4% for all items. The second time period was much more modest with an increase of 0.4% for food at home and 0.3% for all items.
However, increases started to tick up again in the most recent time period of August 2021 to September 2021. During that period, food at home increased in price by 1.2%, and all items increased by 0.4%.
More From GOBankingRates
Last updated: Oct. 28, 2021