Best All-You-Can-Eat Buffet Deals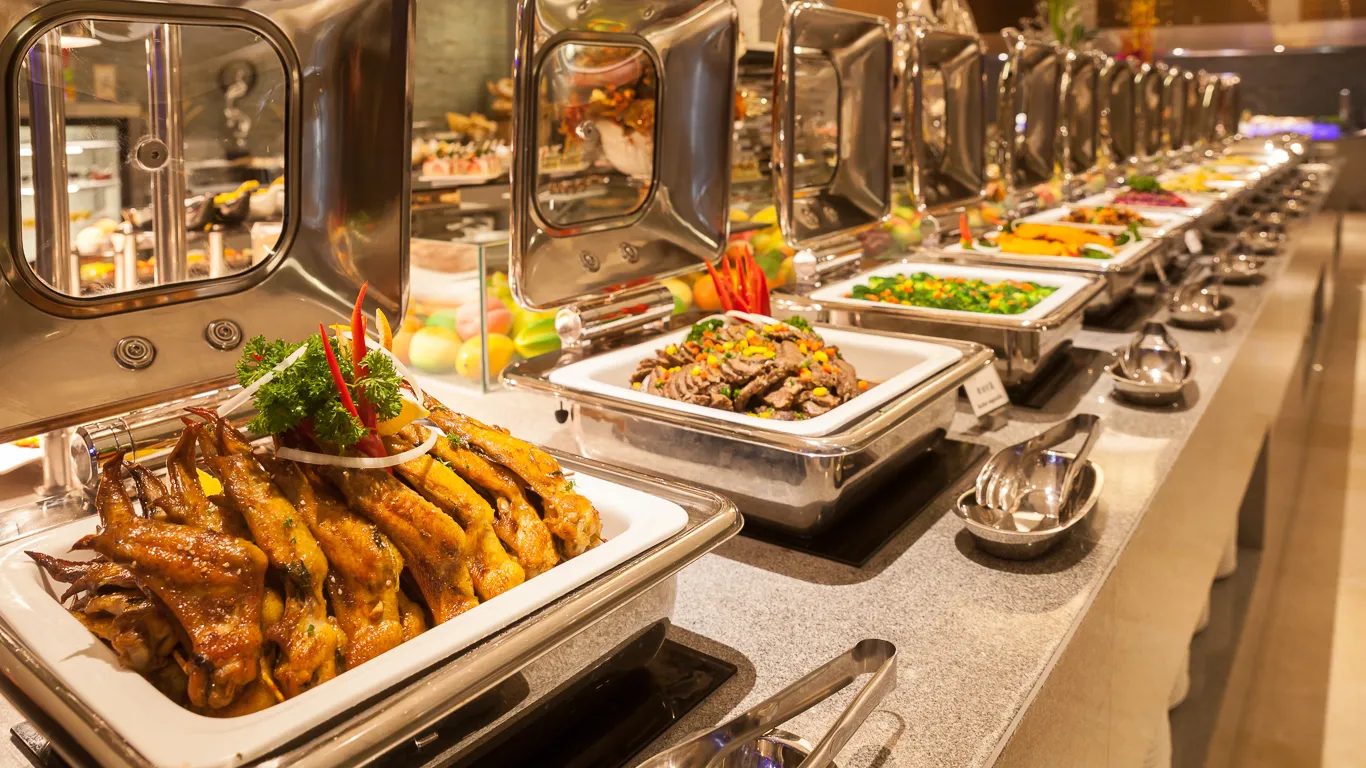 After cooking — and shopping — for friends and family over the holidays, it's nice to kick back and enjoy a warm meal without the effort. From mom-and-pop restaurants to chain buffets, plenty of restaurants offer breakfasts, lunches and dinners of the all-you-can-eat variety.
Find out how you can eat on the cheap at these buffets.
Feast Buffet
Location: Nevada
Las Vegas is home to both dirt-cheap and luxury buffets, with great value at every price point. Check out the Feast Buffet, found at Station Casinos properties in Nevada. This all-you-can-eat buffet's spread varies from location to location, but the two best can be found at the Red Rock Resort and Green Valley Ranch.
Both have American favorites as well as international offerings, including sushi, Italian and Chinese. Swing by for breakfast, lunch or dinner, or for brunch on Sunday.
Pricing at the buffet is surprisingly modest. If you have a Boarding Pass — a loyalty card — pricing at Red Rock Casino is as follows:
Breakfast: $7.99Brunch: $15.99 (Sunday only)Lunch: $9.99Dinner: $14.99
Make Your Money Work for You
Golden Corral
Location: Nationwide
Sometimes, the best deal on an all-you-can-eat buffet is right in your area. Golden Corral stands out thanks to hundreds of locations across 42 states. The restaurant chain is all about comfort food, with staples like pot roast, meat loaf, fried chicken and mashed potatoes.
Pricing and selection vary by location. Lunch and breakfast weigh in at about $8.69 each per person, and the dinner buffet costs around $11.99 — not a bad deal when you're trying to save money on dinner.
Red Apple Buffet
Location: Chicago
If you come from the Midwest, your notion of comfort food might have a strong Eastern European influence, perhaps because of your personal ancestry or because it's part of the region's cultural fabric. If cabbage rolls, pierogi and tasty Polish sausages speak to you, check out Red Apple Buffet on North Milwaukee Avenue in Chicago.
Expect the spread to include favorites ranging from potato pancakes and blintzes to Polish schnitzel and meatballs. In addition to tasty appetizers, desserts and other main course items, try out rich beers off the drink menu.
Weekday lunch buffet costs $15.99, while dinner checks in at $16.99. On weekends, the all-day buffet is $21.99 per person. You can also pay by item or pound.
Bird-in-Hand Restaurant
Location: Bird-in-Hand, Penn.
Nestled in Amish Country in Lancaster County, Bird-in-Hand Restaurant offers country-style favorites, including baked hams, roasts and fresh-baked breads and desserts. In-season fruits, vegetables and meats come from local producers. Guests can even partake in farm-to-fork tours to see how farmers produce the food.
On weekdays, the lunch smorgasbord is $13.75 for an adult. Dinner is $19.95 Monday through Friday. On Saturdays, the price is slightly higher — $15.45 at lunch and $21.45 at dinner.
Child pricing is 99 cents per year of age. If you aren't up for the entire spread, you can enjoy the soup, salad and bread bar for $9.45, or the dessert bar for $4.99.
Pizza Hut
Location: Nationwide
Most people only ever order delivery from Pizza Hut, but certain locations offer a lunchtime pizza buffet. Choose from affordable pizzas with all kinds of toppings, plus salads and pasta. Pricing varies by location but costs as little as $4.99 with the purchase of one drink.
Make Your Money Work for You
Jacob's Restaurant
Location: New York
Enjoy soul food in New York at Jacob's Restaurant. Feast on Southern-style fried chicken, oven-baked turkey and beef short ribs, among other favorites. Macaroni and cheese, buttered corn and corn bread top off this buffet, which costs between $5.99 and $6.99 per pound.
The Secret Garden
Location: West Columbia, S.C.
The Secret Garden offers classic Southern home cooking. Although the buffet is relatively small and changes from week to week, whatever's served is sure to delight. You can find barbecue, fried chicken, macaroni and cheese and other down-home favorites here. Best of all, the cost is just $12.
Gaia's Garden
Location: Santa Rosa, Calif.
Vegetarians and vegans rejoice — Gaia's Garden in Sonoma County is a renowned vegetarian buffet, with some vegan fixings. It serves up lasagna, shepherd's pie and eggplant Parmesan, plus homemade breads and desserts.
Pricing is surprisingly modest, given the premium ingredients. Gaia's Garden also offers the Blue Plate Special, which is just one trip through the buffet line with a 9.5-inch plate for $9.95 at lunch, or $11.95 at dinner.
Dooky Chase's Restaurant
Location: New Orleans
Dooky Chase's Restaurant offers Creole fixings and a lunch buffet Tuesday through Friday. The buffet changes every day but is anchored by a few staples such as hot sausage and red beans and rice. Try the restaurant's fried chicken, macaroni and cheese and peach cobbler. The lunch buffet costs about $20.
Make Your Money Work for You
Pancho's Mexican Buffet
Location: Texas, Arizona, New Mexico, Oklahoma and Louisiana
Tacos, enchiladas and other favorites fill the buffet line at this Mexican restaurant. For dessert, feast on sopapillas and ice cream. On weekdays, the lunch buffet costs $7.99, and dinner is $8.99. On weekends, lunch and dinner cost $10.99.
Photos are for illustrative purposes only and might not reflect the food products listed in this article.
Editorial Note: This content is not provided by Chase. Any opinions, analyses, reviews, ratings or recommendations expressed in this article are those of the author alone and have not been reviewed, approved or otherwise endorsed by Chase.