These Are the Best Dollar Menu Items in America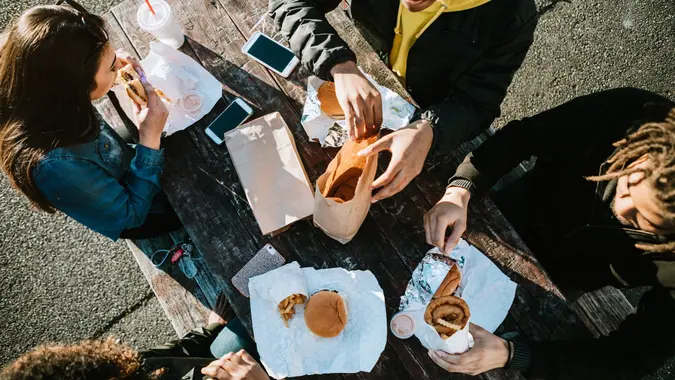 RyanJLane / iStock.com
These days, rising food prices may be busting your grocery budget. But you don't have to live off ramen to save money — head to your nearest fast food restaurant to satisfy your appetite; especially since many popular fast food restaurants are serving deals for $1 or less.
Whether you're craving a cheeseburger or want to try a new taco creation, get your fill without spending a lot of cash.
Read: If Your Credit Score is Under 740, Make These 4 Moves Now
Taco Bell
Although Taco Bell only has four items on its Cravings Value Menu for $1 — Spicy Potato Soft Taco, Cheesy Roll Up, Cinnamon Twists and Cheesy Bean and Rice Burrito — you can still get favorites like the Fiesta Veggie Burrito, Beefy Melt Burrito and Chipotle Ranch Grilled Chicken Burrito for only $2.
You also have the option to customize some of these items with upgrades like guacamole, jalapeño peppers and fire roasted salsa for an extra fee.
Make Your Money Work for You
Taco Bell's $1 Menu
$1 Spicy Potato Soft Taco
$1 Cheesy Roll Up
$1 Cheesy Bean and Rice Burrito
$1 Cinnamon Twists
Wendy's
Although Wendy's is no longer offering a dollar menu, a junior Frosty is an affordable treat at just 79 cents. Unfortunately, that's all you'll be able to get if you just have around $1 in your wallet.
You can, however, take advantage of Wendy's specials, including the 4 for $4 meal, which includes a Jr. Cheeseburger, four-piece spicy or crispy Nuggets, Jr. Fry and a value-sized drink. The chain also offers the $3 breakfast, which includes two items: an egg-and-swiss croissant topped with sausage or bacon and a small seasoned potatoes.
Wendy's $1 Menu
$0.79 Jr. Frosty
4 for $4 Meal
$3 Breakfast
Burger King
At Burger King, you might be able to find a few items for a buck, depending on where you live. Items include Large Fries or Onion Rings or a Sausage Biscuit.
Burger King also offers a $6 two Whopper Jr. Sandwiches and two Small French Fries deal at participating U.S. restaurants when you use the BK App or bk.com to order from the "Offers" section of the menu. The app also has great offers on BK favorites like the Original Chicken Sandwich, deals on Family Bundles and Snack Boxes, $1 for any size french fries or onion rings and a BOGO Whopper offer.
Make Your Money Work for You
And if you're a new user, you can get a free Whopper, Croissan'wich or Original Chicken Sandwich with a $3 purchase.
Although there's not an official dollar menu, these six items for $1 will fill you up on National Junk Food Day.
Burger King's $1 Menu
$1 Soft Serve Cup or Cone
$1 Large Fries on the BK app and bk.com
$1 Large Onion Rings on the BK app and bk.com
$1 French Toast Sticks
$1 Small Hash Browns
$1 Sausage Biscuit
Del Taco
Del Taco has retired its Buck & Under menu, but you can still order everything from burritos to iced coffee for under two dollars from its 20 Under $2 menu. This Mexican-style eatery offers some of the best fast food deals for under $2, including specialty items like the Chicken Del Carbon Taco and the new Chicken Cheddar Rollers.
If you're craving something crunchy and filling, the Crunchtada Tostada might be your best pick, because it's loaded with refried beans, tangy salsa and cheddar cheese. Plus, the chain also pays homage to "Taco Tuesday" by offering three Snack Tacos for $1.69 every Tuesday from 3 p.m. to 11 p.m.
You're sure to find the foods you're craving on Del Taco's 20 Under $2 menu.
Make Your Money Work for You
Del Taco's 20 Under $2 Menu
$1.49 Chicken Taco Del Carbon
$1.79 Chicken Taco Del Carbon Guac'd Up
$1.59 Crispy Chicken Taco
$1.89 Crispy Chicken Taco Guac'd Up
$1.39 Bean & Cheese Burrito with Red Sauce
$1.39 Bean & Cheese Burrito with Green Sauce
$1.39 NEW Chicken Cheddar Rollers
$1.39 Crunchtada Tostada
$1.00 Snack Taco
$1.19 Snack Queso Quesadilla
$1.49 3 Layer Queso Nachos
$1.49 Medium Brewed Gold Peak Iced Tea
$1.69 Small Cafe De Olla Iced Coffee
$1.59 Mini Shakes
$1.49 Donut Bites
$1.69 Regular Real Strawberry Lemonade
$1.69 Regular Real Strawberry Sprite
$1.69 Mini Cinnamon Churros
Dairy Queen
Dairy Queen no longer offers a dollar menu, but DQ still serves up different fast food deals throughout the year, including Happy Hour specials, which may include your favorite drinks and the always popular buy-one-get-one for 99 cents Blizzard promotion.
A lonely dollar won't buy anything at Dairy Queen, but the restaurant runs a value-priced snack menu and lunch deal if your buck brings a few friends.
Dairy Queen's $1 Menu
2 for $5 — Choose any two from a cheeseburger, chili dog, small sundae, pretzel sticks with zesty queso, regular fries or any size soft drink
$7 Meal Deal — Choose from a 3-piece chicken strip lunch or Original Cheeseburger served with fries, drink and sundae
McDonald's
Dollar menu fans, rejoice — the "Golden Arches" has a $1 $2 $3 Dollar Menu with items for all occasions. For example, you can get any small soft drink for $1.
Prices, participation and exact menu items will vary by store, but here is a list of all the items you might find on the McDonald's $1 $2 $3 lunch and breakfast value menus.
McDonald's $1 $2 $3 Menu
$1.69 McChicken
$1.99 McDouble
$1.89 French Fries
$2.25 4-piece McNuggets
$1.90 Small Iced Coffee
$1 Small Drink
Dunkin' Donuts
Head to your local Dunkin' Donuts destination for breakfast if you're on a tight budget. Dunkin' Donuts doesn't have an official dollar menu, but a lonely buck can still satisfy your Dunkin' desires — even if it doesn't quite cover a coffee.
Dunkin' Donuts $1 Menu
Tim Hortons
Famous for its freshly brewed coffee, Tim Hortons is also a good place to get your donut fix for under a dollar. Even though the eatery doesn't have a dollar menu or a value menu, you can pick up a regular donut for 99 cents or for $1 more treat yourself to 10 signature, bite-sized donut holes known as Timbits.
Bring your sweet tooth and a buck and nosh on some classic sweets to satisfy your craving.
Tim Hortons' $1 Menu
$0.99 Classic Cookie
$0.99 Donut
Sonic Drive-In
If you're in the mood for a retro diner experience on a tight budget, pull up for drive-in service and get your fill of fast food favorites at Sonic.
While there's no dollar menu to choose from here, you can enjoy Sonic's Happy Hour daily from 2 to 4 p.m. and get half-price on slushes, teas and other drinks or order online to get the same discount all day.
Sonic Drive-In's $1 Menu
Half-price drinks, including soft drinks, iced teas, regular lemonades and limeades, frozen lemonades and limeades, Ocean Water and famous, real fruit and candy slushes
Half-price drinks and cheeseburgers when you order through the app or online
Cynthia Measom, Jodi O'Connell and David Nadelle contributed to the reporting for this article.
Information is accurate as of Oct. 31, 2022. Prices and deals are subject to change and may vary by location.
Make Your Money Work for You