8 Best Food Deals at Walmart Through the End of Winter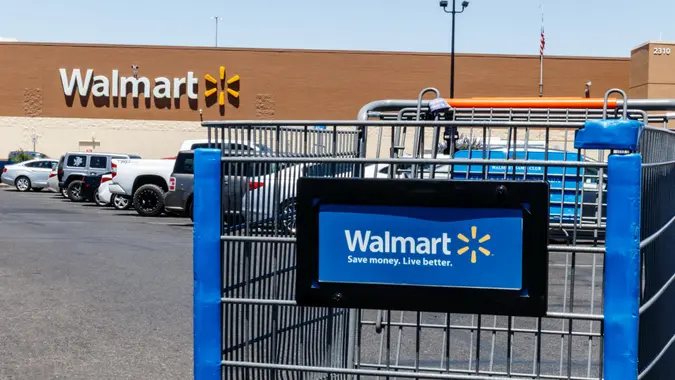 jetcityimage / Getty Images
The official end to winter is March 20, and grocery prices are still out of control.
Costco's Best Deals? Employee Reveals 10 Standout Buys for Your Money
More: 3 Ways Smart People Save Money When Filing Their Taxes
According to the USDA, grocery prices in the following eight categories are still expected to increase in 2023 by these percentages:
Meats other than pork, beef or veal: 12.8%  
Dairy products: 8% 
Fats and oils: 16.5% 
Processed fruits and vegetables: 9.6% 
Sugar and sweets: 10.6% 
Cereals and bakery products: 12.0% 
Nonalcoholic beverages 8.7%
Other foods: 6.8%
Any time you have a chance to save on a grocery item you'll use, you should take it. To help, here are eight of the best food deals at Walmart to pick up through the end of winter.
Eggs
Eggs are expensive right now — but a little less so at Walmart.
"While wholesale prices have finally come down, we're not seeing that reflected in the grocery stores yet as consumer prices tend to lag a bit behind wholesale," said consumer analyst Julie Ramhold with DealNews.
Make Your Money Work for You
"Even so, Walmart currently has some of the best prices for eggs, with one in my area charging around $4.42 for 18 eggs. Elsewhere a dozen eggs will cost at least $5, if not more. While we wait for prices everywhere to come down, Walmart may be your best bet for saving on this staple."
Milk
"In general, buying Walmart's Great Value brand of milk may be cheaper than other store brands elsewhere. For example, right now a grocery store near me is charging $4.37 for a gallon of whole milk, while Walmart is charging $3.14 for a gallon of whole milk," said Ramhold.
"Both are store brands, too, so this isn't a case of generic versus name-brand. As grocery prices are still hurting many consumers, it may be best to shop for staples like this at Walmart for the time being."
Live Richer Podcast: How To Leverage Your Investments
Honey Wheat Bread
"In general, bread is going to be cheaper at Walmart compared to other grocery stores. However, the store brand honey wheat is especially notable since a 20-ounce loaf at Walmart is $1.78 for the Great Value brand, while another store brand at another store is $3.31 for the same amount," Ramhold said.
Make Your Money Work for You
"If you have a taste preference, then obviously, you'll want to get whichever one you like best, but if you're just looking for affordable staples for sandwich lunches, you can't go wrong with Walmart's bread."
Soup
"Perfect for cold winter nights, opt to buy soup from Walmart where you can score Pacific Foods Organic Creamy Butternut Squash Soup for $4.12 instead of paying 27 cents more at Target for the same variety," said Rebecca Gramuglia, consumer expert at TopCashback.
Hot Cocoa Mix
"Another cold winter staple — score a 30-count of Swiss Miss Milk Chocolate Hot Cocoa Mix for $6.92 at Walmart," said Gramuglia. "You'll end up paying nearly $3 more at Kroger for the same variety."
Tortilla Chips
"A classic snack for game day or movie night — save nearly $1.50 by buying Tostitos Bite Size Tortilla Chips at Walmart for $4.48 instead of purchasing them at Target," Gramuglia said.
Make Your Money Work for You
Kellogg's Eggo Blueberry Frozen Waffles
Buying these Kellogg's blueberry frozen waffles in the larger 24-count quantity can also help you save. A 10-count package at Walmart is $2.82 or about 28 cents per waffle, while the 24-count box is $5.98 or about 25 cents per waffle.
If your family doesn't like blueberries, Walmart also sells 24-count boxes of Buttermilk or Chocolately Chip Eggo frozen waffles for the same price. If you buy this same item at Albertsons, it sells for about $1.50 more.
Nature's Path Organic Pumpkin Seed and Flax Granola
This 28.2-ounce box of Nature's Path Organic Pumpkin Seed and Flax Granola contains two 14.1-ounce bags for $8.98. With six grams of protein, five grams of fiber and calcium and potassium, it's the perfect nutrient-rich, cinnamon-flavored winter snack on its own, or you can use it as a topping for Greek yogurt or oatmeal.
A 24.7-ounce bag of this same item at Target is 52 cents more — $9.49 for 3.5 less ounces of product.
More From GOBankingRates
Make Your Money Work for You