7 Best Food Items To Buy at Sam's Club in March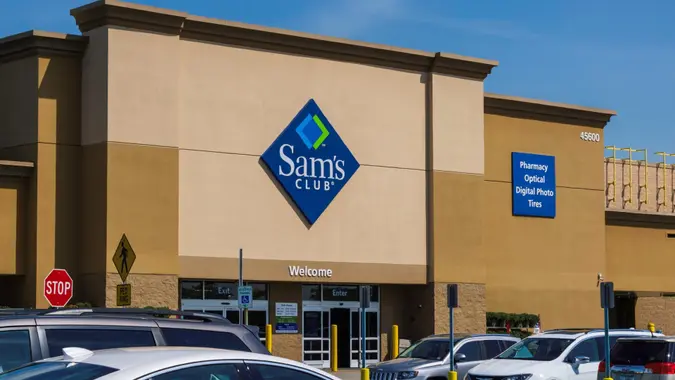 RiverNorthPhotography / Getty Images
March is a fun time to shop for food and goodies, with a couple holidays on the horizon this month and next — St. Patrick's Day and Easter. And the good news for kids and families is that Sam's Club, the wholesale store owned by the Walmart corporation, knows a great deal and how to sell you on it.
They've got especially great prices on a number of grocery items that will make your shopping list simple and cooking that much easier. Here are some of the best food items to buy at Sam's Club in March.
Costco's Best Deals? Employee Reveals 10 Standout Buys for Your Money
See: 3 Signs You're Serious About Raising Your Credit Score
Reese's Peanut Butter Eggs, Easter Candy Packs
Get ahead of the Easter Bunny with these Reese's Peanut Butter Eggs Easter candy packs. According to Julie Ramhold with DealNews.com, "There are some who swear that the Reese's eggs are the ultimate Reese's candy as it has the perfect ratio of peanut butter and chocolate. If you happen to feel that way, you can stock up before April 7 and get 36 of these regular-sized treats for just $23.48, which is roughly 65 cents per egg." 
Make Your Money Work for You
Put them in your kids' Easter baskets or keep them to yourself, but either way this is a great deal on seasonal candy.
Member's Mark Yeast Dinner Rolls
Having fresh rolls with dinner is a nice touch, but baking them can be time-consuming, Ramhold said. Thankfully, Member's Mark yeast dinner rolls make the whole process much easier.
"They're ready-to-eat, so all you have to do is heat them up if you want and have with your favorite spread, or eat them right out of the bag. They're super convenient and you can get 24 of them for just $2.98 through March 31," Ramhold explained.
Live Richer Podcast: Scamdemic – Don't Fall Victim to These Money Scams
Fast Fixin' Restaurant Style Country Fried Steaks
Ramhold said that Fast Fixin' Restaurant Style Country Fried Steaks come highly recommended thanks to their convenience.
"It's a satisfying hot meal that's perfect when it's been a long day and you don't want to do anything complicated for dinner," she said. "They are great paired with mashed potatoes and the above mentioned dinner rolls. You can get a 10-count bag for just $13.28 which works out to about $1.33 each."
Make Your Money Work for You
Cheerios Gluten-Free Breakfast Cereal
If you love cereal for its convenience, but also need to keep gluten-free, Ramhold recommends these Cheerios.
"You'll get two 20.35oz boxes for just $4.34, which works out to $2.17 each. That's an excellent deal considering elsewhere you'll have to pay around $4.78 for a single family-sized 18oz box or even as much as $8 by shopping certain stores through services like Instacart. Don't wait too long on this one, though-the offer is only good through March 17."
Frozen Raw Easy Peel Shrimp
If you're giving up beef for Lent, or just enjoy seafood, now's the time to jump on this great deal at Sam's Club on a 3-lb. bag of easy to peel, farm raised frozen shrimp.
Because they're frozen, you can cook just a few and save the rest for later, or use the whole bag. Whip up some rice and veggies or go surf-and-turf, a seafood paella or simply saute with garlic and butter! Just $16.98 for the bag.
Make Your Money Work for You
Hormel Mary Kitchen Corned Beef Hash 
St. Patrick's Day is on March 17. If you observe but don't have the energy to whip up an entire meal of corned beef and cabbage, Hormel has you covered at Sam's Club prices with a six-pack of corned beef hash that you can eat on the fly or work into a more elaborate meal. It's just $13.74 for a pack of six.
Pirate's Booty Aged White Cheddar Puffs 
Want to have healthy snacks on hand for kids and adults alike? Check out this 40-pack of individually wrapped, single serve bags of Pirate's Booty — that delicious corn and cheese snack with the delightfully puffy crunch. These white cheddar snacks (made with real cheese) are gluten-free and made without artificial colors or preservatives. Get this 40 pack of 0.5 oz bags for just $12.16.
More From GOBankingRates
Make Your Money Work for You