Best Hot and Spicy Fast Food Menu Items Under $5

6 min Read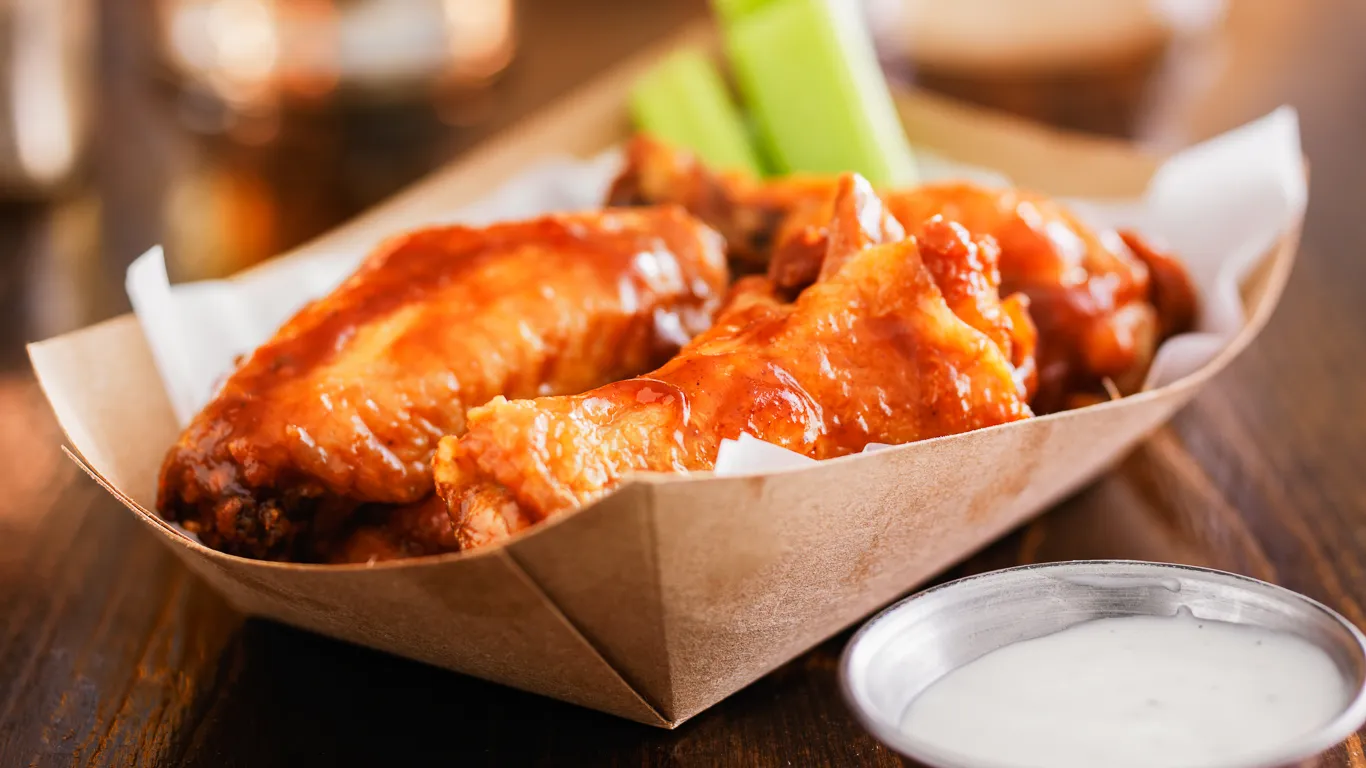 Mark Jan. 16 on your culinary calendar — and get ready to get your spice on. It's International Hot and Spicy Food Day, a celebration of all that's tongue-burning, eye-watering and sinus-clearing in world cuisine. If you're still operating on a lean post-holiday season budget, luck is on your side — if you dine wisely. Whatever your tolerance for hot food, you'll find something to suit your taste.
Click through to find the hottest tickets on the fast-food menu — literally.
Make Your Money Work for You
Arby's Buttermilk Buffalo Chicken Sandwich
The familiar, fiery tang of Buffalo chicken wings is an easy flavor to like, but the wings themselves aren't necessarily the most convenient way to dig in. They're a messy, lick-your-fingers kind of a treat: Great during the game, but not so good when you're grabbing lunch on the go.
Arby's Buttermilk Buffalo Chicken Sandwich is targeted squarely at that neater niche in the market. The white meat breast fillet is marinated Southern-style in buttermilk, then finished after cooking with a generous coating of Buffalo sauce. The sandwich is served on a premium bun, with shredded iceberg lettuce and creamy Parmesan peppercorn ranch sauce to complement the heat and acidity of the chicken.
Chick-fil-A Spicy Chicken Sandwich
Sometimes, less is more. That's the philosophy you'll see at work in the Chick-fil-A Spicy Chicken sandwich. It's just a hand-breaded fillet of spicy chicken, served on a bun with dill pickle chips. It takes real confidence to be that deliberately minimalist — and this sandwich delivers.
If you're less of a purist you can order the deluxe version of the sandwich, with added lettuce, tomato and pepper jack cheese for only a few cents more.
Del Taco Spicy Grilled Chicken Burrito
Sometimes hot and spicy comes in wrapped-up form. This amounts to grilled chicken, rice with a hint of lime, beans made from scratch and cheddar cheese smothered in a spicy and tangy green sauce.
The green sauce is the true star in this caliente burrito. Made up of jalapeños, diced green chiles, cumin and green chile puree, it adds a kick that will have you reaching for your drink of choice.
If the burrito is not spicy enough, feel free to add on one of Del Taco's bold signature hot sauces. They range from the original mild sauce to the medium Del Scorcho to the hottest of the hot, the Del Inferno.
Make Your Money Work for You
Five Guys Cajun Fries
These Cajun fries achieve the perfect balance between savory and spicy — especially if you love Five Guys fries, but are yearning for a little flavor boost. The Cajun seasoning blends paprika, cayenne, black and red peppers, onion and garlic powder, oregano, thyme and salt.
For the flavor-cautious, get the Cajun seasoning on the side and experiment with the flavor pairing. Jalapeños and hot sauce can also add more heat, for the more adventurous.
Jack In The Box Spicy Sriracha Burger
Sriracha sauce now turns up in hot and spicy food everywhere — and fast food menus are no exception. Jack In the Box decided to spice up their signature burger offering with a splash of sriracha for a sizzling combination of flavor.
The basic burger consists of things you already know you like: an all-beef patty, hickory-smoked bacon and Swiss-style cheese, topped with lettuce and tomato. Like many other Jack In The Box staples, it's served on the chain's signature toasted sourdough rounds rather than a conventional bun.
The spicy heat comes from two sources. One is the creamy sriracha sauce that gives the burger its name and the other derives from the sliced jalapeños layered on top. Heat management is simple: Just add or take away jalapenos when you order your sandwich.
KFC Nashville Chicken
Nashville is known for a bevy of wonders, most notably country music. But another popular export in recent years has been an eye-watering take on fried chicken, known simply — and accurately — as Nashville Hot Chicken.
KFC's take on the tradition comes in three forms: Bone-in fried chicken, chicken tenders and petite Chicken Littles sandwiches. The chicken pieces are served with dill pickle chips and a biscuit, and you can round out your meal with an assortment of familiar side dishes.
Make Your Money Work for You
Popeyes Spicy Bonafide Chicken
Few can pass by a Popeye's dinner combo with a mouthwatering side and soft biscuit.
Here, true comfort food moves up a notch in heat with Cajun rice or fries, added on. Also, there is some good news for folks who don't want to go overboard with spice — you can order this chicken either spicy or mild. If you really want to go all out, try a side of the ghost pepper wings. Remember: Fresh biscuits can soak up heat.
Sonic Buffalo Wings
Sonic Drive-In seems to have gotten it right because their boneless wings have been a hugely popular addition to the chain's menu. Originally launched in the fall of 2015, they were brought back in summer 2016 and remain on the menu today.
Try the Buffalo Boneless Wings for a traditional hot-and-tangy splurge. The Asian Sweet Chili or Honey BBQ versions also bring on variations of exciting spices.
Taco Bell Fiery Doritos Locos Taco
A taco is ordinarily as bold or as hot as you choose to make it depending upon your topping choices. The tortilla shell itself is unseasoned, serving mostly as a wrapper for the filling. That's not the case with Taco Bell's Fiery Doritos Locos Tacos. As the name suggests, the shell of these tacos is a giant, tongue-searing version of the iconic snacking chip.
If you want to heat up the inside to match the outside, you've got a couple of options. Try loading it up with sliced jalapeños or drizzling it with habanero sauce — if you really want to go for the gusto, do both.
Wendy's Spicy Chicken Sandwich
If you're in the middle of a blah work day and want something at lunchtime that will wake you up, Wendy's Spicy Chicken Sandwich might be just the thing.
The crispy-coated breast fillet portion looks like a fairly ordinary chicken patty — but appearances here are deceiving. The coating packs a lot of heat, provided by black and red pepper, chilies and — surprisingly — some piquant mustard seeds. These tiny seeds are widely used in Indian and Asian cooking, and they bring a pungent, sinus-clearing kick to the spice mixture.
If that sounds intimidating, don't worry — the toppings of lettuce, tomato and mayo take the edge off and add a fresh, juicy element to the sandwich.
Laurel Jacketti Funk contributed to the reporting for this article.
About the Author