Your Cost to Dine at One of These Restaurants on Thanksgiving

7 min Read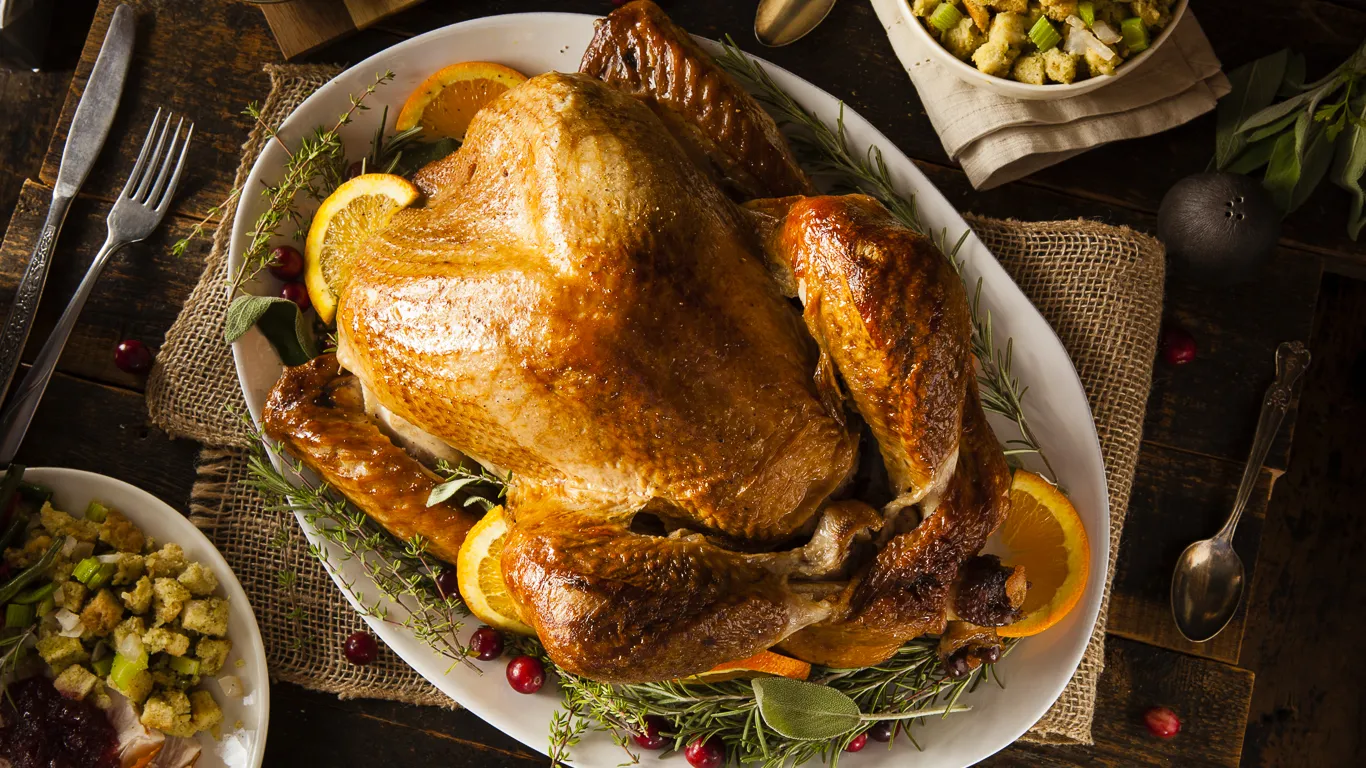 Cooking and serving traditional Thanksgiving food requires a significant investment in time, energy and money. That's why roughly 15 million Americans eat Thanksgiving dinner in a restaurant, according to estimates by the National Restaurant Association.
If you're looking for a list of Thanksgiving restaurants, businesses across the country are ready to serve special Thanksgiving dinner deals for diners seeking refuge from the kitchen. Click through to see which restaurants are open on Thanksgiving.
Make Your Money Work for You
1. Churchill Downs
Location: Louisville, Ky.
Cost of meal: $70
The Kentucky Derby horse race is the busiest day of the year at legendary racetrack Churchill Downs. The second-busiest day? Thanksgiving, when 7,000 people head to the track and enjoy a meal served in astonishing proportions.
In preparation for the meal, the track orders a whopping 3,000 pounds of turkey, 1,756 pounds ham, 16,000 dinner rolls, 1,200 pounds of corn and 7,840 slices of pie, according to a Conde Nast Traveler report. Churchill Downs charges $70 for reserved dining, and races start at 11:30 a.m.
More Turkey Facts: Here's How Much the Average Person Spends on Thanksgiving Dinner
2. The Capital Grille
Location: Nationwide
Cost of meal: $39 per adult; $16 per child
The Capital Grille is a popular chain restaurant with a Thanksgiving menu that features slow-roasted turkey with brioche stuffing, French green beans with almonds, cranberry pear chutney and mashed potatoes. The menu is $39 for adults and $16 for children. For $10, you also can order pumpkin cheesecake. Pricing might vary at different locations.
3. Bouley
Location: New York, N.Y.
Cost of meal: $195
Are you looking for an upscale meal in New York on Thanksgiving? Bouley is offering a six-course tasting menu for $195 plus tax and gratuity at 7 p.m. in the Big Apple.
The Thanksgiving dinner also includes a wine pairing. Dishes include butternut, acorn, and hubbard squash soup with almond milk and organic Pennsylvania young turkey served with local Brussels sprouts, organic pistachios, Cape Cod cranberry chutney and black walnut sage stuffing. Hungry yet?
4. Ruth's Chris Steak House
Location: Nationwide
Cost of meal: $39.95 per adult; $12.95 per child
Ruth's Chris, the steakhouse chain, is serving up a deal to be thankful for — a three-course turkey dinner for $39.95 with a $12.95 children's menu. Dinner includes sausage and herb stuffing, homemade gravy, and cranberry relish. Be sure to check and see if the location nearest you is participating.
Make Your Money Work for You
5. Pechanga Resort and Casino
Location: Temecula, Calif.
Cost of meal: $32 per person
Seven California's Pechanga Resort and Casino eateries will be open on Thanksgiving. Those restaurants include The Great Oak Steakhouse, Paisano's Italian, Kelsey's, Pechanga Cafe, Pechanga Buffet, Journey's End, and Umi Sushi and Oyster Bar.
At Paisano's Italian, diners can pay $32 per person for a four-course prix fixe menu. Guests have a choice to start with either ricotta-stuffed mushrooms or baked, seasoned olives, followed by roasted pumpkin and pear soup before the main course.
6. Buca Di Beppo
Location: Nationwide
Cost of meal: $22.99 per person or $134.99 for a group of six
Starting at 11 a.m., the Italian restaurant chain will serve Thanksgiving dinners for $22.99 for individuals, $68.99 for groups of three, and $134.99 for groups of six. Fare includes sliced white-meat turkey, homestyle gravy, garlic mashed potatoes, spicy Italian sausage stuffing, green bean blend, cranberry sauce and pumpkin pie. Call your local Buca di Beppo to make reservations.
Don't Forget Your Friends: Your Guide to Hosting the Ultimate Friendsgiving
7. Boston Market
Location: Nationwide
Cost of meal: $12.99 per person or feast for three for $34.99
For those looking for fast food open on Thanksgiving, consider Boston Market for a traditional Thanksgiving meal. An individual meal is $12.99 and includes the choice of sliced turkey or rotisserie chicken, two sides, a dinner roll, and a slice of pumpkin or apple pie. There's also the feast for three people for $34.99, which includes turkey or chicken, three large sides, and three dinner rolls and slices of pie.
8. Breeze Restaurant
Location: Nantucket, Mass.
Cost of meal: $72 per adult; $33 for children
Breeze restaurant, which is located in the Nantucket Hotel and Resort, is offering Thanksgiving fare for $72 per person and $33 for children ages 5 to 12. The menu includes soup, a meat and cheese bar, salads, carving stations, sides, and desserts. If that wasn't enough to get your taste buds tingling, Breeze is also serving up thyme-roasted turkey and bourbon-maple and brown-sugar glazed ham among the familiar Thanksgiving-themed offerings.
Make Your Money Work for You
9. Bob Evans
Location: Nationwide
Cost of meal: $14.99 per adult; $6.99 per child
If you're asking, "where are restaurants open for Thanksgiving near me?" Bob Evans has locations practically everywhere and is one of the restaurants open Thanksgiving 2017.
This restaurant's holiday dinner special includes choice of entrée, sides, endless bread, and dessert for $14.99. The special "turkey lurkey" kids dinner costs $6.99. Entrees include slow-roasted turkey, hickory-smoked ham, and slow-roasted pork and mushrooms.
10. Fleming's Prime Steakhouse & Wine Bar
Locations: Nationwide
Cost of meal: $50 per adult
Guests can enjoy a three-course turkey dinner with all the trimmings starting at 11 a.m. on Turkey Day at Fleming's. For those ages 12 and up, dinner service will begin with either Fleming Salad or lobster bisque, followed by traditional favorites. There's even a choice of dessert: pumpkin cheesecake or carrot cake.
Fleming's offers a special Children's Thanksgiving menu for $20 for those under 12. The cost is $50 for adults, allowing you to still save cash when you dine out.
11. Fatz Café
Location: Georgia, North Carolina, South Carolina, Tennessee, Virginia
Cost of meal: $10.99 per adult
All Fatz restaurants will be open on Thanksgiving Day from 11 a.m. to 4 p.m., offering a traditional Thanksgiving dinner that includes turkey and ham and all the trimmings for $10.99. The full dinner menu and seasonal drink specials will also be available.
12. Marie Callender's
Location: Nationwide
Cost of meal: $21.99 per adult; $8.99 per child
Marie Callender's is open for business on Thanksgiving, serving up its fresh-baked golden cornbread and a choice of potato cheese or vegetable soup or a house salad to start. Guests have a choice of turkey or oven-baked ham.
All entrées include seasonal vegetables, fire-roasted yams with cranberry streusel topping, and mashed potatoes. There's also a choice between pumpkin or apple pie.
Make Your Money Work for You
13. BLT Steak
Location: Washington, D.C.
Cost of meal: $82 per adult; $40 per child
If you're looking for a prix fixe menu in the nation's capital, check out BLT Steak. The restaurant will be dishing out turkey with its three-course menu, although you'll still have prime rib as an option. Options fully embrace the harvest season, including a kabocha squash risotto starter and pumpkin tart with maple ice cream for dessert.
Just Take a Pass: Worst Gourmet Food Items to Order at a Restaurant
14. Black Angus Steakhouse
Location: Nationwide
Cost per meal: $19.99 per adult; $9.99 per child
Black Angus, which boasts more than two dozen locations nationwide, is open for Thanksgiving. Holiday meals cost $19.99 for adults and $9.99 for kids, although the restaurant warns that prices can vary. Seating is limited, so call for a reservation and menu specifics.
15. Sixty5 on Main
Location: Nyack, N.Y.
Cost of meal: $36 per adult
If you will be in upstate New York on Turkey Day, stop by Sixty5 on Main. According to a restaurant representative, Sixty5 on Main will offer a prix fixe menu with customer favorites, as well as some specials.
The prix fixe menu is $36 per adult and includes an appetizer, main dish and a dessert. Executive chef Moshe Grundman grew up in Israel and adds his own unique blend of Mediterranean, American and international flavors.
16. Cracker Barrel
Location: Nationwide
Cost of meal: $12.99 per adult; $7.99 per child
Cracker Barrel will serve a special in-store Thanksgiving meal from 11 a.m. to 10 p.m. The Homestyle Turkey 'n' Dressing Meal is available for $12.99 per adult and $7.99 per child.
This traditional meal comes complete with gravy, a sampling of sugar-cured ham, sweet potato casserole with pecans, cranberry relish, choice of a country side, a refillable beverage, signature biscuits or corn muffins, and a slice of pumpkin pie for dessert.
Up Next: 34 Stores Open on Thanksgiving Day and Black Friday
About the Author