Breakfast Is the Most Expensive Meal of the Day — Eat These 8 Creative Recipes To Save Money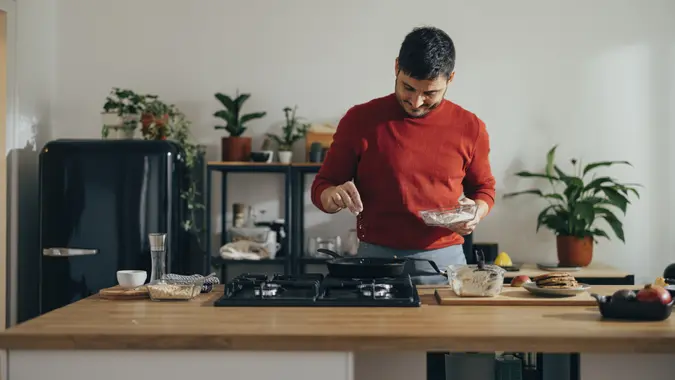 miniseries / Getty Images
Breakfast may be the most important meal of the day, but it's also quickly becoming the most expensive, too. Breakfast staples like eggs, cereal and juices are not budging.
See: Costco's Best Deals? Employee Reveals 10 Standout Buys for Your Money
Find: 3 Ways Smart People Save Money When Filing Their Taxes
As GOBankingRates recently reported, egg prices alone are up another 8.5% as of January, according to the latest consumer price index data. In total, that's an incredible 70.1% price hike since this time last year. Per The Wall Street Journal, this is largely due to an avian flu outbreak — with egg production 29% lower at the end of December 2022 than in the beginning of last year. However, some industry analysts and critics, such as Farm Action, accuse the largest egg producers of price gouging and collusion.
Boxes of cereal are also seeing price hikes due to the growing cost of wheat and grains as a result of the war in Ukraine (Eastern Europe is one of the biggest global exporters of these products). Cereal prices are up 15% year-over-year, and the sourcing issues are also affecting flours needed to make popular breakfast-oriented baked goods.
Make Your Money Work for You
Juice costs more now as well (with a 12.4% increase over the past 12 months), marking the highest jump in over a decade, according to The Wall Street Journal. Weather is largely to blame as the biggest producer, Florida, has been rocked with unseasonable freezes, substantial hurricanes and citrus disease — all of which have devastated crops.
Take Our Poll: What Are Your Financial Priorities in 2023?
Food Stamps Schedule: When To Expect SNAP Payments in February
So, what should you do to fill up with the all-important morning meal without breaking the bank? Try these alternatives instead:
Yogurt parfaits: Dairy prices have remained unchanged in January. For breakfast, consider eating yogurt to get some heartiness from the protein. In fact, some brands (like Ratio) offer a whopping 25 grams of protein per container, which gets you to the amount offered in four eggs. Add some fruits for a parfait — the fresh produce index has fallen 0.5% as of January, so you'll be saving there, too.
Scrambled tofu skillet: Love scrambled eggs but not the current prices? Scramble up some tofu with some spices and you'll get pretty close. Blogger Nora Cooks suggested using a potato masher to get the texture right from a block of firm tofu. Then, add in some garlic and onions to taste, as well as any other veggies you enjoy. Add hash brown potatoes and you'll have a skillet!
Smoothies: There's no better way to get a solid meal in one glass. With veggies and fruits falling in price, load up the blender with bananas, some spinach, pineapple and chia seeds and you'll have a green smoothie that'll have you feeling satisfied and full. Try other additions like peanut butter and nut milks for variation.
Chilaquiles: This savory, spicy dish gets you pretty close to a hearty omelet without the eggs. Add a bottom layer of tortilla chips, add some salsa, avocado and tons of veggies — plus sour cream and hot sauce — and you've got a winning meal. You can also add some protein in the form of black beans or chorizo.
Eggless waffles and pancakes: You can still enjoy your favorite flapjacks and waffles without eggs. You'll just need to load up on the buttermilk and butter, but with dairy prices down, it could cost less than the traditional way of making these staples.
Tater tot breakfast casserole: This idea comes from Insanely Good Recipes. Top some cooked tater tots with some scrambled tofu, cheese and spinach and bake it for a hearty dish straight out of the oven — one that everyone will wake up for.
Avocado toast: Yes, it may be trendy… but there's good reason for that. Avocados have finally come down in price, according to Wells Fargo, costing 20% less than this time last year. So slice one up, mash it, and put it on some hearty toast for a filling meal with lots of healthy fats.
Chickpea omelet: Another great idea from Insanely Good Recipes: an omelet made from chickpeas. Aquafaba, or the juices in a can of these beans, can be whipped up into an egg-like consistency, making it a popular vegan choice for years now. Add in your favorite veggies, cheese and protein and you'll have a strong substitution.
More From GOBankingRates
Make Your Money Work for You