Make These Simple But Essential Game Day Snacks for Under $12

6 min Read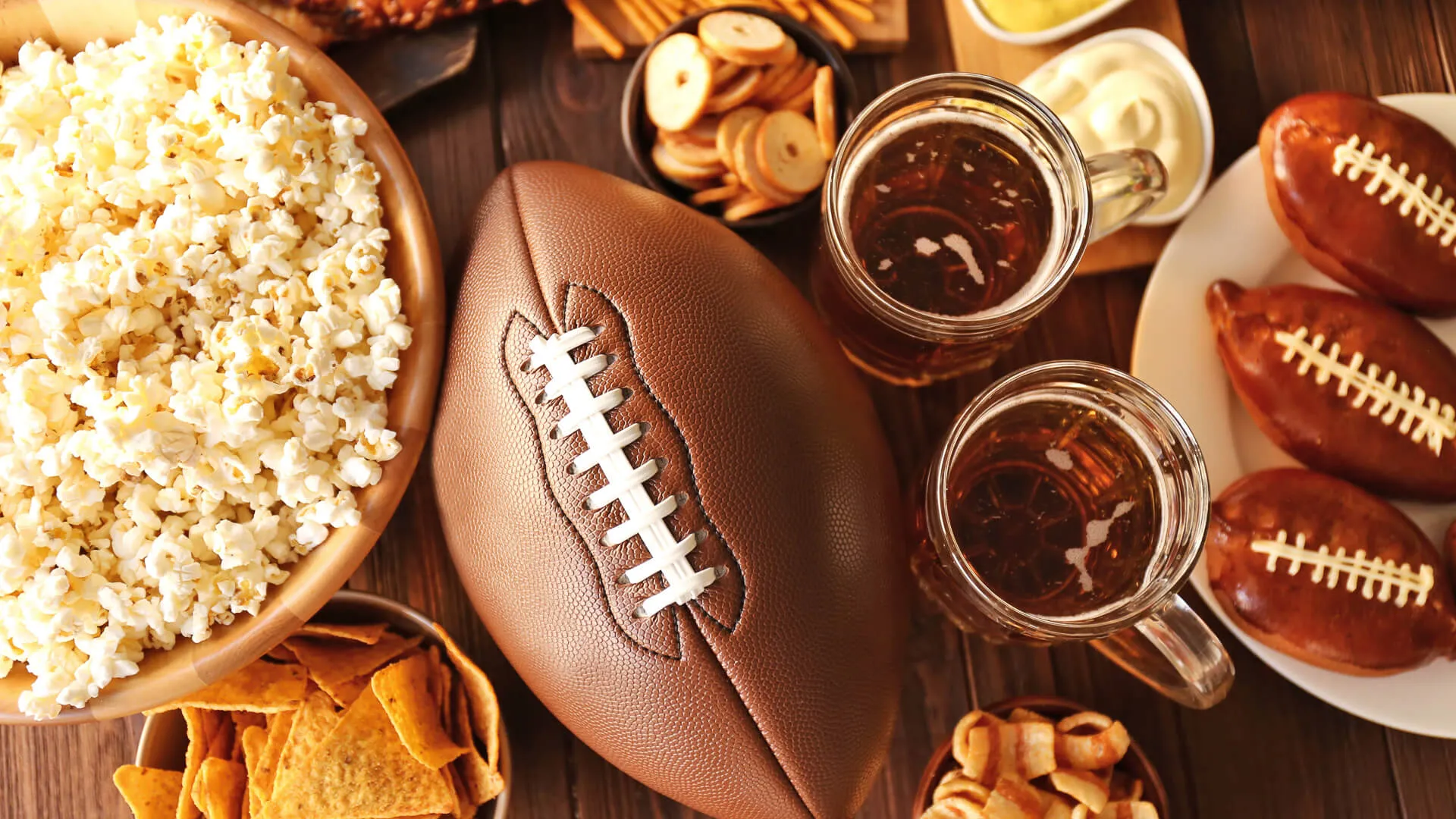 Football season presents a great excuse to party with your friends, even if your interest in football is limited to eating jalapeno poppers in front of a TV. There are plenty of easy gameday snacks you can set out for your guests to enjoy.
The real difficulty often comes in paying for a lavish spread to impress your guests. GOBankingRates selected some more cost-effective options for your consideration. You won't feel like you're skimping, either: Most are fun, low-fuss twists on familiar favorites you already love.
Last updated: Sept. 1, 2020
Make Your Money Work for You
Buffalo Chicken Sliders
Estimated cost: $9 or less
Buffalo chicken wings are one of the ultimate game day treats, but they're messy to eat and then you have the bones to deal with. Clever cooks dispensed with the bones by turning Buffalo chicken into a dip, but dips have a way of … well, dripping — all over your furniture, floors and guests. Check out this next level, upper-echelon of the Buffalo chicken evolution: Buffalo chicken sliders. They're self-contained and finger-friendly.
Pizza Dip
Estimated cost: $7 or less
Ordering pizza is one of the easiest game day meal, but when everyone else in town has the same idea (have you ever tried ordering pizza at Costco on a Sunday?) be prepared to wait. This pizza dip is fun and frugal, and packs in all the pizza flavors you love but without all that crust so you and your guests don't get too full, too quickly.
Mini Sausage Puffs
Estimated cost: $6 or less
Sausages are the ideal party food, with their bold flavors and innate affinity for alcoholic beverages. Wrapping them in dough and baking them instead is a much more practical way to serve them in mid-winter. These mini sausage puffs are among the simplest Super Bowl recipes imaginable. Even better, you can make them up ahead of time and freeze them for the big day.
Loaded Baked Potato Dip
Estimated cost: $6 or less
When you're looking to feed your guests frugally, potatoes are always your best friend. There are plenty of party-friendly ways to serve them, including french fries and Tater Tots, but some require too much prep. You probably don't want to be frying in hot fat after those first few beers, and processed foods cost more than plain potatoes. This loaded baked potato dip gives you the best of both worlds, with plenty of addictive flavors at a low cost.
Make Your Money Work for You
Slow-Cooker Chicken Chili
Estimated cost: $9 or less
Chili is one of the all-time frugal party favorites, possibly packing more flavor per dollar than anything else you can make. Traditional beef chili is always a good option, but it does have an unfortunate tendency to stain clothing and furniture if it gets spilled. This slow-cooker chicken chili is a white version that's just as flavorful as the beef variety, but much more clothing-friendly. It's quick to put together, requiring just a few minutes of prep and then a few hours of low-maintenance simmering while you get your game face on.
Walking Tacos
Estimated cost: $10 or less (plus toppings)
Tacos are great party food, but they also score highly on the "likeliest to mess up my living room carpet" scale. If you and your crew love tacos, but you're not nearly as fond of the cleanup afterward, consider stealing a cue from the state fair and serving walking tacos instead. They're cheap, easy and self-contained, saving on both prep time and plates. They're fun, too, which is an added bonus. Your final cost will vary depending on what toppings you choose to offer with them.
Sticky Wings
Estimated cost: $12 or less
Wings are messy to prep and messy to eat and messy to clean up after, but it's hard to imagine a party without them because they're just so good. Buffalo wings are the default party option, but that doesn't mean you can't offer up an alternative or two. Wings with barbecue sauce are tasty, but the Asian flavors in these sticky wings make them even better. Try them rolled in toasted sesame seeds for extra flavor, or pumped up with sriracha for a different take on hot wings. This is a big recipe, so you may want to cut it in half. Or not.
Related: How Much Money You'll Spend on Food in Your Lifetime, By State
Make Your Money Work for You
Slow Cooker 'Country Ribs'
Estimated cost: $10 or less
There's no question that ribs are a great party food. However you prepare them, they have that perfectly addictive combination of deep, savory flavor and rich, fatty goodness. Unfortunately, they aren't an especially frugal option because their bones account for so much of your purchase price. Boneless "country ribs," cut from the shoulder, give much better bang for the buck. This slow-cooker country ribs recipe gives the luscious pork all the right barbecue flavors.
Easy, Cheesy Pizza Rolls
Estimated cost: $10 or less
Anything pizza-flavored is a party time slam-dunk, and assembling your pizza ingredients in the style of cinnamon rolls is just a stroke of genius. This pizza roll recipe calls for frozen pizza dough, which keeps things simple and reduces prep time to a minimum, but feel free to use homemade dough if you have a recipe you love. You can change up the toppings to suit your own taste or to take advantage of what's on sale this week at your local supermarket.
Beer and Cheese Pretzels
Estimated cost: $5 or less
Soft pretzels are great with beer, which means they're great with football, too. Want to dip them in beer and stuff them with cheese? Even better. Don't worry, you need just about zero baking skills to make this recipe. Starting with a frozen pizza crust cuts out the time and effort of making your own dough, and that's a good thing: You can expect lots of demand for seconds. To get more mileage out of each batch (and simplify preparation) consider making smaller pretzel fingers rather than the usual elaborate twists.
More From GOBankingRates
Photo Disclaimer: Photos are for illustrative purposes only. As a result, some of the photos might not reflect the foods listed in this article.
About the Author