5 Cheapest Deals for After-Hours Dining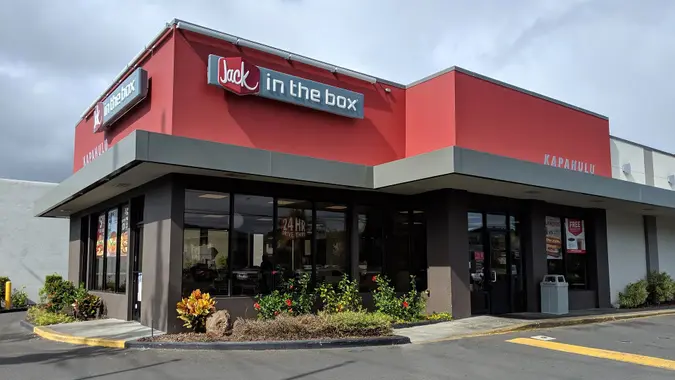 Eric Broder Van Dyke / iStock.com
One of the best things about going out late at night is that you can find some of the cheapest and most satisfying meals on after-hours menus. Who among us has not gone out for a night on the town with some friends, partying it up until the wee hours of the morning, and then sought a tasty meal to end the night?
"A lot of restaurants offer great late-night deals," says Catherine Rall, a registered dietitian with Happy V. "There are usually two main reasons behind this — it's a way to attract more customers during what's normally a slow time, and it's a way to reduce the amount of food they have to throw out by the end of the night."
A number of sit-down restaurants and fast-food chains have dedicated late-night menus. These deals might offer a handful of smaller portions from the restaurant or specific food combos at discounted prices. Many times, restaurants are looking to push their current stock of menu supply in order for fresh food items to come in for the next day, which is why they can offer a lower cost to late night customers.
"Restaurants try to entice more customers during the week by offering great deals for late night menu options," explains Larry Snider, VP of operations at Casago Santa Barbara Vacation Rentals. "Many restaurants will offer half-price appetizer options, as well as drink options, in an effort to attract customers to their restaurants. They're capitalizing on the 24/7 world we're moving toward."
Make Your Money Work for You
Here are some of the cheapest deals for after-hours dining that you and your crew can hit up once the party is over and your tummies start to rumble.
Applebee's
"Applebee's is just one of the many restaurants that offers great deals for late-night dining," noted Rall. "From 9 p.m. to closing, every night, they offer half-price appetizers. So if you're out late or are a college student staying up late studying, it's a great place to get some great food for a decent, discounted price."
Dominik Maka also highlighted that the 2 for $24 menu includes an appetizer and two meals as a cost-effective choice, while noting that Applebee's also occasionally runs happy hour deals.
Jack in the Box
The late-night Munchie Meal combos from Jack in the Box are only served from 9 p.m. to 5 a.m., targeting the crowd that burns the midnight oil and stays up way past bedtime.
The options for the $6 Munchie Meal are limited to the following four main items: the Brunch Burger, Stacked Grilled Cheese Burger, Exploding Cheesy Chicken, and Loaded Chicken Nuggets. However, each meal comes with an order of "halfsies" (half curly fries, half regular), two hard-shell tacos, and a beverage.
Denny's
Denny's is known as the classic, all-American diner that stays open all night in many towns. The only thing better than the hours of operation are the deals.
Make Your Money Work for You
"Denny's easily has some of the best late night deals and it serves some of the best diner food in most cities," Snider said. "For only $9, you can get a cheeseburger with fries and all the fixings. For only $8, Denny's serves 2 pancakes, scrambled eggs, two bacon strips, and 2 sausage links. It's really hard to beat those prices."
Taco Bell
"With menu options under $2 and meal deals between $5-$7, Taco Bell offers affordable Mexican food options," said Maka, noting the Power Bowls are a healthier alternative and cost less than Chipotle bowls that typically come with similar ingredients.
According to Taco Bell's official FAQ page, most of its locations "are open late and do not close until midnight or later. And for diehard Taco Bell fans, look out for in-store and drive-thru options open 24 hours a day, 7 days a week. However, restaurant hours vary by location so make sure to check the late night hours of your local Taco Bell restaurant."
If driving isn't an option, "Taco Bell has late night delivery and we'll do everything in our power to drop delivery by your location. Still, Taco Bell late night delivery hours vary by location."
Domino's
Domino's offers regular deals, including late night specials, on their specialty pizzas, wings, penne pastas, oven baked sandwiches and signature desserts. All you have to do is check their website for the latest discounts, such as the current promotion that gives customers the option to choose two or more items for $6.99 each.
From there, you can "call, order online, or use the Domino's AnyWare option to order via text, tweet, voice, smart TV, smart watch, or even your car. Simply download the app, and you're on your way to ordering your favorites," according to their official website.
More From GOBankingRates