Upgrade Your Morning With This Cinnamon Raisin Breakfast Bake
Take a bite out of this sweet and simple breakfast bake.
Put down the tired English muffin or the same old toaster pastry and extend some "treat yourself" mentality into your morning breakfast.
Waking up is hard enough the way it is, but you don't have to sacrifice your budget — and serious "yum factor" — with the help of this tasty cinnamon raisin breakfast bake.
What You'll Need
Breakfast Bake
2 cups cubed cinnamon raisin bread
2 eggs
1 1/3 cups of milk
Icing
1 cup powdered sugar
1-2 tablespoons of milk
How to Make: Cinnamon Raisin Breakfast Bake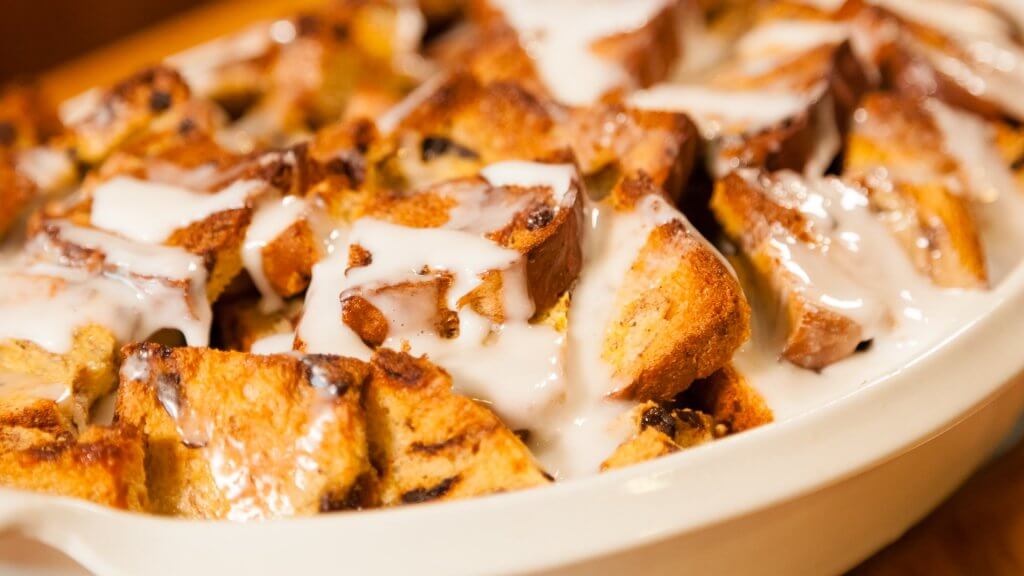 1. Cube your slices of cinnamon raisin bread into bite-sized chunks. Place the bread cubes into a bakeable casserole dish.
2. In a separate bowl, crack your eggs and combine them with 1 1/3 cups of milk. Be sure to whisk it all into a frothy mix.
3. Pour your egg and milk mixture evenly over the top of the bread cubes.
4. Bake at 350 degrees for 35 to 40 minutes.
5. To make your icing, mix the powdered sugar and milk until you reach a creamy, pourable consistency.
6. Once your bake is ready to come out of the oven, drizzle icing overtop to desired amount.
7. Dig in and enjoy.
Things to Note
This recipe is perfect for big breakfasts — as it's written, it accomodates a serving size of six people. If you're rolling solo, don't let that deter you — this breakfast bake holds up very well in the fridge, so it could be a perfect option for a make-ahead meal. For best reheating, take your leftovers and reheat in either a toaster or conventional oven to preserve the toasty outside.
If you're looking to make this meal with a vegan-friendly flair, feel free to replace the eggs with silken tofu blended until smooth or mashed bananas and the milk with coconut milk for extra creaminess.
Bottom Line
Serving size: 6
Average cost per serving: $2.25