The Cost of Christmas Ham: This Year vs. Last Year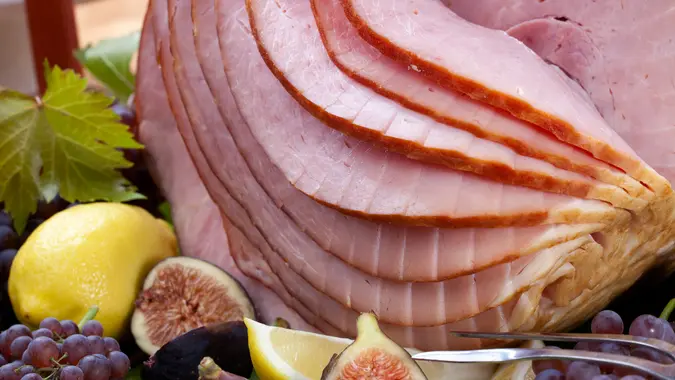 Bochkarev Photography / Shutterstock.com
Ham, like most meat in the deli aisle, has been significantly impacted by soaring inflation throughout the course of this year. In October 2022, the U.S. Bureau of Labor Statistics (BLS) calculated the average price of ham, boneless and excluding canned ham, at $5.65 per pound. 
Find Out: 11 Grocery Items To Buy at Dollar Tree
Related: If Your Credit Score is Under 740, Make These 4 Moves Now
Here's how the cost of ham compares to last year and some of the factors responsible for ham's price increase.
How the Cost of Ham Compares in 2022 vs. 2021
The price inflation for ham has been tracked since 1978 by the consumer price index (CPI). 
As mentioned earlier, the average price of ham is currently $5.65 per pound. In 2021, the average price per pound for ham was $4.83. While ham has experienced an increase of 82 cents per pound, this price when adjusted for inflation comes out to $5.27. 
Make Your Money Work for You
When compared to 1978, the price of ham is 180.17% higher in 2022. This is a $10.18 difference in value. If, hypothetically, ham cost $5.65 per pound in 1978, the equivalent purchase in 2022 would be $15.83 per pound.
Take Our Poll: How Do You Typically Split the Restaurant Bill?
Why Is Ham So Expensive? 
Ham's most expensive one-day rise since October 2012 was recorded on Jan. 13, 2022. Bloomberg reported pork ham prices spiked 54%, making ham prices the highest for this time of the year in at least a decade. 
While inflation has certainly played a role in ham's price increase, ham has also been steadily increasing in price since the beginning of 2019, according to BLS data. At the time of ham's one-day price spike, Bloomberg reported absenteeism had doubled in recent days due to the omicron variant amid the ongoing COVID-19 pandemic. How absenteeism impacts ham and meat production is needing skilled knife workers to slice ham off the bone and having fewer employees available to help.
Savvy shoppers continue flexing their strategic grocery budgeting muscle to shave a few dollars off ham expenses. Some of these include choosing store-brand ham instead of a name-brand or buying ham slices in the quantity needed instead of purchasing an entire ham to cut costs in half.
More From GOBankingRates
Make Your Money Work for You