5 Costco Food Items That Are So Worth It, According to Superfans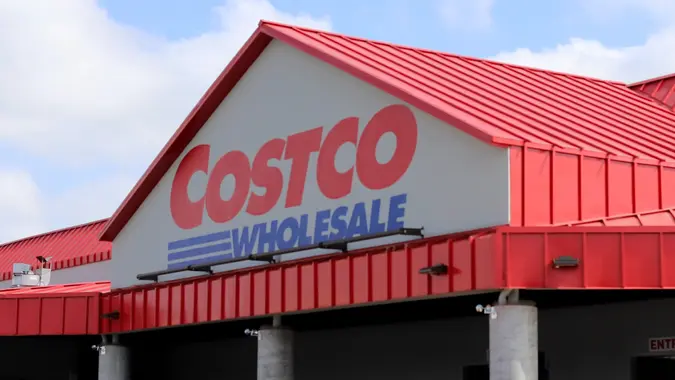 Laser1987 / iStock.com
Boasting nearly 380,000 users, the subreddit r/Costco is a popular community for Costco fans worldwide to share what is being sold at their stores, their usual purchases and what items are considered the best buys. One of the hot topics on this thread is the best grocery items to stock up on at the warehouse store, and we scoured the recommendations to find some of the most popular.
Here are the top food items at Costco that are worth it, according to Costco's avid online fans.
Rotisserie Chicken
Reddit user sayquietly said, "It's cheaper to buy a rotisserie chicken at the Costco near me than it is to buy a raw chicken… it's easy to add to just about any meal, and you can make stock with the bones."
For only $5, Costco's rotisserie chicken has been a long-time fan favorite and it is hard to find a better deal anywhere. One rotisserie chicken can feed a small family for a week, and as Reddit user sayquietly said, the chicken has many uses beyond just meat — broths, chilis and much more. The options are limitless, and delicious.
Cheese
Costco cheeses are another food item that passionate fans swear by, with Reddit user PeachPreserves66 claiming, "I can get two to three times as much Parm Romano at Costco than at the regular grocery store for the price."
The cheese at Costco is high quality and keeps well for long periods of time, especially the block cheeses. Sharp cheddar is another cheese that user PeachPreserves66 claims to buy every Costco trip.
Make Your Money Work for You
For a family with children, Costco cheeses can go by quickly. Reddit users also recommend vacuum sealing and freezing cheeses if there are leftovers.
Wine and Beer
"Kirkland Signature products can be great too, especially in the liquor [and] wine section," said Reddit user suddenly_a_gerbil.
Costco's Kirkland brand alcohol does not sacrifice quality and offers alcohol at a much cheaper price tag. Costco also carries popular wine and beer brands, for those who have a preference. Seasonally, Costco will also carry craft beer. The craft beer offered varies by location, however.
Coffee
Kirkland's freshly ground coffee is a must-buy for many Costco shoppers. Costco also offers Keurig pods in bulk, for those who do not own a brewed coffee maker.
Reddit user Salt-E-Slug stated that they "buy the whole bean and grind enough for the week," adding that it's "Hard to beat fresh ground coffee."
Whether you prefer your beans ground or whole, Costco offers both at a great price.
Frozen Pizza
With Costco offering four Kirkland Signature frozen cheese pizzas for $11, it is no wonder fans enjoy this food item.
"I would like to think I eat pretty healthy but the days when I meal prep or had a million errands to do and I'm exhausted, it's so nice to pop one in the oven and have a good quality frozen pizza," said Reddit user halfcurbyayaya.
Costco also offers other brands of frozen pizza with more flavor options, but at a bit of a higher cost.
Make Your Money Work for You
More From GOBankingRates