Dave Ramsey's Costco Shopping List: 9 Bulk Items That Save You The Most Money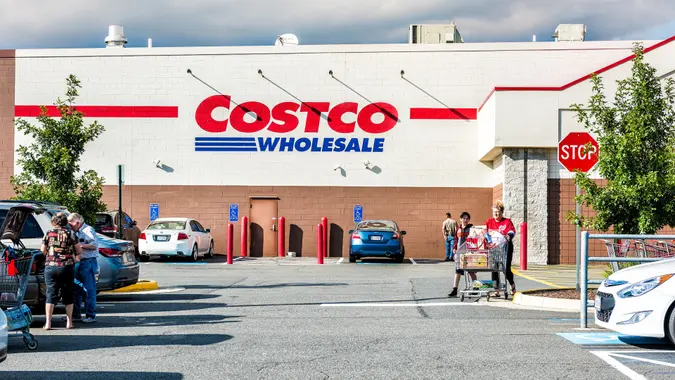 855684128 / iStock.com
It may cost more at the register, but buying groceries in bulk can help you save money in the long run. Not only can items sold in bulk cost less per unit than at regular retail stores, but it also means fewer trips to the store, less money spent on gas and less of a chance that you'll give in to impulse purchases. However, personal finance expert Dave Ramsey says only nine bulk items really save you money.
Costco and Sam's Club are the biggest names in the wholesale world, but Ramsey says you can find bulk deals at other stores like BJ's Wholesale Club and online outlets like Boxed and Amazon. But watch out for rookie mistakes that can lead to overspending, such as stocking up on things to avoid making a return trip and doing all of your grocery shopping at the warehouse store to get your money's worth out of a membership, says Ramsey.
If you really want to save money at Costco, Ramsey says these are the nine items you should buy in bulk:
Toiletries
Dental care items (electric toothbrush heads and dental floss)
Paper products (toilet paper and paper towels)
Batteries
Gum
Cereal
Canned goods
Rice
Dry beans
There are also items you shouldn't buy in bulk, including fruit, vegetables, dairy and other perishables and condiments and spices.
Shoppers are looking for any way to save on grocery costs. Food at home prices increased by 11.4% in 2022, and while food prices are expected to grow more slowly in 2023, they're still above historical averages, according to the USDA Economic Research Service (ERS) Food Price Outlook.
Make Your Money Work for You
So how much can you really save by buying in bulk?
In 2021, MagnifyMoney compiled a list of 20 products to compare non-bulk and bulk costs. Researchers found that across the 20 products analyzed, non-bulk shoppers can save about 25% if they switch to bulk buying. Batteries had the largest price difference between bulk and non-bulk. Toilet paper was the one product MagnifyMoney said that offered no difference.
Buying in bulk isn't always the most practical or budget-friendly way to shop. Ramsey says to consider whether it works for you and your situation. If it fits your lifestyle and budget, grab a few household staples in bulk and see how much you save.
More From GOBankingRates