Decreased SNAP Benefits and Inflation Have Made Eating Out Less Expensive Than Cooking At Home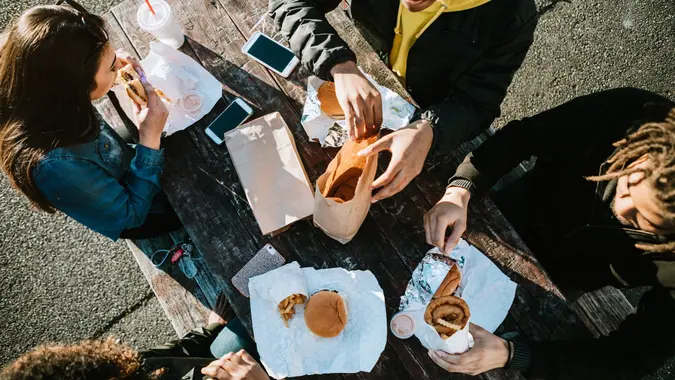 RyanJLane / iStock.com
Thanks to the expiration of the pandemic-era SNAP boost and inflation, eating out at fast food chains and other restaurants is now less expensive than purchasing food at the grocery and cooking at home.
An analysis by the Center on Budget and Policy Priorities found that payments dropped by about $90 for individuals and $250 or more for some families. As a result, SNAP households cut their monthly food and beverage spending by about 35% of cut benefits, according to market research company Circana and as previously reported by GOBankingRates. However, households also increased their use of quick-service restaurants. By using loyalty programs and deals, SNAP recipients have been able to save more money by eating out.
Restaurant Business Online reported that grocery inflation has outpaced the rise in menu prices, which made eating out at restaurants a better financial option than cooking at home.
According to the U.S. Government Accountability Office (GAO), consumers saw the largest annual increase in food prices since the 1980s last year. Food prices generally increase by 2% every year, but they shot up by 11% from 2021 to 2022.
"Prices are expected to grow more slowly in 2023 than they did in 2022. But it's still going to grow more than the historic annual average of 2%," said GAO's Steve Morris, an expert in agriculture, during a recent podcast. "When you look at the forecast for this year's prices, they're predicted to increase anywhere from 5 to 10%, and probably settle around 8%. So, they're still going to be really high."
Make Your Money Work for You
In 2022, food-at-home prices increased by 11.4%, while food-away-from-home prices were up by 7.7%, per U.S. Department of Agriculture (USDA) data.
Another way SNAP households have been able to stretch their SNAP dollars is by going to local farmers' markets and purchasing fresh produce. Some farmers' markets will match every SNAP dollar spent up to a maximum. For example, if you purchase $20 worth of fresh produce, you only use $10 of your benefits, GOBankingRates reported.
More From GOBankingRates