I'm a Dietician on a Budget: These Are My Favorite Grocery Deals at Dollar Tree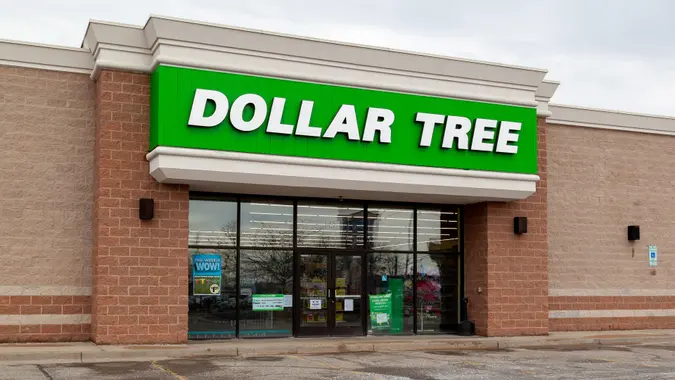 JHVEPhoto / iStock.com
If you're on a tight budget or you live in an area where Dollar Tree is your only shopping option within miles, you don't have to fill your cart with chips, cookies and ramen noodles just so you'll have food in the pantry. If you know where to look, there are some healthy hidden gems within the aisles of Dollar Tree. The best part is that many of them are just $1.25 each, which is Dollar Tree's standard price point.
When it comes to finding fresh and healthy foods on a budget, Dollar Tree may not always be the first choice," said Mary Sabat, MS, RDN, LD, nutritionist and ace certified trainer. "However, there are still some options available that you can consider. Keep in mind that availability may vary depending on your local Dollar Tree store."
Here's advice from several dieticians about healthy, budget-friendly foods to buy at Dollar Tree.
Canned Fruits and Vegetables
"Look for canned fruits and vegetables with no added sugars or excessive sodium," Sabat said. "Opt for options packed in water or their own juice rather than heavy syrup. Canned vegetables like green beans, peas and corn can be a cost-effective way to add nutrients to your meals."
You can find canned foods for less than $1.25 at grocery stores, especially if you shop private labels or generic brands. If you have this option, you might want to forgo buying canned food at Dollar Tree. 
Make Your Money Work for You
Whole Grains
"Dollar Tree may have some options for whole grains, such as whole wheat pasta, brown rice and oats," Sabat said. "These can be versatile ingredients for creating nutritious meals."
Beans and Legumes
Sabat suggested looking for canned or dried beans and legumes, such as black beans, chickpeas, lentils and kidney beans. 
Canned beans are high in fiber and a less expensive protein source for meals, added Dr. Joan Salge Blake, EdD, RDN, LDN, FAND, who is a nutrition professor at Boston University. "You can buy a couple cans of black beans, canned diced tomatoes, a package of pasta and a container of Parmesan cheese for a healthy Mediterranean-type dinner that will feed an army," she said. 
Frozen Fruits and Vegetables
Sabat said that Dollar Tree often carries a variety of frozen fruits and vegetables. "These can be a convenient and affordable way to incorporate more produce into your diet," she said. "Look for options without added sugars or sauces."
Kalli Branciforte of But First,Coffee said on her YouTube channel that she found a 10-ounce bag of frozen blueberries at Dollar Tree for $1.25. She said at her local grocery store, a 12-ounce bag of generic frozen blueberries was $4.
Fruit Pouches
Fruit pouches can be a great, kid-friendly nutritious snack option, but don't be fooled because they can also make for a great on-the-go adult snack, too," said Alyssa Pacheco, RD. "These fruit pouches each contain 2g of fiber and no added sugar, making them a great option."
Make Your Money Work for You
Nuts and Seeds
"Check for options like almonds, peanuts, sunflower seeds and pumpkin seeds," Sabat said. "These can provide healthy fats, protein, and other essential nutrients."
Herbs and Spices
Sabat shared that Dollar Tree usually has a range of dried herbs and spices. "They can add flavor to your meals without adding extra calories or sodium," she said.
Salmon Pouches
"Chicken of the Sea salmon pouches are a great way to get protein," Pacheco said, "but they also contain vitamin D and omega-3 fatty acids, which are both helpful for lowering inflammation levels."
Dairy Alternatives 
"Some Dollar Tree stores carry shelf-stable almond milk, soy milk or other dairy alternatives," Sabat said. "These can be useful if you're looking for plant-based options."
Tuna Pouches
"Tuna is a great shelf-stable protein option available at Dollar Tree," Pacheco said. "Bumble Bee tuna pouches come in multiple different flavors and are a great portable option that can be added to salads, sandwiches or eaten with crackers. Each pouch will provide you with 12-15 grams of quality protein to keep you feeling full."
More From GOBankingRates