Dollar Tree, Dollar General and Family Dollar: Comparing the Discount Chains in Four Categories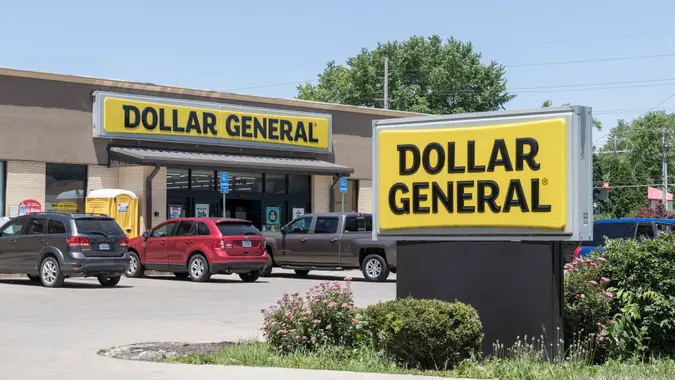 jetcityimage / Getty Images
Who doesn't love to save money when shopping for groceries? Lately, the cost of everyday food items has skyrocketed. If you go to a local grocery store, you might be overpaying for all of the essential items you need to have in your kitchen.
One option to consider is buying your groceries at a dollar store. Making the move over to a bargain hunter's paradise opens your options to three great stores: Dollar General, Dollar Tree and Family Dollar.
While they all might seem to have fantastic discounts on groceries, there are some key differences that you should be aware of while loading up your cart.
GOBankingRates reached out to some expert shoppers to compare the major dollar store chains in several categories.
Product Selection
In order to get the best deals on groceries across Dollar General, Dollar Tree or Family Dollar, you might have to search each individual store location — the specific items on your list might vary in price. 
"Dollar Tree is often considered a better value than its bigger competitor because it doesn't have as many private-label brands available," said David Reid, sales director at VEM Tooling. "If you're willing to pay more for name-brand products, however, Dollar Tree often offers better savings than any other supermarket chain."
Make Your Money Work for You
While all three discount stores offer groceries, the amount of products and brands differ greatly among them. Dollar General usually tends to have the largest number of brand-name and generic items.
Pricing
Of course, the reason to shop at Dollar General, Dollar Tree or Family Dollar is to save, well, dollars. Reid says Dollar Tree's groceries provide the best value.
"It has the lowest prices on its brand products; and, in many cases, it sells them at even lower prices than its competitors," Reid said. "Also, if you don't have a lot of money to spend on groceries or you want a few extra dollars back, then you might want to consider shopping at Dollar General."
Example: Here is how the price of peanut butter compares at each of the three dollar chains:
Dollar Tree offers a large selection of grocery items for under $1, but usually only one type of each item — and that's often a generic label. While Dollar General and Family Dollar may have a wider variety, they both usually mark up these products with prices exceeding $1.
Coupons and Promotions 
Select grocery items are frequently found on sale or at a discount through a variety of coupons, promotions and other special markdowns. These coupons or promos can be found online, and Dollar General makes it easy for customers to save with the DG Digital Coupons & Rewardsprogram.
Make Your Money Work for You
This resource provides customers with "an easy-to-use platform and digital coupons," said Katie Ellison, Dollar General spokesperson. "Customers can sign up online or access coupons on the Dollar General mobile app. Customers can load coupons to the account and redeem them at checkout during their next visit."
This is all in addition to Dollar General's coupon for $5 off $25 in purchases that happens every Saturday.
Meanwhile, Family Dollar's app provides customers with weekly deals and digital coupons that can be applied in store. Dollar Tree does not offer any coupons or promos on any regular schedule.
Store Brands
To buy generic or not to buy generic? That is the question when you shop at Dollar General, Dollar Tree and Family Dollar. Each of these stores offers its own brands.
Dollar Tree Plus' website states that "for just $3 and $5, you can score amazing finds on seasonal and holiday supplies, home décor, crafts, toys and games, party supplies, electronics and hardware and beyond."
Dollar General has a whole bunch of in-store brands and deals that are "trusted, low-priced and full of the quality you'd expect from [Dollar General], including a 100% satisfaction guarantee."
Family Dollar fittingly has a "family" of in-store brands on the level with its sister store, Dollar Tree. These 21 "brands are all 100% satisfaction guaranteed" and offered exclusively at Family Dollar.
More From GOBankingRates
Make Your Money Work for You