Don't Order Food Delivery on This Day of the Week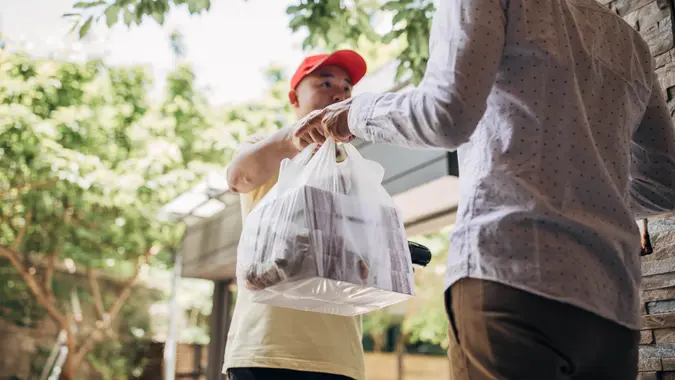 South_agency / Getty Images
Indulging in a delectable meal, delivered right to your door while lounging in your pajamas, is a well-deserved luxury. However, frequent food deliveries can put a strain on your budget. To enjoy the convenience without jeopardizing your financial security, it's helpful to know when to avoid delivery and opting for pickup instead.
In order to avoid going broke on enjoying your favorite restaurant meal from home, here are the worst days to order food delivery, as well as how best to save on your next DoorDash delivery.
Friday and Saturday Nights Are the Worst
After a long week, the thought of cooking and cleaning up after a meal is a daunting and dreaded feat for many. Unfortunately, these are precisely the days when your food delivery costs might soar.
"Food delivery apps use a strategy called dynamic pricing, which causes prices to vary based on several factors, including the day and time of the order," said Oleg Segal, CEO and founder of DealA, an e-coupon platform specializing in helping users save in the online sphere. "Generally, weekends, particularly Friday and Saturday nights, are more expensive due to increased demand. However, it is important to note that these fluctuations may not be consistent across different apps, as factors such as local competition or promotional deals can influence pricing."
Additional Factors To Consider 
While weekends are going to be the most expensive days of the week to order food delivery, it is helpful to also be aware of other factors that can lead to expensive food delivery in order to avoid costly surprises.
Make Your Money Work for You
Holidays 
Certain holidays see a surge in food orders, leading to heightened delivery prices.
"Any days around holidays — especially around Thanksgiving!" said Scott Lieberman, founder of Touchdown Money. "These times are more expensive and rarely if ever have any discounts because demand is higher and, in the case of holidays, there are fewer delivery drivers on the road."
Valentine's Day is also a popular day when people tend to stay in and opt for food delivery rather than cooking, so prepare for elevated delivery charges on this holiday as well.
Bad Weather
When the weather is gloomy and miserable outside and you opt for food delivery rather than enduring the treacherous conditions, be prepared for some higher food delivery prices.
"Bad weather, such as snow or rain, can also lead to higher food delivery prices," said Laurens Yarpei, CFA and founder of ReallyNeedCash. "This is because there are fewer delivery drivers available on bad weather days, and the ones who are available may charge higher rates due to the increased risk and inconvenience." 
How To Save on Food Delivery 
Savvy customers can still enjoy affordable food deliveries. Here are four strategies to help you savor a tasty meal without straining your wallet. 
Order Delivery During the Week
If you're looking to save on food delivery, consider weekdays as your go-to option. Tuesday, Wednesday and Thursday are typically the most cost-effective days for ordering your favorite meals, according to Yarpei.
Make Your Money Work for You
If You Must, Order Early
When you need to place an order on a busy weekend or during a holiday, ordering early in the day can spare you extra fees. 
"If you can, order your delivery at lunch (even if you have to have it delivered to work and reheat later) or earlier during the holidays," Lieberman said. "This will ensure your app has plenty of time to offer your delivery request to delivery drivers, who may accept right away because there aren't 10 competing delivery requests at the same time."
Look for Discounts
Despite the extra expenses that come along with ordering food delivery, it's still possible to save. You just might have to do some careful sleuthing.
"Occasionally you'll see deals on delivery apps, like 20% off or free delivery, especially when newer restaurants or stores are onboarded onto the platforms," Lieberman said. "If you don't mind trying something new, you can score discounts throughout the week!"
Compare Apps
Just as you'd compare prices across different stores when shopping for a new vacuum, it's wise to compare food delivery services.
"The least expensive days for food delivery are generally the same across all major food delivery apps, such as DoorDash and Uber Eats," Yarpei said. "However, there may be some variation in prices due to different promotions and discounts offered by each app."
Be sure to compare fees for your preferred restaurants across delivery services to find the best deals.
More From GOBankingRates