How Emeril Lagasse and Other Chefs Prepare Expensive Cuts of Meat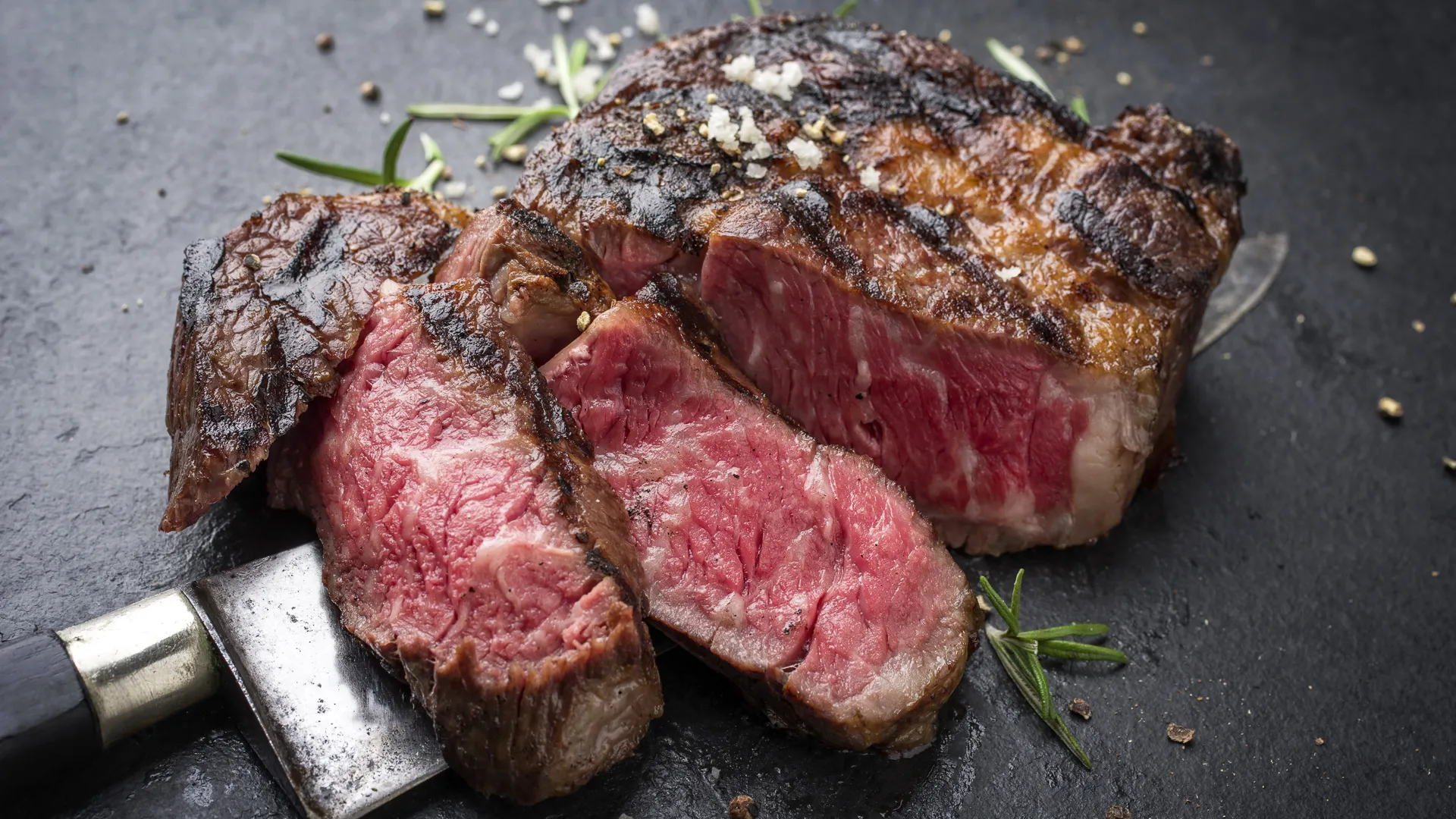 At retail, the average cut of USDA Choice boneless round steak costs about $6 per pound. While that six bucks buys you steak for one, it doesn't buy you much else. No ambiance. No special recipe. No escort from the maître d' to a table draped in a white tablecloth. All that is the domain of celebrity chefs and their restaurants.
Around the globe, these famed chefs chase the very best cuts of meat from land and sea, each competing to prep their creations in a way that stands out from the pack. Some chefs revel in creative foodie energy, while others stick to the basics to let the meat shine. All of these meaty, world-class entrees have at least one thing in common, though: They don't come cheap. Get ready to loosen your belt buckle — and your grip on your wallet — if you want to taste the best meats on the planet.
Make Your Money Work for You
1. Emeril Lagasse's Certified Piedmontese
If you learn one thing from this list, you'll learn that Wagyu beef is all the rage in the premium meat world. At his Delmonico Steakhouse in Las Vegas, celeb chef Emeril Lagasse does things a little differently. Alongside the obligatory Wagyu and rack of lamb, Emeril features a certified Piedmontese strip steak, an all-natural, hormone-free beef with a low-fat content that makes it both healthier and more tender than most beef.
For $60, Delmonico prepares a boneless New York strip steak of the Piedmontese variety with olive oil, sea salt, roasted garlic and rosemary — savory flavors that help the lean, low-calorie flavor shine.
Before They Were Famous: What Emeril and Other Celebrity Chefs Did Before They Were Food Network Stars
2. Stephen Starr's Wagyu Prime Cheesesteak
We told you Wagyu would be all over this list, but at least Stephen Starr of Philadelphia's Barclay Prime puts his own very, very Philly twist on the trend. Wagyu, or Japanese beef cattle, hit the United States in the mid-1970s, where they quickly gained a reputation for their beautifully marbled, remarkably tender meat. Starr brings the fancy meat down to street food level with his Barclay Prime Cheesesteak.
Starr tops his Wagyu ribeye with foie gras and — no joke — truffled "cheese whiz" on a freshly baked sesame roll, then serves it with a half-bottle of champagne for $120. If you're less experimental with your expensive meat, you can try his 18-ounce A5-graded Wagyu rib eye for $195.
3. Gordon Ramsay's Rare Fillet of Beef
Gordon Ramsay is famed for his luxury restaurants and reality TV shows. If you're wondering how to cook meat like the pros, Gordon shares his secret for rare fillet of beef. He seasons his tenderloin with sea salt before pan searing it among garlic cloves, butter and sprigs of fresh garlic and thyme, then seals in the flavor with eight to 10 minutes in the oven.
Beef fillet — known for its fine grain and buttery, mild taste — also goes by names such as filet mignon and beef tenderloin. To cook up your own version at home, you'll pay about $13.50 per pound or more..
Make Your Money Work for You
4. Hubert Keller's Kobe Beef Fleur Burger
While Wagyu refers to all Japanese-bred cattle, Kobe is a particular type of Wagyu, raised to exacting standards in the Hyōgo region. Even more marbled with flavorful fat than most Wagyu beef, only about 3,000 cattle are certified as Kobe each year — and some restaurants falsely claim to serve this premium beef. That's why Kobe beef is considered one of the worst gourmet foods items to order at restaurants.
But with his FleurBurger 5000, chef Hubert Keller of Fleur takes this Japanese tradition and marries it with an American classic. Keller starts by dousing a Wagyu patty with butter, then sautéeing prime foie gras and sliced black truffles in more butter, reports CNBC. He then layers the three components on a brioche bun and serves the extravagant creation with a bottle of 1995 Petrus wine.
The price? Just $5,000 at his Las Vegas restaurant.
5. Jamie Oliver's Black on Black Chicken
When you think of luxury meat, you might not think of chicken. Black chicken is here to change all that. Originally of Chinese origin, the Silkie chicken's heightened melanin levels are responsible for its black skin, black meat and black bones. Less fatty than regular chicken, Silkie — which retails for about $55 a pound — is known for its gamey flavor and lean texture.
In terms of prep, celeb chef Jamie Oliver rubs the chicken breast with a paste of salt, black pepper, black onion seeds, black garlic and black ancho chili before crisping the skin with a simple pan fry and serving with black trumpet mushrooms, black beans and black rice. Spotted a theme yet?
Delicious and Affordable: 10 Easy Meals Under $10 to Try This Weekend
Make Your Money Work for You
6. Chef Yoshiji Otsuka's Murasawa Sirloin Steak
In Kyoto, chef Yoshiji Otsuka and the crew at Otsuka restaurant offer one of the best-kept secrets in the foodie world, fostering an opportunity to sample some of the finest meat on earth for a fairly reasonable price.
Otsuka's Murasawa sirloin steak relies on the quality of the meat instead of extraneous seasonings. This rare type of Wagyu beef — which is raised for 24 to 27 months on tatami mat flooring rather than hard earth to lower the cattle's stress level — is cooked on a high-tech infrared stove and served very rare with a no-frills side salad and rice, putting the marbled meat front-and-center. Otsuka charges roughly $55 to dine on a legend.
7. Wolfgang Puck's Wagyu Rib Eye
Wolfgang Puck knows just how to cook steak. He keeps it super simple, preferring to use a high-heat charcoal grill to lend his Wagyu ribeye a smoky flavor. After letting the meat temper by resting at room temperature for five to eight minutes, Puck cooks his cut for three minutes on each side so that the edges brown up while the interior stays juicy and rare. As he (surely rhetorically) asked GQ in 2016, "What the hell is the point of a well-done steak?
If you source your ribeye from Snake River Farms as Wolfgang does, you'll pay about $280 for 2.5 pounds of long-bone steaks, which the supplier describes as "clean, bright and briny." Or, you can dine on Snake River Wagyu at Wolfgang's CUT restaurant in Vegas. You'll spend $88 for a 9-ounce rib eye or $116 for a 34-ounce porterhouse for two. If you plan to splurge on this one-of-a-kind burger, keep these Vegas vacation secrets in mind to save money on other expenses.
Make Your Money Work for You
8. José Andrés' Jamón Ibérico
Known as the finest ham in the world, Spain's jamón ibérico comes from the black ibérico pig, a fat, veiny pig that roams free in the countryside. This pig's substantial build allows its meat to be cured for much longer than normal ham, lending it an intense flavor that's often made even more intense by feeding the pigs a diet of acorns.
Once the meat is cured, you don't have to do much to it other than slice it properly, according to chef José Andrés. He recommends slicing the ham so thin that it's almost see-through, making sure to get fatty tissue in each slice and serving immediately at room temperature. Since a bone-in leg of jamón ibérico sells for between $450 and $1,500, you'll want to get the most out of your meat by covering the cured slices in the sliced outer layer of the jamón to prevent them from drying out and using the bone in your next soup stock.
9. Kiyoshi Kimura's Black Diamond
Transitioning from land to sea, the bluefin tuna is one of the most sought-after seafood in the world. In fact, Japan's "Tuna King" — Kiyoshi Kimura, owner of the Sushi Zanmai chain of restaurants — paid about $636,000 for a prized bluefin tuna weighing roughly 467 pounds, reports The Japan Times. That's about $1,362 per pound, by the way.
Bluefin is a controversial dish. The bluefin tuna is known just as much for being an endangered species as it is for being a meat that's so fatty, it's almost white rather than the characteristic pink. That doesn't stop Kimura from selling a single piece of the fatty "black diamond" tuna when he gets his hands on it — served raw, of course.
Make Your Money Work for You
10. Bobby Flay's Sweet and Spicy Filet Mignon
Pick up a buttery and mild 8-ounce American Wagyu filet mignon from Snake River Farms for $50 — wet-aged for more than 21 days to amplify its flavor — and you'll be on your way to filet mignon perfection. We don't exactly know what brand of beef filet famous pop culture chef Bobby Flay uses for his sweet and spicy filet mignon dish, but we do know exactly how he makes it.
Barbecue Like a Pro: 10 Essential Grilling Hacks You Need to Know
This famed chef rubs the filet in salt, pepper and ancho chile powder before tossing the oil-rubbed premium meat into a hot skillet, spice-side down. When the filet forms a browned crust after about three to four minutes, Flay turns the cut of meat for another three-to-four minute go round, lets it rest for a few more minutes at room temp (where it continues to cook and lock in its juices) and then serves with a side of mushroom salad. To amplify the sweet-and-spicy factor, Flay drizzles the filet with a sauce of Dijon mustard, honey, horseradish, mint and parsley.
11. Massimo Spigaroli's Culatello di Zibello
Italy doesn't mess around with its cured meats, and Culatello di Zibello is one of the most revered works of charcuterie in the country. Because only about 20,000 pieces are produced every year, each whole ham can fetch up to $360.
Treat Yourself: These Five-Star Restaurants Are Worth Every Penny
Chef Massimo Spigaroli of Antica Corte Pallavicina serves samplers of Culatello di Zibello, but it's more about long-term preparation than it is meal prep. Each smoothly textured, somewhat sweet ham comes from the rear leg of a pig born and raised in Lombardia or Emilia-Romagna, aged without refrigeration for 12 to 20 months. Spigaroli serves slices of his charcuterie with sides such as preserved mushrooms, green herb soup and broad beans.
Make Your Money Work for You
12. Fabrice Vulin Serves Polmard's Rare Millesime Cote de Boeuf
Speaking of aged meats, Alexandre Polmard creates and sells what is quite possibly the most expensive cut of meat in the world. Via a process his family dubs "hibernation," which entails maintaining meat at -109 degrees Fahrenheit under a constant stream of cold air, Polmard claims that he can keep his beef indefinitely without any quality loss. In this way, he offers different vintages of beef much like vineyards sell different vintages of wine.
Fabrice Vulin is one of the few chefs on the planet who has had access to Polmard's meat. He prefers to serve a vintage 2000, which features virtually no marbling and a deep red hue. Vulin favors the meat for its low acidity and a texture that's so smooth, it falls apart under the knife. Though he serves other rare steaks with autumn truffles and Oscietra caviar, he lets his Polmard's Rare Millesime Cote de Boeuf shine solo. Polmard sells his 2000 vintage rib steak for $3,200, reports CNN.
13. Iron Chef Morimoto's Wagyu Beef Cocktail
After this pricey world tour of majestic meats, you'll need something to wash all that Wagyu down with. How about some more Wagyu?
That's right — chef Masaharu Morimoto, better known stateside as the original Iron Chef himself, has a Wagyu beef cocktail on the menu of his Morimoto Las Vegas Restaurant at the MGM Grand (though it's not listed on restaurant's online menu. For prices, call the restaurant). Morimoto imports the authentic Wagyu he uses for his cocktail, then starts with a warmed bottle of Iwai Japanese Whisky, reports Forbes. He renders fat from the beef into the whisky, which then is put into a freezer overnight and strained through a cheesecloth. After mixing with walnut liqueur and walnut bitters and garnishing with a burnt orange peel, the signature Wagyu Manhattan is born.
See More Culinary Celebs: 15 Celebrities Making Serious Dough in the Food Industry
For the most up-to-date menu information, please call the restaurant.
About the Author