6 Ways To Save Money on Food While Cooking Less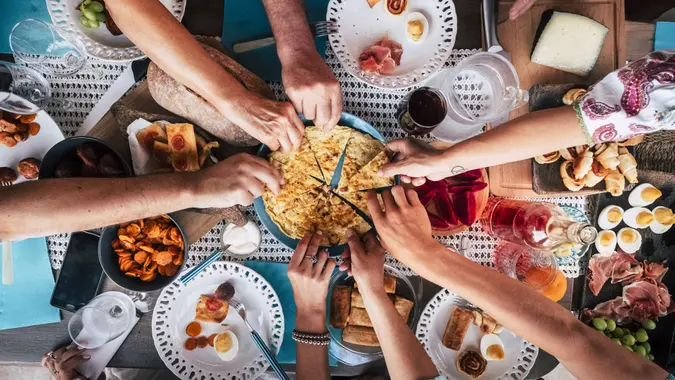 simonapilolla / Getty Images/iStockphoto
The cost of food has drastically risen over the past year and prices aren't forecast to go down anytime soon. In fact, they will keep going up. According to the USDA, in 2023 all food prices are predicted to increase 7.1%; food-at-home prices are predicted to increase 8% and food-away-from-home prices are predicted to increase 8.2%.  
Cooking at home is, of course, still cheaper than eating out at restaurants or getting takeout (a $13 restaurant meal is 225% more expensive than a $4 meal you prepare yourself); but cooking isn't always anyone's idea of a good time. Sometimes you're too tired, too stressed or simply just not in the mood. 
What are some best ways to save money on food without cooking? Let's explore. 
Consider Using Meal Delivery Services
"Meal delivery services like Blue Apron or HelloFresh can save you money by eliminating the need to buy expensive ingredients, and they also provide recipes and instructions," said Eric Sornoso, CEO of Mealfan.com. 
Though meal delivery services can be quite costly and still require cooking, many offer great introductory offers that can provide significant savings — and the overall cooking effort will likely be easier. Blue Apron touts up to 16 meals free across six orders (a $130 value), plus free shipping on the first order. HelloFresh provides 18 free meals, along with free shipping, plus three "surprise gifts."
Make Your Money Work for You
Buy Pre-Made Meals (Including Rotisserie Chickens) 
"Some grocery stores and supermarkets sell pre-made meals that are ready to eat," Sornoso said. "These can be a convenient and cost-effective option, especially if you're short on time."
Indeed, some pre-made meals are actually cheaper than making a meal from scratch. Take the case of the rotisserie chicken. 
"A whole, raw young chicken [at Ralph's] will set you back a whopping $13.01," said Erin Cooper, a certified wellness coach and CEO of Hungry Fit Foodie. "But, if you're willing to forgo the satisfaction of cooking it yourself, you can snag a fully cooked rotisserie chicken for a mere $8.99. That's a savings of $4.02, or almost a third of the cost, with none of the work."
Make the Most of Leftovers 
Leftovers can feel like a drag, but they will save you money — and help the planet — every time. 
"The savings will depend on how often you are able to use leftovers and how much you would have spent on an additional meal," said Michael Murdy,  a food scientist, beer brewer, chef and founder of Robust Kitchen. "In general terms, you can expect to save around $5 to $10 per week.
"One of my favorite little hacks when it comes to leftovers, and maximizing your savings, is getting creative in the kitchen. For example, leftover cooked chicken can be used in a salad, wrap or stir-fry. And for meals that may feel somewhat repetitive immediately after having it the day before, simply freeze it. Make sure the food is suitable for freezing, but a cooked chicken at the start of the month turned into a chicken noodle stir-fry, frozen and then eaten at the end of the month can really boost your savings upwards of $50 per week."
Make Your Money Work for You
Order the Appetizer Instead of the Entree 
Not exactly starving but in the mood for some restaurant extravagance? Go ahead and go out — just be frugal in your approach.
"Save up to 50% on a meal by ordering an appetizer instead of an entree, splitting an entree with a friend or saving half of your entree for leftovers," said Megan Huff, a San Francisco Bay Area and Atlanta foodie/influencer. 
Get Leftovers From Restaurants for Cheap 
There are apps that enable you to get leftover food from restaurants. 
"Help reduce food waste and use apps for getting leftovers from restaurants at a heavily discounted price," said Huff, who recommends the apps Too Good to Go and OLIO. 
Use Cash-Back Credit Cards for Groceries and Dining Out
Huff also recommends using credit cards that give you cash back, citing both Chase Freedom Unlimited and Capital One SavorOne Cash Rewards as solid choices. GOBankingRates also recommends the Blue Cash Preferred Card from American Express, PNC Cash Rewards Visa and Bank of America Customized Cash Rewards Credit Card. 
Make Your Money Work for You
More From GOBankingRates
Make Your Money Work for You