Fast Food Price Increases in 2022: These Major Chains Had the Largest Markups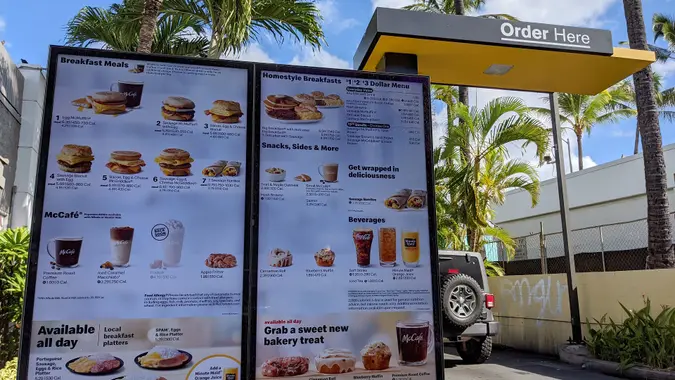 Eric Broder Van Dyke / iStock.com
When inflation comes for food, it comes for all of it — even fast food. According to new data analysis from PriceListo, overall prices have risen 12.9% across fast food chains.Some restaurants have seen larger price increases than others.
Let's have a look at which joints endured the steepest price hikes — and on which items.
McDonald's
"I'm Lovin' It" is McDonald's slogan, and for many American tastebuds, it holds up. But for their wallets? Maybe not so much these days. Its signature Big Mac was 17 cents more in October than it was in September 2021, and its Egg McMuffin was up 22 cents. The McChicken was up 4 cents, and the Quarter Pounder was up 14 cents.
Burger King
The second largest hamburger chain (after McDonald's) in the U.S, Burger King has more than 18,700 locations in more than 100 countries. It's home to the Whopper — which actually went down in price by 27 cents in the period between September 2021 and October 2022 — but Chicken Fries were up 67 cents.
Wendy's
Wendy's first opened its doors in Ohio in 1969. It's come a long way since then, with now more than 6,500 Wendy's restaurants in business around the world. Its famous square hamburger patties have not gone unscathed by inflation, though. According to Pricelisto's analysis, two of its cheeseburger offerings saw price hikes: Dave's Single was up 32 cents and Dave's Double was up 36 cents.
Make Your Money Work for You
Chick-fil-A
Arguably most famous for its signature chicken nuggets, Chick-fil-A runs more than 2,600 restaurants across 47 states, D.C., Canada and Puerto Rico. The cost of chicken soared because of inflation, and Chick-Fil-A was not immune to the rising prices. Its Chicken Sandwich was up 51 cents and its Grilled Chicken Sandwich was up 66 cents. Additionally, its Egg White Grill was up 45 cents and its Hash Browns were up 18 cents.
Of the five fast food chains that Pricelisto analyzed, Taco Bell was the only one that saw prices fall on its most popular items.
More From GOBankingRates