Food Stamps: Benefits in 78% of US Counties Can't Cover Reasonable Meal — 3 More Ways SNAP Falls Short on Food Costs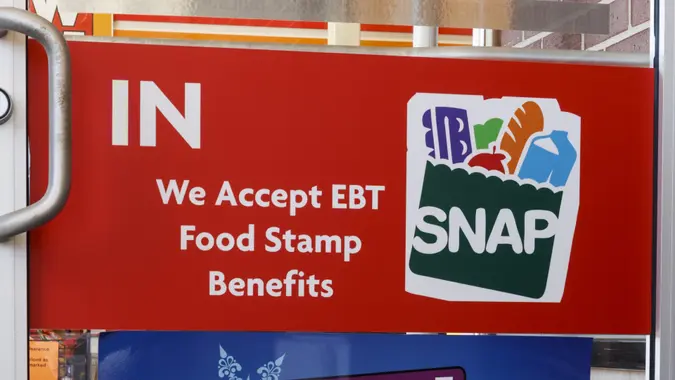 jetcityimage / iStock.com
Low-income Americans who need help paying their grocery bills often rely on food stamps, and for many the program is the only thing keeping them from going hungry. But too often food stamps don't adequately cover food costs, leaving a big percentage of recipients unable to afford even inexpensive food items.
A new study from the Urban Institute and Robert Wood Johnson Foundation found that despite annual cost-of-living adjustments (COLAs) designed to help recipients deal with inflation, food-stamp benefits in 78% of U.S. counties don't cover the cost of "moderately priced meals."
Food stamps, formally known as Supplemental Nutrition Assistance Program (SNAP) benefits, are provided to low-income households to help pay for food. SNAP is run by the U.S. Department of Agriculture and administered at the state level.
The study, conducted by the Urban Institute and funded by the Robert Wood Johnson Foundation, analyzed the federal government's Thrifty Food Plan, which assesses a "minimal-cost, nutritionally adequate" diet used for determining SNAP benefits.
Researchers found that in 2021, the reevaluated Thrifty Food increased SNAP benefits while also "dramatically" reducing the share of counties with a gap between the maximum SNAP benefit and the cost of a modestly priced meal. That share plummeted to 21% in 2021 from 96% in 2020. However, because of "unprecedented food inflation" in 2022, the share of counties where SNAP benefits "fell short" shot back up to 99%.
This has happened amid a political environment that has recently seen a reduction in SNAP benefits as well as new rules expanding weekly work requirements for more older people. The result is that many SNAP recipients are in danger of losing their benefits.
Make Your Money Work for You
Even for those who still get benefits, food stamps often fall short of covering monthly food costs. Here are three reasons why.
Cost-of-Living Adjustments Not Sufficient
As Urban Institute researchers noted, the USDA modifies SNAP benefits at the start of every fiscal year through cost-of-living adjustments. But those adjustments don't offer much help when food inflation outpaces the COLA.
"To protect and strengthen SNAP, Congress could remove strict time limits on SNAP benefits, allow for two COLAs per year when inflation is high, and ensure SNAP benefits cover the cost of a modestly priced meal throughout the U.S.," the Urban Institute report said.
Inadequate Funding
This is a particular problem now, following the end of nationwide emergency SNAP benefits originally approved during the COVID-19 pandemic that boosted the typical SNAP payment by $95 a month.
In 2022, the average SNAP monthly payment per household was nearly $450, according to the nonprofit Move for Hunger. After emergency benefits ended, SNAP benefits for a family of four could see a drop of as much as $330 a month. Benefits for the elderly could see a drop from over $200 a month to as little as $23.
High Prices for Healthy Food
A study last decade from North Carolina State University and the Union of Concerned Scientists found that SNAP benefits only cover 43% to 60% of what it costs to meet federal dietary guidelines for a healthy diet. The study highlighted the challenges lower-income households face in trying to eat a healthy diet. One of the main challenges is the high cost of healthy foods such as fresh produce.
Make Your Money Work for You
More From GOBankingRates