How Much These Top-Rated Food Subscriptions Will Actually Cost You
These subscriptions will keep you and your wallet full.
Eating a satisfying and nutritious meal at the end of your workday doesn't mean a choice between unappealing leftovers and frozen dinners. Since 2012, meal kit delivery services have revolutionized the question "What's for dinner?" With pre-measured ingredients and simple instructions, a food subscription box can turn even the most remedial home cook into a gourmet chef.
Choices can be overwhelming, so GOBankingRates narrowed it down by checking out the very best food subscription boxes that are totally worth their price tag.
Click through to find out which grocery-delivery services are best -- and which food subscription boxes will help you even more.
Purple Carrot
If you've wanted to eliminate meat just a few times a week, Purple Carrot might be the solution. The plant-based food box delivery service is ranked as "Very Good" with Consumer Reports, noting tasty recipes featuring whole grains and legumes. Plans include three meals for two people for $12 per plate. The high-performance, high-protein option is just $1 more.
Sun Basket
With 100 percent organic produce and antibiotic- and hormone-free meats, Sun Basket serves old-fashioned wholesome ingredients in 30-minute recipes designed for today's busy lifestyle. The healthy food subscription box service provides dietary options that include Lean & Clean, gluten-free, Paleo and vegan, with each priced at $7.99 per serving.
HelloFresh
HelloFresh gained Consumer Reports' "Excellent" rating of the best food subscription boxes -- you just might feel like you're getting a restaurant meal at home. The food delivery plan can be customized from two to four meals per week and has options that include vegetarian, family or classic menus. Let HelloFresh select meals for you, or customize them from any combination on the weekly menu. Meals range from $7.49 per serving.
Green Chef
Green Chef scored an "Excellent" rating by Consumer Reports due in part to the generous 2.5 to 4.5 cups of organic vegetables in every meal, packing a nutritious and affordable punch and filling you up. The meal subscription box comes with ingredients pre-measured and pre-chopped, so you can spend more time enjoying and less time preparing your food. Green Chef offers more than a dozen dietary options including vegetarian to Keto and Paleo meals all starting at $9.99 per meal. The flexible subscription plan lets you stop or skip weeks whenever you choose.
Plated
Rated as "Very Good" by Consumer Reports for exceptional taste, Plated gives you the option to include dessert with your meal. Choose from 20 chef-designed recipe items each week with options that include quick-prep meals or more advanced culinary recipes you can make in under an hour. The food subscription box service has options for two, three or four adults, with prices ranging from $9.95 to $11.95 and free delivery on weekly plans of $60 or more.
Home Chef
Like most meal plans, Home Chef lets you stop, pause or change your subscription at any time. It also lets you plan meals up to five weeks in advance, letting you get your mind off what's for dinner for weeks at a time. Meal plans start at $7.99 per serving.
Martha & Marley Spoon
If you've ever dreamed of having Martha Stewart as your private chef, you can get the next best thing with a food delivery subscription from Martha & Marley Spoon. Martha's recipes and top-notch ingredients such as Berkshire pork and artisanal cheese will show up on your doorstep at pricing below what you'd pay at Whole Foods or Stop and Shop. Prices start at $4.98 per serving and $8.99 for shipping.
Pete's Paleo
Eat fresh, chef-prepared meals without the expense of hiring a private chef. Pete's Paleo offers subscriptions with fresh, seasonal ingredients prepared by a chef for as little as $123 per week. The meal plan lets you choose whether you want pork or pork-free menus, and you can choose extra sides or double the protein for big appetites. Get meals delivered every week or every other week.
Blue Apron
Rated as "Very Good" by Consumer Reports, Blue Apron offers the greatest choice of ethnic-inspired dishes. Choose from two- or four-person plans up to four times per week starting at $8.99 per serving. Blue Apron offers an additional wine subscription for $10 per bottle, which complements the recipes you choose for the ideal pairing every time. This type of box is a good idea for a gift if you're looking for something unique.
Ketoned Bodies
Transitioning to a keto diet just got easier. Ketoned Bodies offers meals starting at $13.95, with delicious recipes that make it easy to adapt to a whole new way of eating. All you have to do is heat and eat. The company also offers weekly and individual meal ordering.
Fresh N Lean
Fresh N Lean targets people who want to eat an organic seasonal diet but don't want to spend a lot of time in the kitchen. Each meal comes ready to serve for weekly subscription prices that range from $8.40 for a plant-based diet to $11.42 for low-carb Paleo/Keto fare.
12/14
©Trifecta Nutrition
Trifecta Nutrition
If eating premium meat and organic veggies is on your to-do list, order a meal subscription box through Trifecta Nutrition, which serves Paleo nutrition with grass-fed meat and wild-caught fish. Shipping is free, and you can cancel whenever you like. The plan starts at $108 per week for seven meals, but you can order additional meals with an option for breakfast.
Balance by BistroMD
For those who just don't have time or energy to prep food in the kitchen, Balance by BistroMD lets you follow even strict medical diets with pre-prepped meals. Balance has heart-healthy, diabetic and low-sodium options, as well as gluten-free, dairy-free, low-carb and vegetarian. Meals include breakfast, lunch, dinner and snacks, with prices ranging from $5 to $10 per serving.
Freshly
Eat healthy with Freshly, one of the best meal subscription boxes for those who don't like to cook. Choose four to 12 pre-prepared meals to be delivered to your door each week -- shipping is always free. Starting at just $8.99 per meal, the food delivery subscription has options for Paleo, vegetarian, high-protein and other dietary preferences.
Note: The images for Balance by bistroMd and Freshly are representational images.
About the Author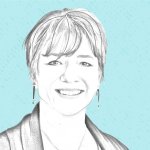 Jodi O'Connell is a freelance wordsmith based in Sedona, Arizona, who writes about everything from vacation vagary and adventure sports to real estate and pets. She spent more than a decade in Arizona's real estate industry advising first-time homebuyers and commercial investors before indulging her passion for the written word on a full-time basis. Her articles appear on websites as diverse as U.S. News and World Report, USA Today, Hipmunk, Roots Rated, and Travelocity.