I Save $100 on Food Every Month by Doing a 'Freezer Week' — Here's How I Plan for It
The first step? Taking inventory.
If your pantry and freezer look anything like mine, they're practically overflowing. But even if you don't maintain a stockpile of macaroni and cheese or frozen pizzas, you likely keep plenty of packaged food around, just waiting to be eaten. In fact, you might even have enough to sustain you for a while — I know I often do — but just because that stuff has calories doesn't mean it's healthy or even that delicious.
That's why I challenge myself and my family to go through freezer and pantry weeks when we eat what we have on hand rather than making runs to the supermarket to buy even more food. After all, why pay money for what we already have? Not only does it keep down the cost of groceries, but it also saves us time that we would've spent at the store. Here's how to tackle your freezer and pantry to cut costs and plan your meals better.
Read: 35 Ways to Save Hundreds on Groceries
Take Stock of What You Have
If you want to save money on groceries, start by taking inventory of what's in your freezer and pantry. I recruit my eldest daughter to make a list of what we have. It's a great teachable moment for her because I'm involving her in an effort to save money. And it takes a task off my plate, giving me time to do something else — like making money by writing personal finance articles.
If you want to get your kids involved, you could pay an allowance for this chore to teach them the benefit of working.
Teach Your Kids and Save: My Favorite Ways to Have a No-Spend Weekend
Make a Meal Plan Based on What You Have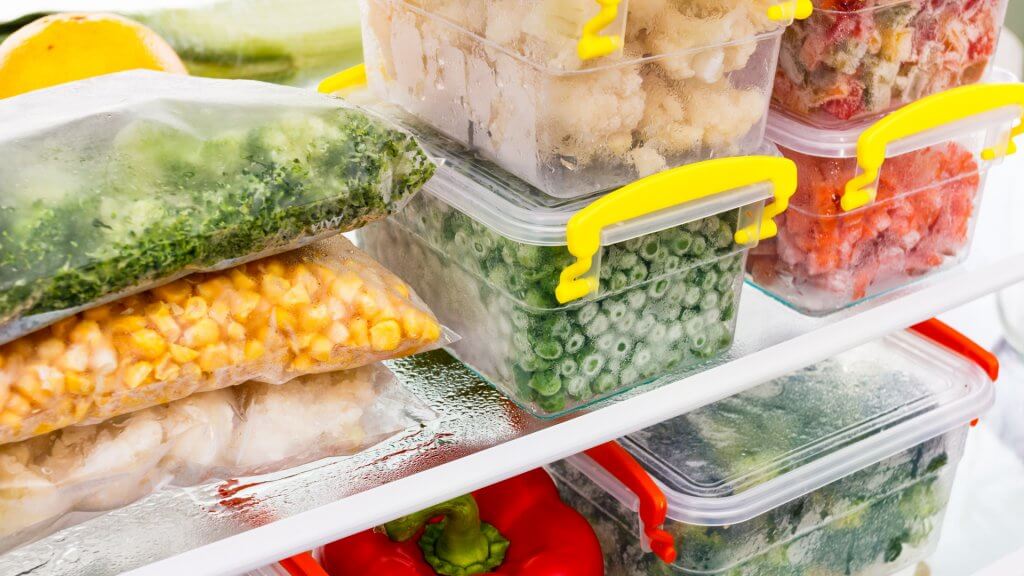 Maintaining a list of the items in your freezer and pantry will help you create a meal plan for the week based on what you have. You can use a free mobile app such as Yummly to find recipes based on ingredients you have. The Yummly app makes it easy by letting you take pictures of ingredients or you can search by keyword.
Write down your meal plan and hang it on your refrigerator or pantry so you don't have to scramble each day to come up with dishes to make — and this will serve as a reminder that you're on a mission to save money by eating the food you have.
Options: 10 Easy Meals Under $10 to Try This Weekend
You can also hang up your complete food inventory list on your refrigerator or pantry to mark off items as you use them. The benefit of doing this is that you'll get a clear picture of which items are not being consumed — likely because you can't find recipes using those ingredients or because you're simply not excited about eating those things. Then you'll know not to stock up on those items again, even if they are deeply discounted. After all, you're not saving money by taking advantage of sales if you don't eat what you've bought.
Save Big on Groceries
The last time my family planned meals based on the food we already had, we had enough in our freezer and pantry for two weeks' worth of dinners. We also had enough cereal, oatmeal and frozen waffles for breakfast over that period of time.
I did make a trip to the supermarket to buy fresh fruit and bread for the sandwiches my kids take to school for lunch. But the amount I paid paled in comparison with what I normally spend. I typically can feed my family of five on $125 a week, but I don't spend more than $25 to stock up on a few perishable items during freezer weeks — a savings of at least $100.
Save More: Walmart Shopping Tricks to Get the Most Bang for Your Buck
To keep down the cost of perishable items to supplement your freezer week, buy what's on sale. For example, fruits and vegetables will be marked down when they are in season. Check your supermarket's website or app to see what's on sale that week to create your shopping list. Or simply stick to the frozen or canned fruits and vegetables you have on hand to avoid a trip to the supermarket altogether.
Click through to read more about the costly mistakes you're making while grocery shopping.
More on Saving Money