Food Stamps: When Scheduled SNAP Payments for Georgia Send in March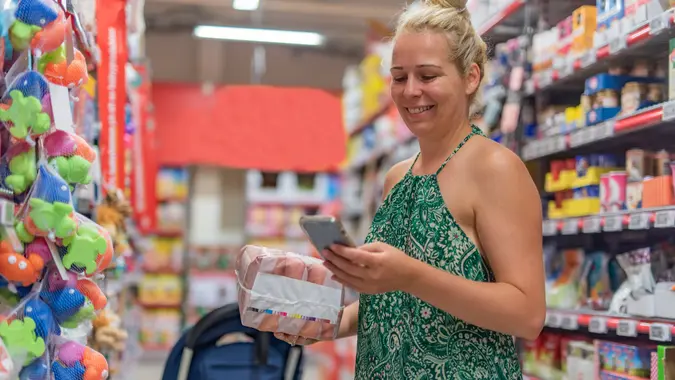 Isbjorn / iStock.com
The Supplemental Nutrition Assistance Program, formerly known as food stamps, boosts the food budget of low-income households in U.S. states and territories. Georgia's SNAP follows a recurrent monthly schedule, so participants can expect their next payment as early as March 5 (depending on their ID number).
See: How Ending Enhanced SNAP Benefits Could Hurt Walmart, Dollar Stores
Learn: Battle Akin to Social Security Debate Has Politicians Facing Off Over SNAP
In Georgia, the Division of Family and Children Services (DFCS) deposits monthly SNAP benefits to eligible households through the Georgia Electronic Benefits Transfer (EBT) card. Eligibility for SNAP in Georgia is determined by household size, income and certain expenses. Also, Georgia food stamp recipients aged 16 to 59 who do not meet a work registration exemption must register for work and comply with work requirements.
Residents can apply online by visiting the Georgia Gateway website or call the Customer Contact Center at 877-423-4746. If you prefer a paper application, you can send the completed form by mail or bring it to a DFCS location. Georgia has a simplified application process for seniors. If you are 60 years or older, live on a permanent fixed income and meet certain income requirements, and no household members are working, you may qualify for Senior SNAP. 
Make Your Money Work for You
SNAP doesn't only provide nutrition benefits. You can use your Georgia EBT card for additional discounts on certain products and services. For example, Georgia SNAP recipients can sign up for an Amazon Prime EBT discounted subscription at 50% off. Your EBT card can also be used for free or discounted admission to hundreds of museums, aquariums and zoos nationwide through the Museums For All initiative. Free or low-cost landline or cell phone service is another benefit available through the federal Lifeline program.
Georgia SNAP benefits are deposited into accounts between the 5th and 23rd of each month based on the last two digits of your ID number. Here is Georgia's March 2023 SNAP payment schedule:
| | |
| --- | --- |
| ID # ends in: | Benefits available: |
| 00-09 | March 5th |
| 10-19 | March 7th |
| 20-29 | March 9th |
| 30-39 | March 11th |
| 40-49 | March 13th |
| 50-59 | March 15th |
| 60-69 | March 17th |
| 70-79 | March 19th |
| 80-89 | March 21st |
| 90-99 | March 23rd |
Georgia SNAP EBT cards can be used at most stores that sell food and at participating farmers' markets. Georgia Fresh For Less matches SNAP benefits dollar for dollar (up to $10) to spend at farmers' markets on qualifying items.
Make Your Money Work for You
Food Stamps: Georgia Grocery Chain Nam Dae Mun Farmers Market Accepts SNAP
SNAP Survey: Americans Torn on Eligibility Requirements — What Are They Currently?
SNAP can be used to purchase most foods, plus seeds and plants that produce food for the household to eat. Benefits cannot be used to purchase nonfood items, alcohol and hot, ready-to-eat foods.
More From GOBankingRates
Make Your Money Work for You