Get the Best Bang for Your Buck With These Slow Cooker Staples

7 min Read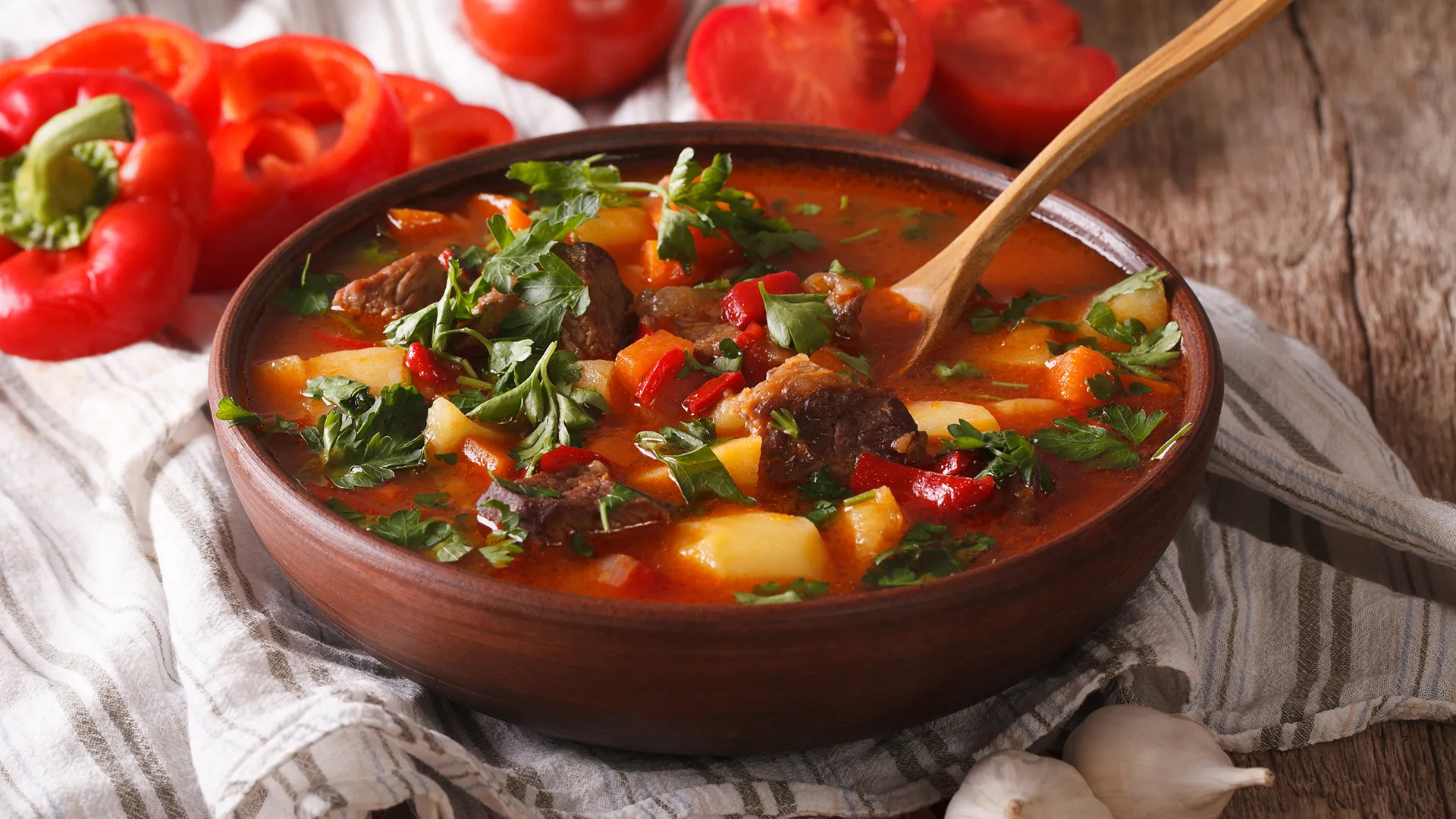 Slow cookers are great for making delicious, tender meals that can be enjoyed the same day. They also lend themselves well to batch cooking, or preparing large portions that can be stored and later used in a whole slew of dishes. It goes hand in hand with buying in bulk — a tactic that can save you hundreds at the grocery store.
Stock up on these staple foods that you can easily make in a slow cooker now and enjoy later.
Make Your Money Work for You
Chicken Stock
Homemade Cost: Approximately $6 per gallon
Possibly the most ubiquitous ingredient next to pantry staples like salt and pepper, chicken stock plays a role in just about every dish that uses a moist-heat cooking method. Braising a roast? Use stock. Cooking rice? Use stock. Making soup? Use stock. But why?
In a word, umami — otherwise known as the fifth taste sensation after salty, sweet, sour and bitter. Chicken bones have about 40 milligrams of glutamate, the naturally occurring amino acid responsible for the umami taste. You can make stock using a few pounds of chicken carcasses, feet and necks, which you're more likely to find at butcher shops and small markets than big-box stores. Alternatively, you can use chicken pieces.
Wings, thighs, drumsticks and bone-in chicken breasts make a rich stock you can use to cook everything from pasta to potatoes. Reserve the leftover chicken meat for any dish that calls for shredded chicken.
You can keep chicken stock up to five or six days in the fridge. For long-term storage, use an ice cube tray to make stock cubes. After freezing, pop them out and store them in a freezer bag until needed.
Whole Chicken
Homemade Cost: Approximately $8 for 4 lbs.
Slow-cooking a whole chicken gives you a two-for-one deal: You get a few pounds of meat and a hearty broth that has just as many uses as stock. Broth differs from stock in that it includes meat and seasoning, whereas stock only includes meat and seasonings at the cook's discretion.
Broths tend to have a bit more flavor than stocks, but you can use them interchangeably. The uses for a slow-cooked chicken border on the innumerable; casseroles, enchiladas, empanadas, soups, tacos, chili, barbecue, pizza and just about any soup make good use of fully cooked, shredded chicken. Since chicken tends to be highly marked up in restaurants, it's the perfect food to make at home.
If you plan on serving the chicken whole, caramelization — or lack thereof — is the only caveat. Foods don't brown in the presence of moisture, so if you prefer crispy skin, you must sear the chicken in the oven before or after it finishes cooking.
To crisp the skin after cooking, dry and oil the skin, then broil it until golden brown and crackling (about three to five minutes). Strain the broth from the slow cooker and freeze it or keep it in the refrigerator for five to six days.
Make Your Money Work for You
Pork Shoulder
Homemade Cost: Approximately $11 for 8 lbs.
Slow cookers coax tough, hearty cuts of meat like pork shoulder into tenderness. When you slow cook pork, you get juicy, shreddable meat that glistens with the moisture from its own rendered fat and juices. You also get a nice pork broth you can store in the freezer up to a year. There's a reason barbecue joints across the country feature pulled pork on their menus.
To get results comparable to that of a smoker when making pulled pork, brine the shoulder in a mixture of one gallon of water, three-fourths cup of kosher salt and two tablespoons of all-natural liquid smoke for one to eight hours before cooking. To get the prized caramelization of well-made barbecue, pat the pork dry after brining and sear it in a 475-degree-Fahrenheit oven until dark golden brown (about 20 minutes).
Not that you'd know from the plethora of grill-themed shows on food television, pork shoulder doesn't automatically mean barbecue. Cook pork shoulder with some authentic Mexican chili powder and tomatoes for carne adobada; add some adobo sauce for Spanish pernil (the leftovers of which you can use for some fantastic jibarto sandwiches); or marinate the pork overnight in a citrus mojo sauce for Puerto Rican pernil asado con mojo.
Potatoes
Homemade Cost: Approximately $3.66 for 5 lbs.
Mashed potatoes, meat and potatoes, baked potatoes, potato soup, potato salad — if Americans had just one staple starch, potatoes could fit the criteria. And if America had just one appliance to make them all, the slow cooker would be it.
Although slow cookers do their thing with moist heat, you can turn slow-cooked potatoes into their dry-heat baked counterparts with a few minutes in the oven after they finish cooking. For example, make your potatoes in the slow cooker, then dry them out in a warm oven for 10 minutes to make light, fluffy gnocchi. The same goes for baked potatoes. Slow-cook the spuds in foil, unwrap them and load them with your favorite toppings before giving them a couple of minutes under the broiler. Done and delicious.
If you plan on mashing the potatoes, use a high-starch variety like Russet Burbanks. If you intend on making a potato salad, use a low-starch, waxy variety that maintains its structure after cooking, such as Norland Red or new potatoes.
Make Your Money Work for You
Chuck Roast
Homemade Cost: Approximately $25 for 4 lbs.
Chuck roast is the cut of choice for the iconic pot roast forever cemented in culinary Americana. Add a few potatoes, carrots, onions, biscuits, a hearty gravy and a tableful of well-dressed folks and you have a Norman Rockwell painting. While pot roast is uber American, it can also be boring.
Think outside the pot and prepare chuck roast in the style of a slow-cooking world culinarian. You can make a fabulously French boeuf ben daube, an awesome Alsatian bacheofe and a provincial pot-au-feu in a slow cooker, as well as an array of authentic south-of-the-border favorites like caldo de res, carne en su jugo and machaca.
For a tender and robust beefy flavor, use a chuck eye roast. At a little more than $6 per pound, chuck eye costs a bit more than regular chuck roast, but its superior marbling and flavor — which comes from its proximity to the rib-eye section of the steer — makes it worth the cost.
Great Northern Beans
Homemade Cost: Approximately $2 for 2 lbs.
Not only are they inexpensive, but beans also offer many health benefits. Great northern beans are like the American cousin of Italian cannellini. With a robust mouthfeel, nutty flavor and firm structure, great northerns do everything cannellini can do and more.
Great northern beans' versatility alone makes them an economical kitchen staple. Salads, stews, ragouts, purees, soups, fritters, dips à la hummus and homemade veggie burgers are a few of many directions you can go with great northern beans and a slow cooker.
Cook great northerns with homemade stock when possible. The combination of umami from the stock and the natural meatiness of the beans elevates any dish.
White or Brown Rice
Homemade Cost: Approximately $3 per pound (white or brown)
Like all staple foods, you find rice in just about every recognized world cuisine. Cajun jambalaya, Filipino arroz caldo and Puerto Rican arroz con grandules are a few heritage dishes you can make in a slow cooker.
Brown rice cooks just as well in a slow cooker as it does in a saucepan. You do need a little less water or stock when cooking brown rice in a slow cooker, but that aside, you can substitute brown rice in just about any slow cooker white-rice recipe.
Mix it up and add dried beans and other legumes to your slow cooker rice recipe. In addition to classic red beans and rice, try brown rice and great northerns, wild rice, brown rice and black-eyed peas, and lentils and rice to use in a dal-based curry. Use your slow cooker rice as the foundation of a grain bowl — then you'll be making one of this year's food trends.
Although slow cookers make great tools for cooking rice, they don't function the same as rice cookers, so be sure to follow your slow cooker rice recipes. Some rice cookers, on the other hand, have a slow cooker function you can use for any slow cooker recipe.
About the Author