10 Groceries To Buy Generic When You're Broke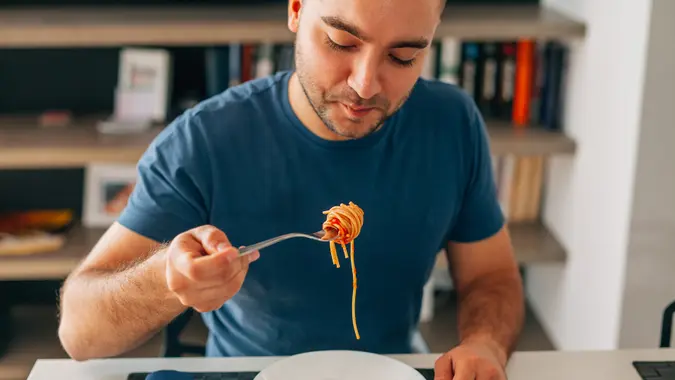 jakubzak / iStock.com
While brand-name products may have fancy containers and cute commercials, there are generic goods that taste just as good for a lot less. When you are broke, these no-name products can save you much-needed money. And most people can barely tell the difference between the store version and the higher-priced brand.
We searched high and low to find the foods with the deepest discounts that don't sacrifice great taste. From pantry staples to go-to dinners, here are the 10 groceries to always buy generic when money is tight.
Cereals
With name-brand cereals costing well over $5 per box in most grocery stores, it might be time to find your favorite generic version of the breakfast staple. Some cereal aficionados even swear by the store variety. 
For instance, a study conducted by consumer expert Amy Davis at Click2Houston found that a tester preferred the HEB Sugar Frosted Flakes to Kellogg's version. The savings were fairly significant, too. A box of Kellogg's Frosted Flakes, as noted in the article, cost $3.50 at the time whereas the HEB brand was only $2.19.
Rice
When you are trying to save money, rice is an amazing staple that can be added to almost any meal. Plus, you can likely skip the more expensive name-brand and not sacrifice the quality or taste.
It is important to remember that at times you might be paying more simply for the name. Marketing costs big bucks and that cost is often passed down to consumers.
Make Your Money Work for You
Canned Goods
Another easy option for taking advantage of deep discounts is on canned goods. As explained by Shelf Cooking, "in most cases, those generic products are manufactured by the same company that puts out the name-brand version." 
The savings can really add up when you are cooking for family get-togethers or other gatherings. It is doubtful that anyone will be able to distinguish whether you used name-brand canned beans or the less expensive alternative in your chili. If you need to stretch your food budget, this is a great place to start.
Pasta
Pasta is another area where most people agree that there is little to no difference between the name brand and the generic version of the product. Pasta has the added benefit of being able to feed a large number of people for a pretty small price tag.
Snacks
Unless you have an absolute favorite, you can save big on knock-off versions of snacks. Plus, if you are buying something with a long shelf life, you can cut costs even more by buying the product in bulk.
Snacks can include items like cookies, chips and granola bars. With young kids that are in a growth spurt, going generic can be a true budget saver.
Frozen Produce
Even without buying generic, purchasing frozen instead of fresh produce will usually cut costs. Add in the considerable savings associated with purchasing the store-brand version and you have a more affordable way to make your morning smoothie.
Baking Products
If you love to bake then you know that the price of many baking products has skyrocketed. Whether you are buying butter or flour, you've likely felt the increase in costs.
Make Your Money Work for You
However, for most baking supplies, you can opt for the less pricey generic brand and still come out with delectable treats.
Soda and Juice
Unless you can't live without your favorite soda or juice, then you can consider moving to a less popular kind in the same genre. With today's endless selections, you never know what you might fall in love with at a fraction of the cost.
Milk and Yogurt
As with other products, many generic dairy products come from the same farms as their more expensive counterparts. Buying store-brand milk and yogurt will likely save money and you won't be skimping on ingredients or taste.
It is always worth doing a little research before deciding to jump to generic, but what you find might surprise you.
Water
Finally, most people would be hard-pressed to tell the difference between high-priced bottled water and its much cheaper option. If you really want to save big, consider ditching the store-bought stuff and going reusable.
More From GOBankingRates