Grocery Bills 2022: Here's How Many Americans Say Their Costs Went Up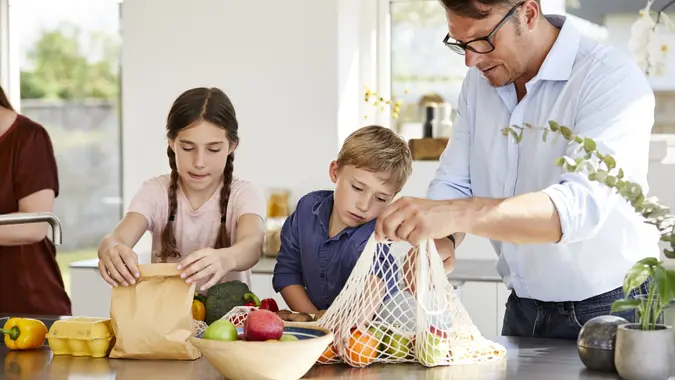 Nomad / iStock.com
During your latest trip to the grocery store, did you find that the price of eggs and juice had drastically increased over the past months? According to a recent data report from the Bureau of Labor Statistics, the cost of a carton of eggs has doubled from $1.64 to $2.94 over the past year.
See: 9 Costco Brand Items That Aren't Worth the Money
Find: If Your Credit Score Is Under 740, Make These 4 Moves Now
If you noticed your orange juice costing more than usual, inflation has taken a toll on that category as well, as the report displayed that non-alcoholic beverages have increased in price by 2.3%. While eggs and juice are two categories hit hard by inflation, many grocery categories have experienced a steep price incline over the past year.
If you are feeling the strain of your grocery budget stretched thin, you aren't the only one. According to a recent GOBankingRates survey, 38% of Americans are finding their groceries to be the hardest expense to plan for this month. In light of higher grocery costs, let's take a look at the strain grocery costs are causing Americans and the best strategies for budgeting in this category.
Make Your Money Work for You
23% of Americans Are Facing Rising Grocery Costs
To gain more insight into how severely higher costs are affecting Americans, GOBankingRates asked them which expense is rising the most for their household. The survey revealed that nearly a quarter of Americans are facing rising grocery costs, as 23% of respondents stated this bill was most severely affected.
Other expenses are also on the rise, as the survey revealed that 45% of Americans are facing higher-than-usual electric bills. Gas prices are also rising, as 10% of respondents stated this category was rising the most for their household. Expenses that less than 10% of respondents stated were increasing the most for their household include cell service, internet, mortgage/rent and water.
The majority of those affected by rising grocery costs are Americans over the age of 65, as 38% of respondents who responded this way are from this age bracket. Americans between the ages of 25 and 34 are least affected by increasing grocery costs, as only 10% of respondents in this age bracket stated that grocery costs were rising the most for their household.
38% of Americans Find Groceries To Be the Hardest Bill To Plan For Each Month
When asked what expense is the hardest to plan for each month, 38% of respondents stated that groceries are the toughest expense to anticipate. According to the survey, other notably challenging expenses to plan for include electricity and gas payments, as 33% of respondents claimed this category was the hardest to prepare for.
Make Your Money Work for You
Mortgage and rent expenses have also been a challenge, as 11% of respondents claimed this was the toughest category for planning ahead. Expense categories that Americans are having an easier time staying on top of include car payments, internet and water. All of these categories received less than 5% of respondents stating they were the hardest to anticipate.
Take Our Poll: Are You Struggling To Keep Up With Your Utility Bills?
Americans over 65 also found groceries to be the hardest bill to plan for each month, as 54% of respondents in this age bracket responded in this way. Adults ages 35 to 44 found groceries to be the easiest bill to plan for, as only 23% of respondents in this age bracket claimed this expense was the most challenging.
How To Save on Groceries
In light of rising grocery costs, here are some money-saving tips to help you stock up on the foods you need and prepare meals for less.
Shop the Pantry First
Before hitting the stores, shop your fridge, freezer and pantry to see what creative meals you can whip up with what you already have on hand.
Make Your Money Work for You
"By the end of each week, I challenge myself to see what creative recipe I can stir up at the last minute without stopping by the grocery store," said Ling Thich, owner of the blog Finsavvy Panda, a financial blog aimed to help people save money, build wealth and improve their lifestyle. "You can also easily budget for groceries by Googling budget-friendly recipes to see what common ingredients you'll need to stock up on to make different recipes with the same foods. It's like the concept of a minimalist capsule wardrobe in the fashion world, except we are pairing foods together to come up with a recipe!"
Budget for Higher Grocery Costs
In light of grocery inflation, it's advisable to budget for higher grocery bills to avoid having to reshuffle money every month.
"Budgeting for monthly expenses is crucial for Americans who are struggling with their finances right now given the impacts of inflation on local goods and services," said Jake Hill, CEO of DebtHammer. "Discretionary spending should be the first place that Americans seek to cut. Although this is never easy or fun, it is crucial to providing for yourself and for your family's basic needs."
Shop Around for Deals
While the nearest grocery store might be the most convenient for you, it might not be offering the best deals. Be sure to sign up for the loyalty programs at Walmart, Target, Albertsons, Kroger and Publix in order to collect rewards and discounts on your groceries.
Before determining what meals you will be making throughout the week, check out the deals your grocery store is offering and shop for the ingredients you need based on which stores are offering the best sales. It's best to avoid expensive name brands and opt for store-brand items when aiming to save money on groceries.
Buy in Bulk
A great way to cut back on grocery costs is to buy items in bulk. You can acquire bulk food items for a great deal by shopping at Costco or stocking up when your local grocery store is offering a fantastic sale on your household's staples.
By stocking up on staples you tend to go through quickly, you will save money in the long run as you already have these items in your fridge and pantry so you don't need to re-buy them. Be sure to plan ahead before stocking up on bulk items in order to avoid exceeding your grocery budget.
More From GOBankingRates
Methodology: GOBankingRates surveyed 1,003 Americans ages 18 and older from across the country between Sept. 19 and Sept. 21, 2022, asking eight different questions: (1) Have you seen a rise in your household utility bills? (electric, gas, water); (2) How much have your household utility bills (electric, water, gas) gone up each month?; (3) Which expense is rising the most for your household?; (4) Which expense is the hardest to plan for each month?; (5) Have you had to adjust your monthly budget due to rising household bills?; (6) How often do you shop at a dollar store (Dollar Tree, Dollar General, Family Dollar, etc.)?; (7) If there were an additional stimulus check, what would you primarily use it for?; and (8) If you received student loan forgiveness, how will you use this extra money each month? GOBankingRates used PureSpectrum's survey platform to conduct the poll.
Make Your Money Work for You