40 Supermarket Buys That Are a Waste of Money
You can find better deals elsewhere or make these items at home.
Making a list and sticking to it when you're at the grocery store is an easy way to stay within your food budget. But there are some things that you shouldn't put on that list at all, even if you find the best supermarket deals and get big discounts with a grocery store loyalty card.
Last updated: Jan. 3, 2020
1. Baked Goods
Buying fresh-baked goods while grocery shopping not only smells enticing, it probably sounds more wholesome than its prepackaged counterparts. In truth, you could be paying around $5 or more per loaf for artisanal bread or other baked goods that can be filled with preservatives, hydrogenated oil and high-fructose corn syrup.
Buy a bread machine instead, and toss in wholesome ingredients to make bread for about 60 cents per loaf. Or toss some cocoa powder, sugar, flour and baking powder into your cart instead of a boxed mix, and whip up a batch of brownies at home.
2. Baking Mix
With ingredients that basically include flour, sugar, baking powder and salt, ready-made pancake mix isn't a bargain. You might be paying up to 27 cents per ounce for ingredients like hydrogenated oil. Make your own by sifting together 6 cups of flour, 3 tablespoons of baking powder and a tablespoon of salt. Then work in 3/4 cup of shortening, and store the mix in a glass or ceramic canister.
3. Bottled Water
Bottled water represents an industry that saw about 13.7 billion gallons in sales in the U.S. in 2017, according to Statista  — and it's a complete waste of your money. Food & Water Watch estimated in a February 2018 report that almost 64% of bottled water sold is sourced from tap water.
4. Shredded Cheese
The convenience of cheese that is already shredded might not be worth it. Additives such as cellulose, an ingredient made from wood pulp, can sometimes serve as fillers and could potentially keep cheese that's already shredded from performing the same as freshly shredded cheese in recipes. If you grate your own from a 16-ounce block, you'll end up with a higher volume of grated cheese than you would get by buying a 16-ounce bag of shredded cheese.
5. Name-Brand Coffee
Pass by the coffee when buying groceries at the supermarket — it can be one of the most expensive places to get your morning grind. Head to a big-box supply or warehouse store and buy whole Arabica beans — they give that gourmet coffeehouse taste and are the main bean in most name-brand coffee blends. Grind them at home for freshness, and then use them in your French press, reusable K-Cup or regular brewer.
6. 'Dirty Dozen' Produce
Eating plenty of fruits and veggies is sure to keep you healthy, right? Not if they're loaded with pesticides. In 2019, the Environmental Working Group listed strawberries, spinach, nectarines, apples and kale as five of the produce items with the most pesticide residues. Opt for cleaner choices such as avocados, pineapples and cabbage instead.
7/40
Ai825 / Shutterstock.com
7. Diapers
Resist the urge to throw that pack of baby diapers into your cart because it's a good grocery store deal; you could pay about 30 cents a diaper for the convenience. To win at the diaper game, stop by Target, where you will be able to find cheaper products.
8/40
Bohbeh / Shutterstock.com
8. Endcap Items
Just because something is on an endcap doesn't make it a good buy. Although you might find items on sale there, know that some manufacturers pay money to the retailer to have a second display of their products. Venture down the aisle where the product is normally stocked and compare prices before choosing endcap items.
Don't Waste Money in Other Ways: How To Save Money on All Your Monthly Expenses and Bills
9. Energy Bars
If you think energy bars are a healthier alternative to a candy bar, think again. A chocolate brownie PowerBar has 21 grams of sugar and 330 calories, while a Snickers bar has 27 grams of sugar and 250 calories. Buy almonds, nuts, dark chocolate chips and chopped dried fruit to make your own healthier snack mix.
10. Energy Drinks
If you want an energy boost, stick to a cup of coffee. An energy drink can contain the same amount of caffeine as your standard cup of joe. For example, one 8.4-ounce Red Bull drink contains 80 milligrams of caffeine, around the same amount that a cup of coffee can have. However, energy drinks have also been linked to deaths and potentially dangerous changes in heartbeat and blood pressure.
11. Eye-Level Items
Items at eye level are often more expensive than those on the bottom shelf. According to Consumer Reports, manufacturers pay retailers a fee for product placement at eye level.
12/40
Elena Veselova / Shutterstock.com
12. Salad Dressing
You can top your healthy salad with a cheap salad dressing that might only cost a couple of bucks, but it also might contain preservatives you don't necessarily want in your body. Healthier options can cost more depending on the store and brand. Making your own dressing is easy and cheap — and healthier — when you use fresh ingredients such as herbs, garlic and vinegar.
13. Frozen Veggie Dishes
Frozen vegetables can be an easy way to add healthy ingredients to your meal while making sure nothing goes to waste in the fridge, but they can cost around $4 per pound depending on the brand. It's easy and cheap to make your own gourmet veggie dishes. Coat chopped veggies in olive oil, sprinkle on some salt and cook them in an oven at 425 degrees. Freeze them in a single layer on a baking sheet until they're set before storing them in a freezer container.
14. Frozen French Fries
Heating up fries from the supermarket to go with your meal can take about 30 minutes and costs about $1.50 per pound depending on the brand and store. If you don't mind waiting an extra 10 to 15 minutes, you can make your own by slicing a potato lengthwise into french fry shapes, coating the fries with oil and popping them into a 425-degree oven.
15/40
Mike Mozart / Flickr.com
15. Lunch Snack Packs
Kids love snack packs for lunch, but don't fool yourself. At around $2 for a 3.1-ounce molded plastic dish that usually contains a handful of crackers, cheese slices and processed meat, it's not necessarily worthwhile. Let your child pick out a reusable sectioned plastic container at a dollar store and prep a healthier version together for much less per serving.
16. Imported Olive Oil
Imported olive oil is one item that might not always warrant the big price tag at your grocery store. Although the majority of olive oil is imported from Europe and Africa, the consumption of olive oil in the U.S. has tripled since 1990, according to the San Francisco Chronicle. Domestic oils — such as California-produced oil — also might have more rigorous health standards overall and often come with freshness dates, making them the better buy.
17/40
PhotoAllel / iStock.com
17. Organic Produce
A steep price tag isn't the only difference you'll notice when buying organic produce at your local supermarket. The fruits and veggies might look withered or pale unless your grocer does a lot of organic business. Shop at stores that sell organic produce regularly, such as Whole Foods or Aldi, and you'll spend money on food that looks better and lasts longer. Better yet, head out to your local farmers market to pick out some fresh foods.
18/40
abdessamad ghayour / iStock.com
18. Pet Food
Buying pet food at the grocery store might not always be a good idea, depending on the brand. Some of the brands at supermarkets list corn — a cheap filler — as one of the first ingredients, along with cheap byproducts that are made from beaks, intestines and other parts. Head to Costco or Tractor Supply for pet food made with premium ingredients for about the same cost.
19. Toiletries and Cosmetics
It might be convenient to pick up a bottle of foundation or shampoo while you're at the grocery store, but there might be better options available. Cosmetics aisles at the grocery store can offer lower-end products formulated with arguably controversial ingredients such as parabens. You might be better off ordering quality products online or buying them at a department store.
20/40
Bartosz Luczak / Shutterstock.com
20. Gourmet Ice Cream
Instead of paying higher prices for gourmet ice cream, such as Ben & Jerry's, make your own delicious treat with some basic Breyers Natural Vanilla for about 10 cents an ounce. Chop up cookies, candy bars and other sweets from a dollar store to make your own special mix.
To Afford Your Groceries: How To Create a Budget You Can Live With
21. Marinara Sauce
Depending on the brand and store, a container of marinara sauce can run about $5, but a 28-ounce can of crushed tomatoes can be had for less than $2 if you shop at Walmart. Make a quick pan sauce for dipping focaccia or topping on pasta by adding garlic, Italian seasoning, olive oil, salt, pepper and a sprinkle of cayenne to taste.
22/40
fcafotodigital / iStock.com
22. Spices
Picking up spices to season a special dinner will cost as much as $7.69 if you buy McCormick spices and seasoning at Target. Head to Whole Foods or other stores where spices are sold in bulk if you just need a pinch or two, and buy just the amount you need for a whole lot less.
23/40
Michael Kappel / Flickr.com
23. Checkout Temptations
You've made it through the store with just the products on your list: Don't blow it on that pack of Orbit gum while you're at the checkout. The checkout line is where candy and other treats get placed to tempt you to buy them when you're fatigued. It is also the place where supermarkets can make billions. The Center for Science in the Public Interest, a consumer advocacy group, reported in 2015 that supermarkets sell about $5.5 billion in food, drinks and other products from the checkout aisle each year.
24/40
gerenme / Getty Images/iStockphoto
24. Precut Vegetables and Fruits
You'll always pay more for the precut version of a vegetable or fruit than the raw version. Save yourself the money and do the dicing yourself.
25. Precut Meats
As with vegetables and fruit, you'll pay more for precut meats. Kabobs, cubed meat and chicken tenders can cost 60% more than slabs of meat and untrimmed chicken, Women's Day reported.
26/40
Aja Koska / Getty Images
26. Out-of-Season Produce
Produce that's out of season tends to cost more since it's harder to come by. Instead, opt for in-season produce or the frozen version of the out-of-season fruit or vegetable you're craving.
27/40
zoranm / Getty Images
27. Preportioned Snack Bags
Preportioned snack bags can be convenient for packing lunches or just keeping your portions in check, but you pay a premium price for the luxury. For example, a 16-ounce bag of Snyder's of Hanover mini pretzels sells for $2.50 at Kroger, but a 9-ounce package of 100 calorie packs of the same pretzels sells for $4.29. You're better off buying the bigger bag and portioning it out into reusable snack bags.
28/40
PeopleImages / Getty Images
28. Canned Beans
You'll pay more for canned beans than you would if you purchased them dry and soaked them yourself. A bag of Kroger-brand black beans that can make 13 servings costs $1.49, whereas a can of Kroger-brand black beans that only makes 3 1/2 servings costs 69 cents. If you break that down, the bagged black beans cost about 11 cents per serving while the canned black beans cost nearly double at around 20 cents per serving.
29/40
Moyo Studio / Getty Images/iStockphoto
29. Flower Bouquets
The flower bouquets sold at grocery stores are not always the freshest, so they can wilt faster than those purchased at a florist, Woman's Day reported. Plus, they are usually filled with lots of greenery to make them look like you're getting more flowers than you actually are for the price.
30/40
gilaxia / iStock.com
30. Cleaning Supplies
Grocery stores tend to charge more for cleaning supplies than big-box stores. For example, Windex glass cleaner is 40 cents cheaper at Target than it is at Kroger.
You can also skip purchasing cleaning products altogether and DIY your own cleaning spray with supplies you probably already have in your pantry. Simply mix together 1/2 cup distilled white wine vinegar and 1/2 cup of water, plus lemon or your favorite essential oil if you want it to be scented.
31/40
JazzIRT / Getty Images
31. Kitchen Utensils
When you're picking up baking ingredients, you're faced with lots of shiny new supplies that you could be tempted to add to your cart in the same aisle. However, kitchen utensils and baking tools will be more expensive at grocery stores than elsewhere. You're better off purchasing these items at stores like Target, Walmart or HomeGoods, Woman's Day reported.
32/40
RgStudio / Getty Images
32. Greeting Cards
You should never pay full price for greeting cards — but you typically have to when you purchase them at the grocery store. Instead, stock up on cards at a dollar store or discount stores like HomeGoods.
33/40
Sergey Granev / Getty Images/iStockphoto
33. Batteries
Batteries are often placed at endcaps and at the checkout line, so they're an item you could be tempted to grab. But you'll get a better price if you buy them at a warehouse store or on Amazon. An eight-pack of Energizer Ultimate Lithium AA batteries sells for $14.59 at Kroger, but you'll save almost a full dollar by purchasing them from Amazon, which sells the same eight-pack for $12.78.
34/40
Rixipix / Getty Images/iStockphoto
34. Guacamole, Hummus and Salsa
As with salad dressings, these dips are better to DIY. You'll avoid the chemical additives, preservatives and extra calories that come with the prepackaged versions when you prepare them yourself, and they're all pretty easy to make at home.
35/40
Amy Newton-McConnel / Getty Images/iStockphoto
35. Storage Containers
The grocery store is not the best place to stock up on new food storage containers — you could end up paying double what you would at a big-box store. A Rubbermaid Easy-Find Lids food storage container set sells for $11.99 at Kroger and for only $5.39 at Target.
36. Napkins, Paper Towels and Toilet Paper
Unless there's a sale, you're often better off picking up these paper goods at a warehouse store or big-box store. A six-count package of Charmin Ultra Soft Mega Roll bath tissue sells for $9.99 at Kroger; it's only $6.99 at Target.
37/40
vitapix / Getty Images/iStockphoto
37. Vitamins
Vitamins are another item that's a rip-off at most grocery stores. Instead, shop at a big-box store to get a better deal. Vitafusion Women's Multivitamin Gummies sell for $12.99 at Kroger and $9.89 at Target.
38/40
Photo by Shpuk Kris / Getty Images/iStockphoto
38. Magazines
You can often get a year subscription of a magazine for just slightly more than what you would pay for a single issue at the grocery store, so it's never worth it to pick up a copy at the checkout. A single issue of Good Housekeeping sells for $3.99 on newsstands, but for less than the cost of two issues, you could get a one-year subscription.
39/40
GMVozd / Getty Images
39. Chicken Stock
Chicken stock is something you can easily make at home with your kitchen scraps, so it's a waste of money to buy a premade version in the store. Plus, grocery store versions are often loaded with sodium.
40/40
Bartosz Luczak / Getty Images/iStockphoto
40. Croutons and Breadcrumbs
Instead of tossing out that stale loaf of bread, slice it and bake it into croutons, or use a food processor to make breadcrumbs. Store your homemade concoctions in airtight containers and freeze to use as needed. This prevents you from throwing out bread that you already spent money on, and from spending in the future on items you can make yourself.
More From GOBankingRates
Taylor Bell and Gabrielle Olya contributed to the reporting for this article.
About the Author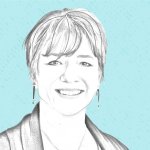 Jodi O'Connell is a freelance wordsmith based in Sedona, Arizona, who writes about everything from vacation vagary and adventure sports to real estate and pets. She spent more than a decade in Arizona's real estate industry advising first-time homebuyers and commercial investors before indulging her passion for the written word on a full-time basis. Her articles appear on websites as diverse as U.S. News and World Report, USA Today, Hipmunk, Roots Rated, and Travelocity.