4 Grocery Store Items With the Highest Markups — and Better Alternatives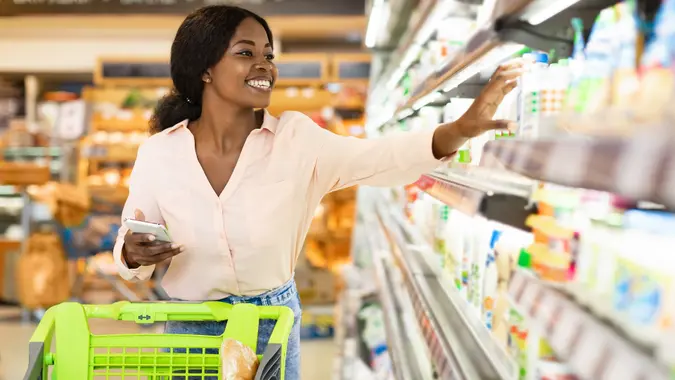 Prostock-Studio / iStock.com
If you don't live under a rock, you've noticed that your trips to the grocery store for the same stuff you always buy have gotten tremendously more expensive. Inflation is not just a concept you learned about in economics class; it's having a direct impact on all goods and services, and groceries have been especially hit hard.
Discover: 11 Grocery Items To Buy at Dollar Tree
Related: 3 Ways Smart People Save Money When Filing Their Taxes
So what's a budget-minded person to do? Let's take a look at which grocery items have received the highest markups and make recommendations for what to buy or cook instead.
Avoid: Beef
If you think your favorite hamburger meat, sausages, cuts of steak and other beef items have gotten a heck of a lot pricier, you're not wrong. According to Forbes, beef prices increased by a significant 16% in 2022 and haven't relented. So how are you supposed to replace your favorite protein to save money?
Try Instead: Plant-Based Meat or Legumes
You can always try to eat less red meat by eating white meats, but chicken also increased by 13.4% — so that's not a whole lot cheaper. Instead, consider some plant-based meat alternatives, such as Beyond Burger, Incredible Burger and a wide variety of lesser known brands that are popping up. According to VegNews, this is the year plant-based meat prices should become cheaper than real meat.
Make Your Money Work for You
Additionally legumes like beans and lentils pack an incredible amount of protein and can be worked into numerous recipes with additional nutritional benefits, for significantly lower prices than beef. An 8-lb. bag of pinto beans at Walmart is just $5.98 and is great for refried beans, burritos, beans and rice, chilis and soups.
Take Our Poll: How Much of a Tax Refund Do You Expect in 2023?
Avoid: Dairy Milk
The milk from cows is a traditional favorite, but dairy milk also increased by 13.3% last year and is hanging out in that higher tier of markups with no signs of dropping.
Try Instead: Almond, Coconut or Oat Milk
Instead, try the now copious forms of nut and plant-based milks on the market, many of which you can find at excellent deals at places like Trader Joe's and Costco. These include almond milk, coconut milk and oat milk. For example, a 32 oz. container of organic, unsweetened almond milk at Trader Joe's is just $1.99.
Avoid: Eggs
Inflation coupled with a highly virulent strain of avian flu that has decimated commercial chicken populations has conspired to raise the price of eggs to almost comically high. Memes abound online about how people are "rich" when they can afford a carton of eggs. Even before the avian flu, eggs had risen 11.2% by the end of 2022 — but now things are getting dire.
Make Your Money Work for You
Try Instead: Egg Replacers
It might be hard to imagine life without eggs, but consider that vegan alternatives have existed for a long time already.
If you use eggs for baking purposes, consider alternatives like applesauce, mashed bananas or chia/flax seeds ground finely. Eggs add volume and binding functions in many recipes, and these other foods can do a similar job. There are also commercial egg replacers, such as those made from potato starch, tapioca starch and leavening agents, according to Healthline.
And if you really want to simulate the experience of scrambled eggs, try tofu. Because it is mostly flavorless, it can take on any spice or flavor profile you add to it, and it's oft enough to sauté, bake or scramble.
Avoid: Fresh Baked Goods
Grocery stores are smart — they put those freshly baked loaves of bread, cakes and pastries right up front where your nose and eyes will be immediately drawn to them when you walk in.
Make Your Money Work for You
The problem, according to Reader's Digest, is that freshly-made baked goods cost as much as three times more than the kind you can buy pre-packaged.
Try Instead: Pre-Bagged or Make Your Own
The obvious answer for the busy person is to buy the items that are pre-made and pre-bagged, which probably have more preservatives but will last longer and cost less.
However, another alternative is to hop on the DIY bandwagon and learn to make some of these items yourself. Breads, muffins, cookies and cakes are fairly easy to make from scratch, depending on the recipe. You could even invest in a bread machine, which makes it super simple and cost-effective in the long run.
More From GOBankingRates
Make Your Money Work for You