How Can You Support Your Favorite Local Restaurant?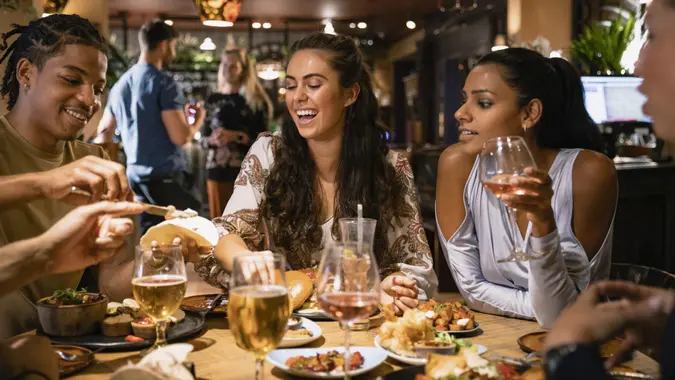 DGLimages / Getty Images/iStockphoto
When you don't want to make dinner or are craving a certain menu item, your favorite local restaurant always takes care of you, and you want to return the favor. The COVID-19 pandemic hit the restaurant industry hard, and while things are looking brighter, staying afloat is still challenging for many eateries.
Social Security: Why Not Everyone Will Get An 8.7% COLA Increase in 2023
Read More: If Your Credit Score Is Under 740, Make These 4 Moves Now
Total restaurant and food service sales are projected to reach $898 billion in 2022, which would finally outpace the $864 billion realized in 2019, according to the National Restaurant Association. However, nine in 10 restauranteurs say food costs are eating into their profits more than before the pandemic.
Therefore, it's still very important to stand behind local restaurants and give them as much support as possible. Here's seven different ways you can show your support.
Get Social
"The best way you can support your local restaurants is by sharing reviews and photos on social media when you dine," said Sylvia Fountaine, a professional chef and CEO of Feasting at Home, which started at as a catering business but has evolved into a blog. "Using location hashtags and trending hashtags on platforms like Instagram and TikTok can help local restaurants pop up in searches made by local diners."
Make Your Money Work for You
However, she said you don't actually have to eat at the restaurant to support it on social media.
"Even if you aren't able to dine at a restaurant for some reason, you can share a restaurant's social media posts on your own IG stories or TikTok," said Fountaine, who also previously owned Mizuna restaurant in Spokane, Washington. "It's free to do and gives a small vote of support for local chefs and restaurateurs."
Take Our Poll: Do You Think Student Loan Debt Should Be Forgiven?
Write Online Reviews
When you have a positive experience at a local restaurant, use Google reviews or Yelp to tell others about it, said Téa Ivanovic, co-founder and chief operating officer of Immigrant Food, known for its food concepts that celebrate immigrants in Washington, D.C.
"Give your server or manager a special shoutout if you liked your experience," she said. "It's an easy, no-cost way to support a restaurant that we as a restaurant community truly appreciate."
Make Your Money Work for You
Eat There
Chances are, you have a few favorite local restaurants that you haven't visited lately. Therefore, Jeff Neely, owner of Pixie in Mt. Pleasant, Michigan, encouraged you to show support by dining at these eateries or ordering a meal to go.
"When you are there, be patient," he said. "Many establishments are facing staffing shortages, so service may take slightly longer than you are used to."
Don't Order Takeout Through Third-Party Apps
These days, there's no shortage of food delivery apps, but Neely said using them to order from your favorite restaurants isn't as helpful as you might think.
"When you are craving your favorite local restaurant, avoid placing your order through third-party delivery apps, like DoorDash, UberEats, etc.," he said. "What many people don't know is that these third-party apps take a significant portion of a restaurant's sales, sometimes leading restaurants to actually lose money on those orders."
Give Gift Cards
Next time you need to get someone a gift, treat them to your favorite local restaurant. No, you don't have to go through the hassle of finding a day that works for everyone, securing a reservation and making small talk — just get them a gift card.
Make Your Money Work for You
This is an easy way to help the restaurant bring in business, and there's a good chance the recipient will spend even more. Specifically, 80% of consumers with a fine dining, fast casual restaurant, or drug store gift card spend more than the value of their card, according to Fiserv.
Eat Out During the Week
If you're like many people, you tend to dine out on Friday or Saturday night — or both. This is great, but consider adding Monday or Tuesday night to your restaurant rotation, as these are typically the industry's slowest days of the week.
Supporting a local restaurant is a great excuse to relax a little on a weeknight when you'd usually be rushing to get dinner on the table after work. Slipping a little gourmet dining into your week can help you get past those post-weekend blues while increasing revenue at your favorite eatery.
Purchase Non-Food Items
Many restaurants don't just sell food. In addition to menu items, you can also buy t-shirts, hats, coffee mugs and other non-edible novelties.
Adding one of these items to your order is a great way to help them bring in a little extra profit. Plus, if you wear the item, display it in your home or give it as a gift, you're also helping to advertise the business.
More From GOBankingRates
Make Your Money Work for You