How Dining Out Looks Different in a Gen Z Future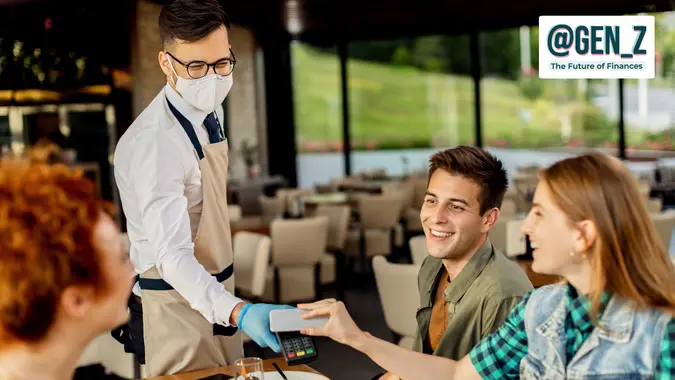 Drazen Zigic / iStock.com
For years, dining out followed a pretty standard procedure: You chose your food off a laminated paper menu. You ordered directly from a server standing in front of you. You brought your wallet full of cash, or credit or debit cards and paid for your meal off a paper bill. However, for Generation Z, those born between 1997 and 2012, they have and are growing up in a vastly different dining out environment, one that will continue to evolve long past the old school methods many of us are familiar with. While the trend toward digital, touchless ordering and payment methods was already on its way, the COVID-19 pandemic hurried it along out of necessity. Here are just a few of the ways Gen Z is reshaping dining out and finances in general.
Read: How COVID-19 Changed Gen Z's Perspective on Money
More: 4 Industries Gen Z Might Save — and 4 It Might Destroy
Gen Z Has Adapted to Technology
Gen Z is a generation growing up after the advent of the internet and social media. They appear to be more interested in using digital technology than any generation before them, according to a study by Paysafe. And they spend a significant amount of time online, around 6­ to 8 hours each day, according to QSR Magazine, meaning they respond more to digital engagement when it comes to marketing, making plans, buying tickets, ordering and paying for food, and more.
Make Your Money Work for You
"Gen Z is like a breath of fresh air for older millennial finance experts like me, when it comes to peeking at the future of the marketing industry," said Robert Johnson, founder of Sawinery. Because the oldest of Gen Z were born right around the time Google was founded (1995), "they have grown up in touch with advanced technology. This makes them more open to the idea of doing all things digital during these times wherein touchless is equivalent to safety," Johnson said.
Industry experts suggest that Gen Z will "launch new normal methods, especially in the food service industry, at an accelerated pace. If I am to predict what dining out will look like in the next few years, I will bet on the use of artificial intelligence," Johnson added.
Check Out: A Look at Gen Z's Financial Habits, From Spending to Saving and More
See: Surprising Ways Gen Z and Millennials Are Worlds Apart Financially
Make Your Money Work for You
QR Code Menus
Perhaps the most noticeable change in dining out is the "elimination of physical menus," said Jacob Dayan, CEO and co-founder of Community Tax and Finance Pal. "This originally started because of the coronavirus pandemic, but many restaurants realize that having a QR code is helping them in many ways," he said. To name a few: Customers can get access to menus without the need of a waiter to bring them one, and it improves speed and efficiency, with customers making their choices before a waiter ever arrives.
Find Out: 5 Financial Steps Gen Z Should Be Taking Now

According to The New York Times, QR codes are also better for businesses, particularly because "the spread of the codes has also let businesses integrate more tools for tracking, targeting and analytics."
Tom Sharon, a co-founder of Cheqout, told The New York Times that restaurants using QR code menus may save 30% to 50% on labor costs.
Make Your Money Work for You
Certainly, given how much Gen Z uses their phones for ever more functions, from banking to entertainment to communication, it seems likely that QR code menus are here to stay.
The Financial Guide to Adulting: Real Money Advice From Older Generations
Digital Payment
Gen Z also pays for things differently than older generations. According to the study by Paysafe, 53% of Gen Z respondents preferred shopping in stores that offer contactless payments and 40% had made in-app purchases.
"One of the things Gen Z has mastered is the use of apps like Venmo to quickly send money to each other," said Jake Hill, CEO of DebtHammer. "They use it to pay for their share of the meal bill, for tip splitting, even to pay doctors and service workers."
He finds that older generations have been slower to adopt this tech. "I think it's given Gen Z more flexibility, especially when it comes to spending a night out."
Carter Seuthe, CEO of Credit Summit Student Loan Refinancing, added that "the use of apps and contactless methods of payment like Apple Pay have made dining out with Gen Z more an exercise in pulling out a phone than pulling out a wallet." Though he said there could be problems with this, in that they may not always conceptualize how much they're spending, "it's definitely the wave of the future…and far more convenient."
More From GOBankingRates
Make Your Money Work for You