Eggs Once Cost $0.84: Here's How the Price Has Changed Since Then and Where It's Heading in 2023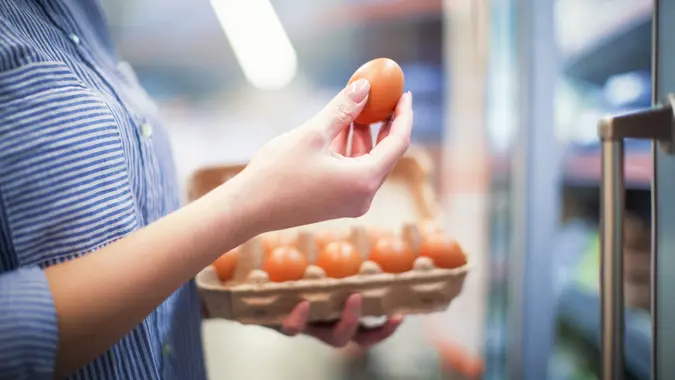 Aja Koska / iStock.com
Perhaps of all the grocery store staples impacted by inflation, none have been as polarizing as the price of eggs. In May 2022, Axios reported eggs could increase up to 21% in cost. Increasingly high egg prices have pushed consumers to search for alternatives, like dried eggs, and unfounded chicken feed conspiracy theories have gone viral on TikTok. 
Discover: 11 Grocery Items To Buy at Dollar Tree
More: 3 Ways Smart People Save Money When Filing Their Taxes
Let's set the record straight. Yes, egg prices have changed over the years, but TikTok conspiracies have nothing to do with it. Here's a look at how, and why, egg prices have changed over the years and where they're heading in 2023.
Egg Prices Over the Decades
The earliest the Bureau of Labor Statistics data tracks egg prices is the year 1980. That year it cost 84 cents for a dozen eggs. 
The remarkable aspect of combing through the BLS data is that egg prices remained well under $2 throughout the 1980s, 1990s and even into the early 2000s. 
The last significant spike in egg prices occurred in fall 2015, said Scott Nasca, CFA and president of Generation Capital Management. On the heels of the HPAI outbreak, data from the USDA shows a dozen grade A eggs increased from $1.29 in April 2015 to $2.61 in August 2015's New York market. 
Make Your Money Work for You
Take Our Poll: What Are Your Financial Priorities in 2023?
Why Are Eggs So Expensive Now?
A few factors have contributed to the recent spike in egg prices, which The New York Times reports reached an average price of $4.25 for a dozen eggs in December 2022. 
One critical reason is the ongoing avian flu epidemic. Fifty-eight million birds have been infected as of Jan. 6, according to the USDA. High inflation rates have also contributed to increasing egg prices but this is largely a secondary factor as inflation has touched virtually all household expenses.
But the biggest reason why consumers feel the pinch with egg prices is because of our egg consumption habits. In 2022, the USDA reported that an average of 278 eggs are consumed per person per year. Eggs are a critical source of protein in most households and demand is high.
The popularity of purchasing eggs also means consumers are quick to notice when prices go up.
"Everyone buys eggs," Nasca said. "Eggs are a staple and necessity for the average American. Just like the price of gas or shelter, groceries impact the bottom line. You cannot go without having these and it has a greater impact on people's pocketbooks the lower their overall income is."
Make Your Money Work for You
What's on the Horizon for Egg Prices in 2023?
Good news is coming for the millions of Americans impacted by eggflation. After months of record highs, wholesale egg prices are now starting to drop, as reported by The Wall Street Journal. 
Before egg enthusiasts reading this get too excited, it is important to clarify that there is a difference between wholesale and retail prices. Wholesale prices are what suppliers charge. Retail prices are what consumers pay at grocery stores for available inventory. The recent drop in wholesale egg prices is still quite fresh and it may be some time yet before we see this translate to retail prices at supermarkets.
In the meantime, consumers are advised to exercise patience in waiting for egg prices to drop. 
"We still have to see how quickly the grocery stores will pass along the lower wholesale prices on to the consumer," Nasca said. "There are expectations prices should start to come down in the coming months as the impact of avian flu lessens and production returns to normal."
Make Your Money Work for You
More From GOBankingRates
Make Your Money Work for You