How Much Money Do Americans Spend on Beer on St. Patrick's Day?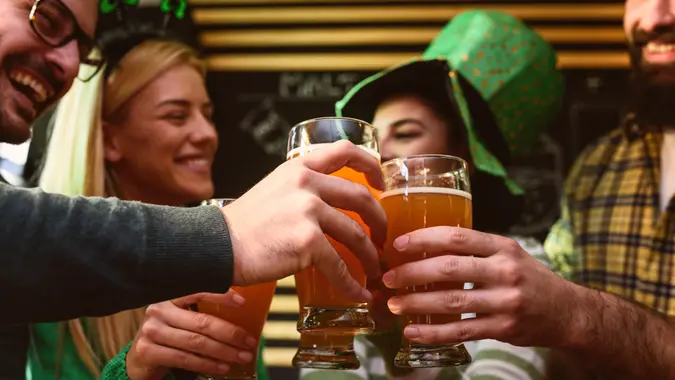 Lordn / Getty Images/iStockphoto
St. Patrick's Day is one of the luckiest holidays for bars and beverage distributors as millions say "Slainté!" on the third busiest drinking day of the year (behind Mardi Gras and New Year's Eve). 
Find Out: The IRS Has Refunded $15.7B as of Feb. 3 — Here's How Much the Average Taxpayer Is Getting Back
Learn: 3 Signs You're Serious About Raising Your Credit Score
Not only that but the Irish celebration, traditionally held on March 17 — festivities often kick off the weekend prior — is also known as the number-one day for beer drinking, according to WalletHub, with 174% more cans and bottles sold on this day than any other in the calendar. 
Also according to the 2022 report, people consume 4.2 drinks on average on St. Patrick's Day with the Irish staple Guinness being a popular choice (it's said that 13 million pints are sold worldwide on the holiday).
So, how much does all this cost Americans? WalletHub notes that, in 2022, $5.87 billion was spent in total on the holiday, coming in at around $42 per person, with a large share of that devoted to beer sales. 
Make Your Money Work for You
Numbers are way up for 2022 and going into 2023 now that festivities are fully back on post-pandemic, notes Statista, who reports 2021 was more in the $4 billion range as COVID-19 precautions prevented many of the typical celebrations such as parades and bar parties. In 2022, more people reported they were celebrating as well, up to 54% says Statista and that trajectory is set to continue going into this year.
In fact, America is one of the biggest celebrators of the holiday, even more than Ireland itself. The mainland has even taken cues from America for how to fete the holiday themselves in recent decades. Per History.com this is largely due to the emigration of Irish natives to America in the 19th century who wanted to hold tight to their traditions and often took to the streets on March 17 to honor their patron saint holiday.
Take Our Poll: What Do You Plan To Use Your Tax Refund For?
$2,000 Quarter? Check Your Pockets Before You Use This 2004 Coin
Boston and Chicago are some of the biggest cities to take part in the fun, which makes sense since there are still large Irish communities in both markets. In Chicago, the city is notorious for dying the river green with 60 pounds of safe dye added to the waterway, lasting five hours, per WalletHub. The tradition began in 1962 and 400,000 people are reported to watch it on many of Chicago's bridges every year.
Make Your Money Work for You
More From GOBankingRates
Make Your Money Work for You