How To Find the Best Restaurant Deals Using ChatGPT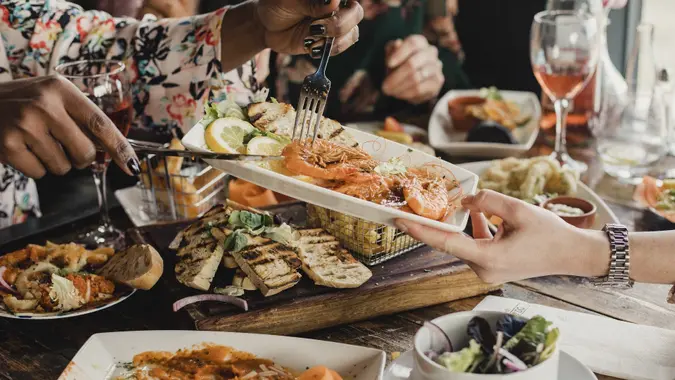 SolStock / iStock.com
Dining out can be one of life's most pleasurable activities, especially with friends and family. However, working a delicious meal that you didn't have to cook into your life has become pricier than ever thanks to inflation and staffing shortages, which can make it difficult to budget for. Enter ChatGPT, OpenAI's new language-processing AI tool.
While you might have only thought of it as a tool for writing-related tasks, it's getting quite good at searching for and aggregating data that can help you find the best deals on everything, including restaurants. Here's how experts explain how to use ChatGPT to make dining out an affordable part of your budget:
Be Specific in Your Prompts
ChatGPT doesn't provide "real-time information"  so the key to using it to get great restaurant deals is to be very specific with your prompt, according to Tim Lee, founder of Tims Coffee.
"When asking for suggestions, don't be vague like 'help me find restaurant deals.' Narrow down your location, and your preferred type of cuisine in your prompt," he urged. 
Once you know which restaurant to go to, you can find out whether they have any ongoing discounts.
Make Money With AI and ChatGPT: How To Earn $1,000 a Month
Explore Restaurant Promotions on Social Media 
Another way to use ChatGPT to find the best restaurant deals is by prompting it to explore promotions on social media, suggested Alex Alexakis, a tech expert and founder of the tech company PixelChefs. "Many restaurants use social media to offer exclusive deals or promotions to their followers or fans. These can include discounts, coupons, freebies, or contests that can help you save money and enjoy your meal," he said.
Make Your Money Work for You
For example, you can ask, "Are there any special deals or promotions if I follow Olive Garden on social media?" or "Check Cheesecake Factory's Instagram to see if they have any promotions going on specific payment methods or bank cards?"
"ChatGPT usually gives the most recent information about the promotions on social media and provides me with links or codes. It also gives me some tips and best practices on how to use them effectively and safely, which are really helpful at times," Alexakis said. 
Personalized Deal Notifications
In some browsers, you can add a personalized notifications plugin to use with ChatGPT, according to Yash Giri, owner of Technographx. Use this to create and subscribe to restaurant deal notifications. "Set your preferred cuisine, price range, and location parameters, and receive real-time alerts on exclusive offers, discounts, happy hours, and seasonal promotions from your favorite eateries."
Smart Filtering and Sorting
You can get very creative through filtering and sorting techniques, Giri explained. "Leverage ChatGPT's intelligent filtering and sorting capabilities to narrow down your search. Specify criteria such as distance, customer ratings, ambiance, or specific deal types (e.g., buy-one-get-one, lunch specials), and ChatGPT will curate a refined list of restaurant deals that perfectly align with your preferences."
To be more specific, according to Kacper Rafalski, demand generation team leader at Netguru, you can follow these simple steps:
Once WebChatGPT has accessed the site, ask it to read and summarize the content, such as by requesting "Summarize the best restaurant deals on this page."
For more personalized suggestions, you can ask more specific questions. For instance, if you're a fan of Italian cuisine, you could inquire, "Are there any deals for Italian restaurants listed on this page?"
WebChatGPT will extract the relevant information from webpages, making it a potentially valuable tool for finding the best restaurant deals available online.
Make Your Money Work for You
User-Generated Reviews and Recommendations
ChatGPT can even access a wealth of user-generated reviews and recommendations, Giri said, to help you better decide where to eat. "ChatGPT can summarize and analyze customer feedback, ensuring you make informed decisions about the best restaurant deals available. It can even provide insights on the most popular dishes and the overall dining experience at each establishment."
WebPilot Plugin
One of several new plugins that ChatGPT has rolled out includes the WebPilot plugin, according to tech blogger, Thoriq Noor. "This plugin allows ChatGPT to visit web pages, extract specific information, and interact with the content. It can be used to visit deal websites, scan through the restaurant deals section, and provide you with a summary of the best deals available."
Comparison Shopping Plugin
Another useful plugin is the comparison shopping plugin, Noor explained. "This plugin can help you compare deals from different websites. It can gather information from various platforms and provide a comparison based on factors like price, location, and reviews."
Use the Alert Plugin
You can also set up the alert plugin to let you when new deals are available, Noor said. "It can monitor deal websites and send you a notification whenever a new restaurant deal is posted."
More From GOBankingRates
Make Your Money Work for You