How To Save Money During Pumpkin Spice Latte Season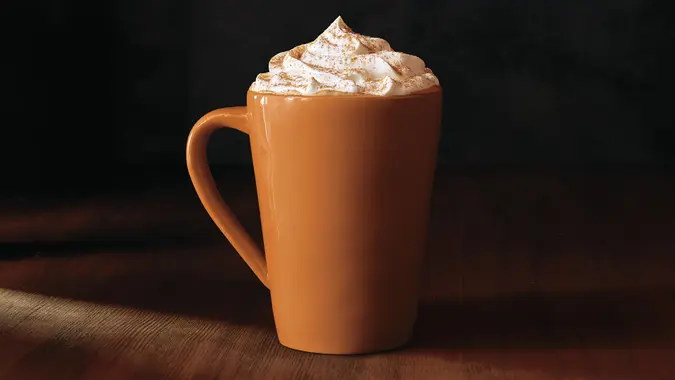 ©Starbucks
It's a favorite annual rite of fall for excited fans, and we're not talking about football season. For many, this time of year means just one thing: pumpkin spice lattes have arrived.
Check Out: 5 Bulk Food Items You Need To Be Buying at Costco This Fall
More Shopping Tips: The 8 Best Deals From Costco's September Coupon Book
Maybe that's why the drive-thru lanes at Starbucks, Dunkin' and McDonald's seem to have more cars backed up these days, filled with people clamoring for their pumpkin spice lattes, hot or cold.
The popularity is undeniable. Starbucks brought its pumpkin drinks back on Aug. 24, and store visits increased by 3.5% that week over the same week in a robust 2019, according to analytics firm Placer.ai. Store visits also grew by 12.3% week over week. The debut week of the pumpkin goodness also brought a weekend spike in customers, with 20.8% more visitors on Saturday and 19.3% more on Sunday when measured against the previous four weekends.
Find Out: 10 Ways To Pay Less at Starbucks
Placer.ai said the trend was the same at Dunkin', which saw traffic up 8.4% compared to the same week in 2019 when it introduced its seasonal drink on Aug. 18.
Make Your Money Work for You
For the shops, it's a financial boon. For your wallet? Not so much when you consider a pumpkin spice latte can cost $5 or more at your local coffee spot. As much as you might crave one, it probably isn't financially possible — or financially wise — to indulge all that often.
But that doesn't mean you have to go without your favorite drink this season.
See: The Price of a Cup of Coffee Around the World
Don't Pay Full Price
Coffee chains such as Starbucks, Caribou Coffee, Tim Hortons, Peet's Coffee and Dunkin' all have rewards programs. Depending on the shop, you can get a free drink (a pumpkin one, please!) at signup, on your birthday or by accumulating points. If you aren't a member, now is a perfect time to join.
Or, look for lower-priced alternatives. McDonald's, for example, sells its small pumpkin latte for $2 at most locations. Download the chain's app, too, for additional discounts.
Finally, order up a pumpkin spice drink at your local shop the a la carte way. How? Ask your barista for a regular coffee with a pump of pumpkin sauce. You'll pay extra for that pump but still come out way ahead. At Starbucks, for instance, a 16-ounce pumpkin spice latte costs $5.25. The same-sized Pike Place Roast coffee with pumpkin syrup is $3.25. You just saved $2.
Make Your Money Work for You
Find Out: 30 Things You Should Never Buy Without a Coupon
Make Your Own
Recipes abound online for pumpkin spice latte. Check Instagram or Pinterest, and you'll find countless people willing to share their creations. Among them is Taylor Golub, a Southern California food blogger who posted his recipe for a pumpkin coffee drink on Instagram. It calls for 1/2 cup heavy cream, plus scant amounts of pumpkin purée, maple syrup, salt, pumpkin pie spice and sweetened condensed milk to make a pumpkin cream to mix with your coffee.
The ingredients are inexpensive enough, he said, that you can afford to invite your friends over for coffee and not bust your budget.
"It's definitely cheaper because you could make a bunch of them," he said. "Also, you can refrigerate it all to last longer. The ingredients all are quite cheap and it, of course, makes a lot more than just one cup."
Discover: 50 Purchases Buyers Almost Always Regret
Another Alternative
Sellers of ground coffee have gotten in on the pumpkin craze, too. Just as you can brew hazelnut-flavored coffee at home, you can make pumpkin-flavored coffee, too.
Make Your Money Work for You
Bones Coffee Co., for example, has its Jacked O Lantern, which it describes as a "full-bodied medium-roast coffee with the perfect amount of pumpkin-spice flavor." Grounds & Hounds Coffee Co. has its Pumpkin Spice, which it says features "notes of fresh ground cinnamon, pie spice, baked pumpkin and toasted vanilla bean." Just mix with cream and sugar, as desired, for a custom-made pumpkin treat.
While it's pumpkin spice season now, these money-saving tips work year-round. Winter isn't that far off, and soon you just might be craving a peppermint mocha or a white Christmas, which will fill your home with a vanilla aroma. There are syrups and flavored coffee grounds available to replicate those tastes, too.
More From GOBankingRates
Last updated: Sept. 14, 2021
Make Your Money Work for You