These Decadent PB&Js Are Anything But Ordinary
We tried 'em and they're even more delicious than they look.
Peanut butter and jelly got you through your childhood and perhaps some rough times in college, too. You might have sworn off the easy-to-make snack more recently — maybe you've outgrown the taste or it caused you to pack on a few too many pounds. (Though it turns out the tasty treat is surprisingly healthy.)
Whatever the reason, PB&J might still be categorized in your mind as "ol' reliable," but there are plenty of ways to spice up this inexpensive meatless meal for a more sophisticated palate.
Do More: Impressive Ways to Serve These Cheap Foods
PB&J Basics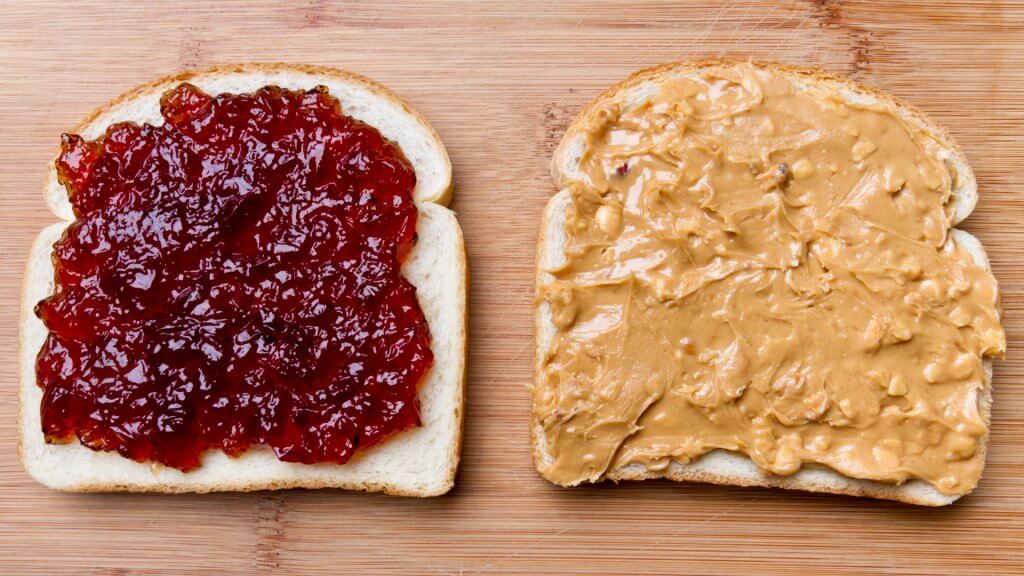 Every peanut butter and jelly sandwich requires a couple of basic ingredients — namely the peanut butter and the jelly.
If you want to change up the dynamic between your slices, opt for a different nut butter. Although classic peanut butter is high in protein and comes in two styles — chunky or smooth — feel free to sub in something a bit more sophisticated for some lip-smacking goodness. Popular substitutes are almond butter, flax seed butter, cashew butter and even macadamia nut butter for an island flair.
As far as jelly goes, there is an endless amount of combinations. Instead of the plain Jane grape jelly, you can go simple with some strawberry or raspberry spread — or get wild with mint-lavender infused apricot preserves.
Other Affordable Meals: 10 Easy Meals Under $10 to Try This Weekend
Suggested PB&J Upgrade-wiches
Once you settle on your basics — the nut butter base and the jelly — add some more ingredients to spice up your 'wich. Here are a few PB&;J upgrades that you can easily make at home:
Sandwich No. 1: The Rocky Road


©GOBankingRates
To satisfy any sweet tooth, add some mini marshmallows and chocolate chips to your regular PB&J sandwich. If you really want to go PB and gourmet, you can lightly cook your marshmallows on the stove so they have that gooey, s'mores-like quality.
Other Eats: 25 Cheap Frozen Foods That Are Actually Good for You
Sandwich No. 2: The Granola 'N Jam


©GOBankingRates
A serving of sweetness and crunch is all you need for this sandwich delight. If you're a big fan of granola, try sprinkling some of the whole grain treat on your next PB&J snack.
Sandwich No. 3: The Movie Theater Deluxe


©GOBankingRates
Get ready to take your Netflix sessions to the next level with this popcorn concoction. Sprinkle a fresh-popped bag of movie theater-style popcorn for a satisfying crunch.
Enjoy: Every State's Iconic Food Item — and Where to Eat It
Sandwich No. 4: Sweet N' Salty


©GOBankingRates
If you want to take that crunchiness to the extreme, sprinkle on some classic potato chips. The texture is sort of like chunky peanut butter, but better — and the salt complements the jelly with some serious bite.
If you're feeling seriously brave, sub in some salt and vinegar chips for extra tang.
Click through to read about some easy, delicious and cheap breakfast ideas from around the world.
More on Saving Money
We make money easy. Get weekly email updates, including expert advice to help you Live Richer™.