Inflation 2023: With Higher Grocery Prices, Is It Cheaper for Singles To Eat Takeout?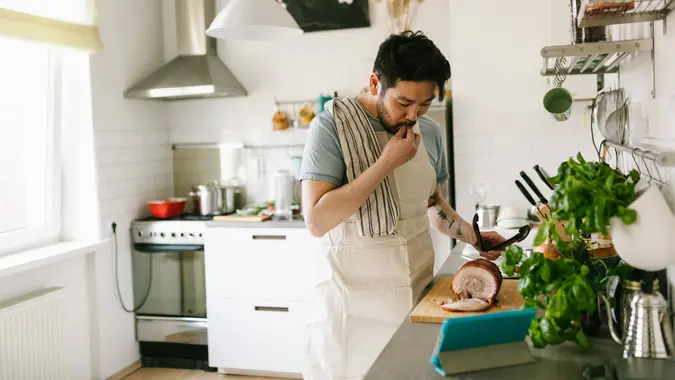 visualspace / Getty Images
Cooking for one can often feel like it's not worth the effort, and with grocery prices as high as they are, many may believe we've reached the point where it's not worth the money either.
GOBankingRates spoke to experts about the financial pros and cons of cooking versus eating takeout when you only have one person in the household.
Cooking Can Be Cheaper, Especially When It Comes to Healthier Options
Elise Hilliam, CEO at MenuAid, a tech solution designed for weekly meal planning, notes that preparing meals does take extra effort, but it is overall the most cost-effective way to eat healthful meals.
"Ordering takeout regularly will quickly add up and become more expensive, especially if opting for 'healthier' takeout with better quality ingredients, rather than a cheap pizza," she said. "With a little bit of planning ahead, cooking can be far cheaper and quicker than getting takeout, and will always win in the long run."
Make Your Money Work for You
Cooking Can Even Be Cheaper Than Fast Food
It's not just healthy foods that win the battle of cost-saving. Brock Denson, founder of Project Personal Finance, broke down the cost of a homemade hamburger versus one from McDonald's and found that the per-unit cost for the homemade version is slightly less.
"The cost of ground beef is $6 per pound, buns are $5 and the cost of other toppings is around $10. That gives you an approximate cost of $5.25 per hamburger," he said. "McDonald's has theirs for around $5.50, depending on where you live. I don't think we've reached the point where we can save money by eating out instead of eating at home."
Julie Ramhold, consumer analyst with DealNews.com, did a similar breakdown with fast-food tacos.
"For example, Taco Bell, which is a popular option for those looking for cheap eats, has prices like basic tacos for $1.69 each and combos for $5. However, you have to ask yourself how many tacos you'd need to get in order to feel full, and if you want something beyond the basic tortilla, meat, lettuce and cheese, you're going to pay more," she said.
Make Your Money Work for You
"Even the combos that are $5 include a couple of items typically and a drink for that price, though more expensive combos may have more. If you branch out to something like a meal for two or a meal for four, you can spend $12.50 or $20.83, respectively, and have multiple meals for yourself — but it's still not going to be the same value as shopping for groceries."
However, when you factor in time-saving, fast food can be less expensive. After all, time is money.
"It has always been cheaper for people to order a cheap fast food burger than to cook one at home, and that is even before factoring the amount of time it takes to cook. For a single person, when you consider the time saved, fast food is always cheaper," said Kam Talebi, CEO of The Butcher's Tale.
Takeout May Be Cheaper on a Per-Meal Basis
If you are comparing the costs of a single meal, takeout may be cheaper, excluding fast food options.
Make Your Money Work for You
"If you are buying high-quality ingredients for your meals, it can be cheaper to get takeout than to pay for the same quality groceries," said Zach Larsen, co-founder of Pineapplemoney.com. "Additionally, if you are only purchasing one meal at a time, it may be cheaper to get takeout than to buy groceries in bulk."
Marcus Arcabascio, deals and discount expert at Menu Price, notes that grocery prices have risen at faster rates that takeout food prices over the past year.
"The average price of grocery items has increased by 12%. On the other hand, restaurants have only boosted their prices by 5 to 8%," he said. "This is why many single people prefer eating out rather than making their meals at home."
More From GOBankingRates
Make Your Money Work for You