Inflation Takes a Bite Out of Pizza Costs: Where the Fan-Favorite Dish Is Most and Least Expensive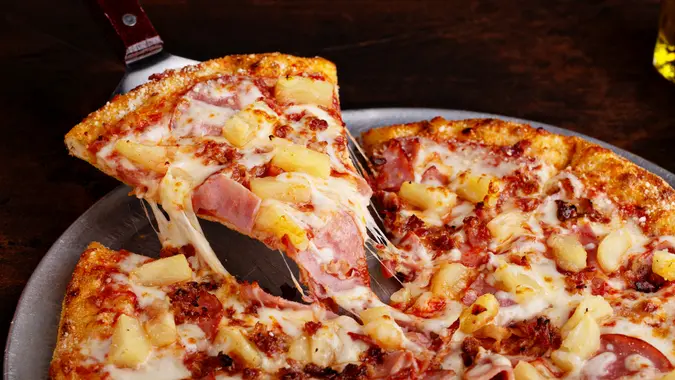 VeselovaElena / Getty Images/iStockphoto
Ahead of National Pizza Day on Feb. 9, pizza ordering app Slice released its annual "Slice of the Union report," which revealed where the fan-favorite dish is the most and least expensive.
See: Costco's Best Deals? Employee Reveals 10 Standout Buys for Your Money
Find: 3 Ways Smart People Save Money When Filing Their Taxes
Because of inflation, this year, Slice created a "Pizza Index" — a "barometer that indicates the economic health of our nation as determined by the cost of a pizzapie in each state." To do so, it analyzed data from millions of orders across nearly 19,000 independent pizza shops.
"Like other industries, pizza was also impacted by the rising costs of goods," said Wendy Ginsberg, Slice senior director of consumer products. "The average cost of a large pie is $17.81 — a 6.4% increase year over year. However, there is a reason independent pizzerias have been serving our neighborhoods for generations. Pizza is a tasty, affordable crowd-favorite in all economic conditions. We expect America will continue loving pizza this year and into the future."
Make Your Money Work for You
In terms of where inflation hit the most for pizza lovers, Slice found that Oregon takes the cake for most expensive pie, with an average cost of $26.94. Expensive pies are also found in Washington and Alaska, where customers can expect to pay more than $23, according to the report.
The least expensive pizza offerings are in Oklahoma, with a $12.70 average price, Minnesota, with a $13.88 average price and Alabama, with a $14.80 average price.
"Except for North Dakota, Montana, Louisiana, Kentucky and Minnesota, every state was forced to increase the cost of a large cheese pie," the report claimed.
Despite inflation, in 2022 pizza lovers tipped almost $74 million to the staff of independent pizzerias.
Other findings include the toppings of the year — ranch dressing, which was on 9.7% more orders (particularly favored in Pennsylvania) and mushrooms, which were placed on 8.9% more pizzas than the year previous.
The report also announced the new trends for 2023, which include an uptick in Roman-style pies and pickle pizzas. Further, it found that while some Americans' New Year's resolution is to swear off pizza, this never lasts. The so-called "Ditch Day" for said resolution is Jan. 13 — "the day when they come to their senses."
Make Your Money Work for You
Take Our Poll: What Are Your Financial Priorities in 2023?
More: 11 Fast Food Restaurants That Accept EBT
Finally, in honor of Pizza Day, Slice will offer $5 off first-time orders on the Slice app with a minimum $25 spend.
More From GOBankingRates
Make Your Money Work for You