Is Breakfast Now the Most Expensive Meal of the Day?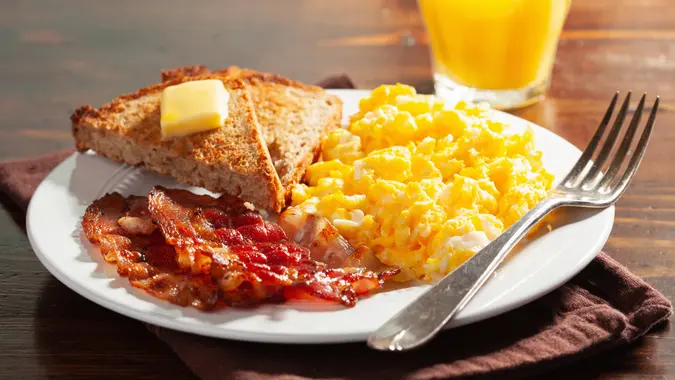 OlgaMiltsova / Getty Images/iStockphoto
Breakfast has long been hailed as the most important meal of the day but is it also now the most expensive? Due to a number of factors, that could be the case. Let's have a look at what common breakfast items cost and what's driving up their prices, respectively.
See: 10 Things To Stop Buying in 2023
Find Out: Here's How Much Americans Have in Their Savings Accounts in 2023
See the List: GOBankingRates' Best Banks of 2023
Eggs
Eggflation is real. In December, the average price of eggs in the U.S. was $4.25 for a dozen of Grade A large eggs – up 18% over November, and the highest price for this item on record since 1980. The rise in price is largely owed to the outbreak of the deadly avian flu which, according to the CDC, has affected nearly 58 million poultry – many of them egg-laying hens – as of Jan. 18.
Bacon 
The average cost of bacon, sliced, per pound in December was $6.96 – down from November, but still high for the category. The surge in price is mostly tied to ongoing labor shortages and supply chain issues triggered by the pandemic. Bacon costs are deflating though and consumers should see prices fall in the near future. 
Take Our Poll: Are You In Favor of More Inflation Relief in 2023?
Make Your Money Work for You
Bread
A pound of white bread went for $1.87 in December, up 34 cents from where it was in December 2021. The cause for the spike in price is primarily the Russia-Ukraine war. Russia and Ukraine account for almost 30% of global wheat exports and are known as the breadbasket of Europe. Global drought is also affecting wheat supplies. 
Oranges 
The average price of a pound of navel oranges in December was $1.49 – not as bad as in November ($1.64) – but still high. The steep price tag is owed to a low crop yield in Florida this year thanks to stormy weather and a disease targeting oranges. 
Milk 
A gallon of whole milk cost $4.21 in December when it cost just $3.74 a year prior. The reason milk has become so much more expensive is because the costs of cow maintenance have gone through the roof including feed, labor, transportation and even the costs to milk a cow. These costs have soared largely due to the unnatural, extreme heat affecting dairy farmers and herds. 
More From GOBankingRates
Make Your Money Work for You
Make Your Money Work for You