Is HelloFresh Worth It? Everything You Need To Know About HelloFresh Meal Delivery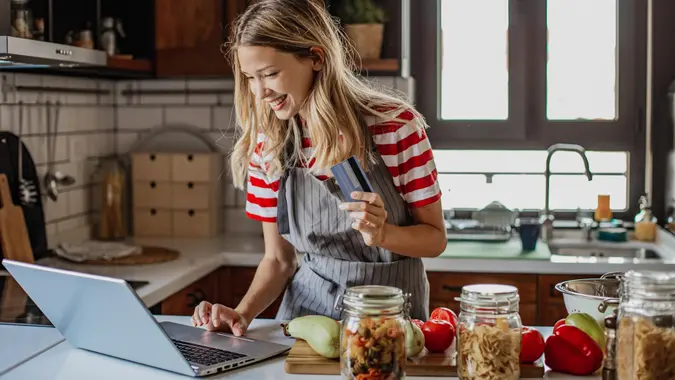 blackCAT / iStock.com
Prepared meal delivery is big business. It's easy, convenient and it means not having to go grocery shopping. However, it can get expensive fast. HelloFresh is one popular company that provides such services, but is HelloFresh worth it?
The cost of HelloFresh depends on the meal plan and number of servings chosen. It typically ranges from $7.49 to $8.99 per serving. Visit the HelloFresh website to see their current pricing options and promotions.
What Is HelloFresh?
HelloFresh is a meal kit company founded in 2010 in Berlin, Germany. The company offers a wide range of meals with protein options like chicken, steak and plant-based proteins.
When someone places an order, they start by telling HelloFresh the types of meals they'd like from the following options:
Meat & Veggies
Veggie
Family Friendly
Fit & Wholesome
Quick and Easy
Pescatarian
The next step is to tell HelloFresh how many people they're feeding and how many meals each person needs per week. Options for the number of people are 2 and 4. Consumers can order between 2 and 6 meals per week per person.
The customer can decide if they'd like to swap proteins, veggies or any other part of their meals. Then, HelloFresh sends the meals to the customer based on their orders.
The Popularity of Meal Kits
In the United States, the meal kit business is estimated to be worth between $7 billion and 10.2 billion in 2023, according to Statista. There are obvious advantages to meal deliveries:
Trying New Things: Consumers can try meals they've never had before.
Quality Recipes: Meal kit businesses pay some of the best chefs in the industry to produce high-quality, flavorful meals for their customers.
Convenience: Those who take advantage of meal kits don't have to spend time shopping for ingredients, and they enjoy the convenience of step-by-step cooking instructions with each recipe.
Make Your Money Work for You
How Much Does HelloFresh Cost?
HelloFresh bases its pricing on the number of people included in the plan and the number of meals each person receives. 
For two people, prices start at $9.79 per serving for six meals. Customers feeding two people two meals per week pay $12.49 per serving.
Those with four-person families pay less per serving. Customers who feed four people two meals per week pay $9.79 per serving. When they increase the number of meals per week to six, they pay $8.99 per serving.
There are several coupons across the web that can greatly reduce the cost of HelloFresh. However, these coupons typically only apply to the first order. After the first order, customers can expect to pay the prices per serving listed above.
How Much Does It Cost To Make Your Own Food?
The amount consumers pay to cook meals at home largely depends on the types of meals they're cooking. It's easy to spend a significant amount of money per serving when you buy high-cost proteins and produce. However, sticking to low-cost protein and produce could mean big savings.
The lowest price per serving consumers pay at HelloFresh without a coupon is $8.99. That's about $863 dollars per month for four people, just for dinner — and that's only six dinners per week.
The U.S. Department of Agriculture's February 2023 food plans place a moderate monthly grocery budget at $373.50 for a male between the ages of 19 and 50 and at $314.80 for a female of the same age. That's $1,376.60 per month for four people — two men and two women — for all their meals.
Make Your Money Work for You
If you wanted to stick to that $1,376.60 monthly food budget for four people and subscribe to HelloFresh, you'd have just $513.60 for the rest of your meals for the month — one dinner per week plus all your breakfasts, lunches and snacks.
When Is HelloFresh Worth It?
From a price standpoint, HelloFresh isn't worth it. Consumers pay less to cook their own food — but that doesn't mean HelloFresh is never worth it. Here are a couple of instances when people might want to consider signing up for the service:
Strapped for Time: It takes time to plan meals, go to the grocery store, commute back home and cook. If you have limited time for meal planning and meal prep, you may find it beneficial to pay a few extra bucks per meal and have kits delivered to your home. 
Trying Something New: HelloFresh uses a proprietary forecasting algorithm to determine the meals its customers are most interested in. That means consumers can use the platform to try new foods they'll likely enjoy.
When Is HelloFresh Not Worth It?
HelloFresh isn't worth the price for those who are trying to save money on groceries. Consumers who have the following should consider making their own meals:
Time: Those who have the time to plan their meals, shop for the ingredients and cook at home will benefit financially by cooking their own meals.
Research Abilities: There are plenty of recipes to choose from online. Those willing to research new flavors and try them at home don't need HelloFresh to bring new options to their tables.
Final Take
The bottom line is simple. HelloFresh is worth it for those who aren't concerned with saving money on groceries but want more convenience. It's not worth it for those who don't mind meal planning and need to save money on groceries.
Make Your Money Work for You
Those looking to save should scan the web for quality recipes rather than signing up for HelloFresh.
FAQ
It's normal for consumers to have questions, especially when it comes to food and feeding those they love. Here are answers to some of the most common questions about HelloFresh.
Is HelloFresh financially worth it?

HelloFresh is not financially worth it. The lowest-cost meal plan at HelloFresh without a coupon is $215.76 for six meals for four people – that's about $863 per month, and it doesn't cover all your meals.

What are the disadvantages of HelloFresh?

There are a couple of key disadvantages to HelloFresh, including:
– Price. Consumers pay at least $8.99 per serving, and that price can be as high as $12.49 per serving.

–

No single plans. HelloFresh designed its plans to feed families of two or more. Those in a one-person household don't have adequate options without eating leftovers.

Is HelloFresh worth it for one person?

The fewer meals you order, the more you spend per serving with HelloFresh. Financially, it isn't worth it for one person. Also, plans start at a minimum of two people, so if you order for one person, you'll end up eating a lot of leftovers.
However, if you're not worried about repeat meals or your food budget and want the convenience and variety of meal kits, HelloFresh is a good option.

Is canceling HelloFresh easy?

HelloFresh is easy to cancel and members can cancel or pause their deliveries at any time.
Amber Barkley and Cynthia Measom contributed to the reporting for this article.
Editorial Note: This content is not provided by any entity covered in this article. Any opinions, analyses, reviews, ratings or recommendations expressed in this article are those of the author alone and have not been reviewed, approved or otherwise endorsed by any entity named in this article.
Our in-house research team and on-site financial experts work together to create content that's accurate, impartial, and up to date. We fact-check every single statistic, quote and fact using trusted primary resources to make sure the information we provide is correct. You can learn more about GOBankingRates' processes and standards in our editorial policy.