5 Lesser-Known Grocery Store Brands That Are Surprisingly Great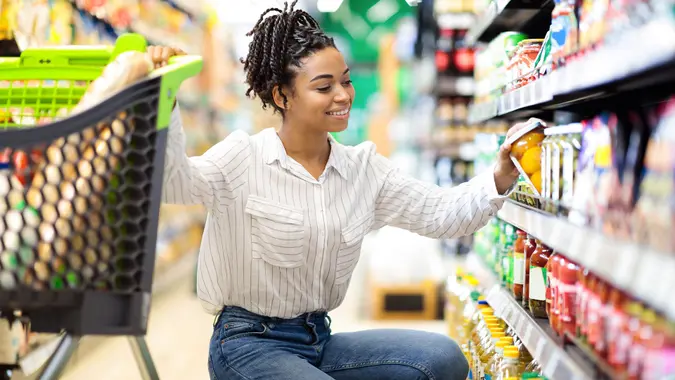 Prostock-Studio / iStock.com
Opting for generic or store brands is a great way to save money, especially during times of inflation. Many grocery stores offer their own product lines at competitive prices that rival the name brands, but that you might overlook if you don't know about them.
Take a Look Back: 2022 Year in Review
Look: 3 Easy Tips To Turn Your Credit Woes Into Wows
Here are a few lesser-known grocery store brands that you should consider trying out on your next run to the store.
Benton's (Aldi)
More than 90% of the products in Aldi stores are its own exclusive brands, some of which offer very high-quality products.
"[Benton's] is a store brand that encompasses a lot of products, and not all of them are winners, but a lot of them are worth trying," said Julie Ramhold, consumer analyst with DealNews.com. "Two of my favorites are the Mint Fudge Striped Shortbread Cookies, which taste just like Thin Mints, and the Caramel Coconut Fudge Cookies, which taste just like Samoas. The bonus is that you can get these items any time of year, whereas with Girl Scout cookies, they're available during a very limited timeframe."
Make Your Money Work for You
Choceur (Aldi)
Choceur is one of Aldi's in-house chocolate brands. "There are a ton of really great flavors across a variety of products," Ramhold said. "They're generally pretty affordable, too, like a lot of Aldi products."
Ramhold particularly recommends the brand's Peanut Butter Cups.
"They are honestly better than Reese's," she said. "There are also chocolate bars, like the Burnt Caramel Sea Salt Bar and the Milk Chocolate Coconut Macaroon Bar, both of which will give name-brand candy bars a run for their money."
Take Our Poll: Do You Think People Should Invest In Crypto?
Specially Selected (Aldi)
"This is a more upscale brand of Aldi's that covers a lot of items that are both sweet and savory," Ramhold said. "The Caramel Stroopwafels are delicious, and so are the Asiago & Cheddar Cheese Crisps, Macarons, Baked Brie, Pita Chips, pizzas and various olives. Like other Aldi brands, not everything is a winner, but many of the products are really tasty and you won't regret buying them."
Make Your Money Work for You
Private Selection (Kroger)
Kroger also offers a number of its own store brands, but Private Selection tends to be the most high-end.
"This is one of Kroger's more premium brands and it covers a lot of different kinds of products, including soup, veggies, pizzas, cookies, teas, dips, baked goods, ice cream and more," Ramhold said. "The tea is one of the best, in my opinion, because the flavors are really rich and vibrant, but it costs a fraction of other upper-tier name brands. The Orange Spice Black Tea and Chai Black Tea blends are especially notable for being tasty and a good value for your money."
Good & Gather (Target)
"This is one of my go-to store brands because there's a variety of items to shop, and they're definitely a premium taste at a fraction of the cost," Ramhold said. "Things like the Petite Quiche Collection and Pork Bao Buns make great snacks, but my absolute favorite Good & Gather item has to be the hot cocoa mixes. All of them are great flavors that taste rich, and they're pretty reasonably priced — especially compared to brands like Starbucks."
Make Your Money Work for You
Currently available flavors include peppermint, sea salt caramel and double chocolate.
More From GOBankingRates
Make Your Money Work for You