National Taco Day: October 2021 Deals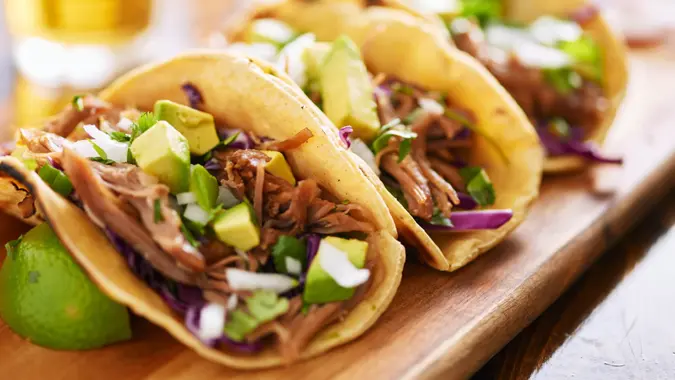 For some people, there's nothing that can beat a good taco. From birria tacos to fish tacos on a corn flour tortilla, this legendary handheld food is loved by people across the globe. On National Taco Day, observed on October 4 in the U.S., many restaurants across the country celebrate the day with discounts, freebies and great restaurant deals.
Keep reading to find out some of the best dollar menu items in America on National Taco Day.
National Taco Day 2021 Deals
Here are some of the top restaurants to get free tacos on National Taco day.
Fuzzy's Taco Shop
This taco chain offers select tacos for $1.50 on National Taco Day. Whether you're dining in or need a takeout, you can get your favorite taco at the Fuzzy's Taco Shop for less than two dollars.
Hurricane Grill & Wings
On October 4, Hurricane Grill & Wings will be all about the taco, offering free tacos and free delivery. You can make an online order and get your delivery via DoorDash or UberEats.
Lime Fresh Mexican Grill
Lime Fresh Mexican Grill is offering $2 chicken and beef tacos on National Taco Day across 15 locations in Florida.
Chuy's
Chuy's lets you enjoy a crispy beef taco for $1. If you are thirsty, you can get the Floaters for $1. Additionally, Chuy's invites their customers and taco diners to dress for the occasion and tag #ChuysTacoDay with the photo, and immediately they get their preferred taco choice for free.
Qdoba
Qdoba offers guests double reward points all day on any of their orders to celebrate Taco Day. More purchases mean more reward points and great taco offers.
Make Your Money Work for You
Rubio's
The Rubio's will be giving customers free tacos for every purchase. The offer stands in restaurants all over California and Nevada for online orders or through the app. Use the coupon code TACO. If you place an order, you stand a chance to win free food worth over $50.
Taco John's
Taco John's celebrates tacos day by giving diners Fried Chicken Tacos for free. You can redeem their free Fried Chicken Taco on their mobile app.
Torchy's Tacos
The taco chain celebrates the savory day with no service fee and free delivery on orders made at Torchy's Tacos. The offer runs from when the celebrations begin until October 8. Additionally, Torchy's Taco Junkies can get special offers on this Day.
On The Border
If you've got an appetite for tacos, On The Border is the place to be on National Taco Day. Come hungry, because you can score endless tacos starting at $10.99.
El Pollo Loco
If you like the buy one get one free offer, you should visit El Pollo Loco on National Taco Day. Plus, you can get BOGO crunchy tacos if you're a Loco Rewards member.
Taco Bell
Taco Bell will be giving out up to 10,000 free tacos on National Taco Day. Even if you miss out on the deal, you can enjoy great discounts off Taco Bell on Grubhub orders above $15. You can also "Gift a Taco" to a friend when you sign up for Taco Bell Rewards.
Make Your Money Work for You
History of the Taco
The word "taco" in Mexican means sandwich. The tortilla, traditionally made of wheat or corn, is wrapped or folded around spiced proteins such as pork, beef or fish.
For National Taco Day, consider the numerous variations you can create with traditional meat or seafood, beans, chicken, cheese and eggs. Garnishes such as cilantro, salsa, avocado, onions, tomatoes and lettuce are used to create versatile and flavorful dishes.
The Origin of Tacos
For a dish enjoyed by millions, the taco's history is interesting. According to Jeffrey M. Pilcher, a taco expert, the word can be traced back to the silver mines in Mexico in the 18th century. Back then, "taco" referred to the tiny explosives used by miners. Gunpowder was wrapped around pieces of paper and placed into dug holes carved in the rock. The first type of tacos were called miner's tacos, as Pilcher says it's likely that miners invented the popular food dish.
The hard-shell taco is a device that would hold the taco in its U-shape as it deep fried helped in the mass production. Kits are now available everywhere, and tacos are served in a wide variety of restaurants across the nation — and the globe.
Did You Know?

Taco Bell later pushed the widespread popularity of Mexican food in the U.S.

Founded in California in 1962, the chain of fast-food restaurants serves up a variety of Tex-Mex foods to more than two billion customers in 5,800 U.S. restaurants alone.
Types of Tacos
There are multiple varieties of tacos that include Tacos de Cabeza and are composed of the brain, eyes, tongue and lips of a cow's head, while others include shrimp tacos and crispy tripe and fried tacos. These tacos are filled with cooked and shredded beef or chicken and rolled into a flute shape or tube. They are then deep-fried into crisps.
Make Your Money Work for You
The shepherd's style taco is the most popular variety of taco in Mexico. The delicacy consists of spiced pork cut from a vertical spit over an open fire. Breakfast tacos are served at many restaurants, primarily in the American Southwest. It's composed of fried corn or flour tortilla stuffed with a mixture of eggs, meat or cheese. Finally, you can top with salsa, onions and avocado.
Ensenada, Mexico, is the birthplace of the fish taco, as claimed by many of the city's restaurants. The best place to get them is at any small food stands lining the streets around the Mercado Negro, Ensenada's fish market. The fish tacos served are small battered, fried fish in a hot corn or wheat tortilla.
Today, nobody needs to worry about the legality of their dinner's name. On National Taco Day, many only need to go to a favorite restaurant, grab tortillas and stuff them with palatable fillings such as cheese, lettuce, tomato and sour cream, or the more exotic delights like chorizo or fish.
Takeaway

One of the exciting things about National Taco Day is the freebies and great value deals knocking around. If tacos are your guilty pleasure, book restaurant deals in advance to enjoy your day with your preferred special meals.
Our in-house research team and on-site financial experts work together to create content that's accurate, impartial, and up to date. We fact-check every single statistic, quote and fact using trusted primary resources to make sure the information we provide is correct. You can learn more about GOBankingRates' processes and standards in our editorial policy.