National Tequila Day: 10 Deals and Freebies To Celebrate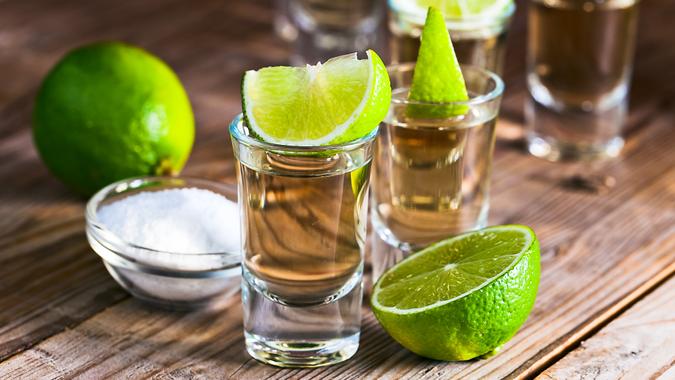 Igor Normann / Shutterstock.com
While it isn't a formal holiday, many people look forward to celebrating National Tequila Day on July 24 each year. This year, the holiday falls on a Saturday, meaning you can celebrate all day long.
Tequila is made from blue agave juice with the addition of some other sugars. The tequila we enjoy today has origins in Spain when the king was issued the very first tequila license in the 1600s. Today, tequila's only produced in Jalisco, Mexico, and some of its surrounding areas. Then, it's shipped around the world.
10 Best National Tequila Day Deals
Many bars and restaurants are having National Tequila Day specials, and even more have regular happy hour specials that include cheap drinks and food. Here's a look at a few of these establishments and what they're offering.
On July 24, celebrate National Tequila Day by stopping in during happy hour to enjoy half-price appetizers and drinks specials on cocktails. Specific offers vary by location.
Make Your Money Work for You
Stop by any time of day on July 24 for $5 Don Diego tequila shots.
Advice

Celebrate at home with a bottle of tequila and the supplies you need to mix your own drink. Try new drink recipes or make old favorites. Cook up some of your favorite food and invite your friends and family to celebrate with you.
With a special menu dedicated to happy hour, you can celebrate National Tequila Day more than once. Cheesecake Factory has happy hour specials every day from 4 p.m. to 6 p.m.
Chili's has a $5 Margarita of the Day that changes every month. The July margarita is called Captain's Stay-Cay Rita. On National Tequila Day, you can enjoy $5 specials on three different margaritas all day. Dine-in or get your drinks to go.
Enjoy $12 specialty flavored and premium Cadillac margaritas from 12 p.m. to 2 a.m. Keep in mind that you may want to make advanced reservations. The total cost varies based on the number of people in your group and how long you want to throw axes.
Make Your Money Work for You
At Fuzzy's Taco Shop, you can get $4 margaritas to celebrate.
Remember

Drink responsibly. Designate a driver or call a Lyft or Uber driver to pick you up if you've had too much to drink.
Enjoy a late-night happy hour from 10 p.m. to midnight, Sunday through Thursday. Appetizers are $5.99 and they offer drink specials.
Stop by this Los Angeles hot spot for a special cocktail that bartenders and mixing up. You can also enjoy free Salsa dancing lessons at 9 p.m. and a live Salsa band performance at 10 p.m.
Stop by on July 24 for tequila cocktail specials all day long. Plus, meet Maestro Dobel Tequila experts and taste samples from 3 p.m. to 5 p.m. that day.
Stop by between noon and 11 p.m. on National Tequila Day to enjoy a specialty tequila and dessert menu.