8 Products That Are Cheaper at Aldi in February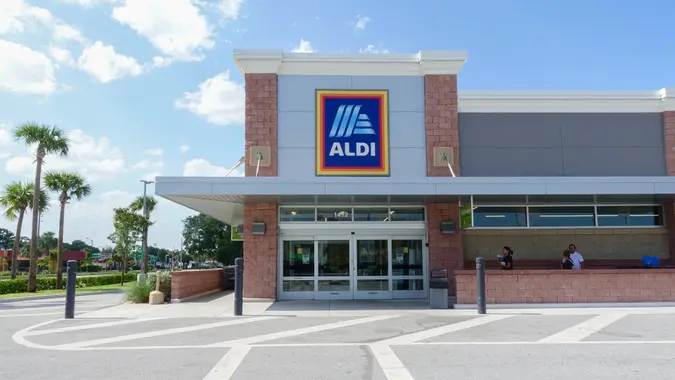 Joni Hanebutt / Shutterstock.com
Amid rising inflation, Americans discovered Aldi in 2022 as an option to higher-priced groceries, looking to save money on everything from bread to bacon.
In fact, Reuters reported in September 2022 that Aldi had attracted 1 million new customers over the previous 12-month period, including a chunk of shoppers the store categorizes as middle and high income.
Discover: 11 Grocery Items To Buy at Dollar Tree
See: 3 Ways Smart People Save Money When Filing Their Taxes
If you haven't experienced Aldi, why not give it a try now? It has more than the staples of fruit, vegetables, dairy and meat. Aldi also has a selection of seasonal merchandise as well as its "Aldi Finds" -household décor, kitchenware, toys, apparel and more – that rotate in and out each week, starting on Wednesdays.
So just what are the best deals you'll find at Aldi in the final weeks of February?
See other ways to spend less at Aldi.
Plant-Based Burgers
Put the protein in your diet without the meat — and the extra cost — with the Beyond Meat plant-based patties priced at $3.99, an Aldi Finds selection through Feb. 21. You'll save 25% over the price at Target, where the 8-ounce, two-pack Beyond Burgers costs $5.29.
Make Your Money Work for You
Take Our Poll: What Are Your Financial Priorities in 2023?
Bavarian Egg Noodles
The first Aldi opened in Germany in 1961, and the U.S. locations are recognizing those German roots this week with its Deutsche Kuche egg spaetzle — a Bavarian egg noodle that can be served with sauces or egg dishes or used as an ingredient in other dishes. An Aldi Finds item through Feb. 21, a 17.6-ounce package costs $3.49 compared to the same size at World Market for $4.99.
Protein Pancakes
Load your breakfast with protein — and a sweet treat — with the frozen Breakfast Best Chocolate Chip Protein Pancakes, available through Feb. 21 in the Aldi Finds for $3.99. A pouch contains 12 pancakes.
Or, you can put a spin on your breakfast and order a box of Krusteaz brand chocolate chip muffin mix on Walmart's website for $7.92. It will yield 12 muffins, which, unlike the pancakes, you have to make yourself.
Bed Sheets
Yes, Aldi even sells bed sheets, and the Aldi Finds this week includes a set of Huntington Home twin- or full-sized microfiber sheets for $9.99. While Target's Room Essentials microfiber twin set costs about 50 cents less, you'll save a bundle on a full set at Aldi. At Target, the full set costs $15.
Make Your Money Work for You
Decorative Lanterns
With Valentine's Day behind us, it's time to start thinking about a spring refresh for your home, and Aldi's decorative lanterns would add a nice touch. The Aldi Finds beginning Feb. 22 include 12-inch lanterns in your choice of white wood, a white metal finish or wood with a rope for $9.99. At Walmart, you'll find a similar lantern that's a bit smaller but with a bigger price — $12.36.
Women's Leggings
Aldi is welcoming spring with women's leggings in a variety of patterns: St. Patrick's Day green with a shamrock print, an Easter egg print on blue pants and pink leggings with a red floral print for the season. The price, beginning Feb. 22, is just $6.99.
While Walmart sells leggings for the same price, they're just your average solid-color pair. What's festive about that?
Organic Ground Beef
Pick up a family pack of organic, grass-fed 85/15 ground beef for burgers, meatballs, pasta dishes and more. The Aldi price beginning Feb. 22 is $4.49 per pound. At Trader Joe's, that's priced at $7.49 per pound.
Make Your Money Work for You
Snickerdoodle Creme Pies
The Little Debbie Snickerdoodle Creme Pies are hard to find, but Amazon sells 32 pies (four boxes of eight) for $19.66. But why spend that much? Next week, the Aldi Deals will feature the Little Debbie snacks for $2.58 per box. That's almost half the price of what you'd spend with Amazon. Plus, you don't have to wait for the delivery truck. You can eat your creme pie in the car on the way home.
Editor's note: Prices are as of Feb. 16, 2023.
More From GOBankingRates
Make Your Money Work for You