All the Reasons To Start Grocery Shopping on the Stores' Apps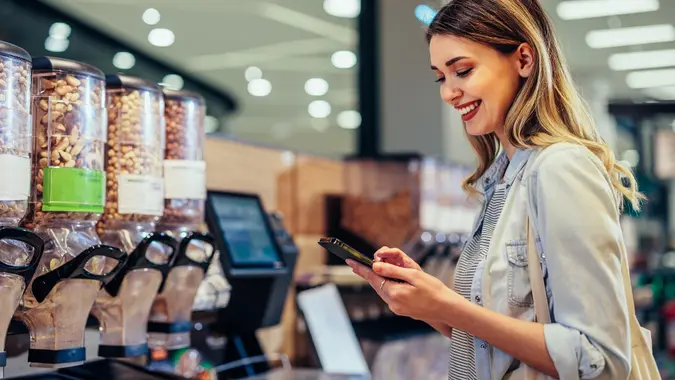 bernardbodo / iStock.com
For people who are used to grocery shopping the old-fashioned way — with paper coupons in hand instead of a smartphone — the digital age of couponing and shopping apps can feel a bit overwhelming. Now, not only do many grocery stores have their own apps and loyalty programs, but there are dozens of savings apps all claiming to help consumers find the best deals. But do they really?
There is definitely money to be saved. GOBankingRates spoke with experts on all the reasons why you should want to start grocery shopping on your stores' apps.
Stacking Coupons and Coupon Matching
Shopping apps are well worth their time to get up to speed on them, according to Tasia Boland, a frugal living expert who keeps the blog The Frugal Farm Girl. The primary reason behind searching for coupons on store apps and websites is to save users a significant amount of money.
"One of the most effective ways to maximize savings is by stacking coupons and using coupon match-ups, which are when you are stacking a sale price with a coupon. Or you can add an app like Ibotta and Fetch to the stack," she said.
She recommends using coupon blogs in addition to the apps to achieve this stacking effect, such as The Krazy Coupon Lady and Hip2save.
Add Manufacturer's Coupons, Too
Boland said that in addition to the in-app coupons specific to a grocery store, consumers can pair these discounts with any manufacturer coupons. In her neighborhood, the main grocery store is Tops Market. "The Tops store coupons are typically for savings on their own brand, which is a great deal considering that store brand items are less than name brands."
Make Your Money Work for You
However, take membership-only warehouse chain Sam's Club for example. "They now offer exclusive discounts in the Sam's app when you use their 'Scan & Go.' These savings can be used when items are even on sale. BJ's Wholesale Club is another one starting to offer exclusive app-only coupons. Again using these extra coupons on top of BJ's store coupons is a great saving."
When you are able to stack two coupons on one item, most of the time you are looking at a 50% discount. Combining multiple discounts on a single product allows users to get the best possible price, Boland said. "Many store apps and websites make it easy to identify these opportunities, ensuring that users never miss out on a great deal."
Convenience
One of the most obvious advantages to using grocery shopping apps is convenience, said Carlos Barros, Director of Marketing at Epos Now, a cloud-based software provider for electronic point of sale. "Having your phone and apps handy allows you to access information, compare prices and make informed decisions on the go. You can easily check product reviews, ratings, and specifications to ensure you're making the right purchase."
Price Comparison
Barros added that having your phone handy while shopping allows you to quickly compare prices between different retailers or online platforms. "This helps you find the best deals and potentially save money by choosing the most affordable option."
Loyalty Programs
When you're using a grocery store's shopping app, you're most likely signed up for their loyalty program as well. Barros pointed out, "Mobile apps often integrate loyalty programs that reward frequent shoppers with discounts, points or other benefits. These programs can provide additional savings or perks, especially if you frequently shop at the same stores."
Make Your Money Work for You
Personalized Recommendations 
If you're shopping at the same store every time, many of these shopping apps use algorithms and data analysis to provide personalized product recommendations based on your shopping history and preferences, Barros explained. "This can help you discover new products that align with your interests and needs."
Reduce Food Waste
Grocery shopping on the stores' apps can help to reduce food waste, according to Gary Hemming, a financial expert and an owner at ABC Finance. "By shopping on the app, you can plan your meals in advance and purchase only what you need. This helps to reduce the amount of food that is wasted, which is beneficial for both the consumer and the environment."
Save Time
Finally, shopping on the stores' apps can help to reduce the amount of time spent shopping, Hemming said. "Many apps have features such as saved shopping lists, which allow you to quickly add items to your cart. Additionally, many stores offer delivery services, which can save you time and effort."
Keep Your Standard Shopping List Handy
One way to get the most out of a grocery store app is to keep a standard shopping list, according to Colin Tan, tech editor at Increditools, which has helped to develop shopping apps. "We've found that people who have a standard shopping list and are not buying premium or limited edition brands get the most value from this, as most stores will have them, then the algorithm will sort out the best list for you."
Make Your Money Work for You
In addition, you can use other apps that give you real time price drops, Tan said, and get constant comparisons that tell you which deals are the best.
More From GOBankingRates