7 Reasons You Should Buy Groceries in Person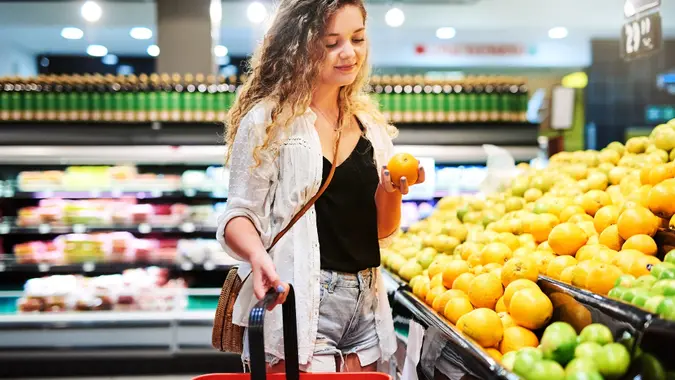 Charday Penn / iStock.com
Before the pandemic, most people didn't buy their groceries online or through food delivery services like InstaCart and AmazonFresh. That rapidly changed once people began avoiding stores to limit their risk of acquiring COVID-19. According to Forbes, before the pandemic, Americans spent about $3.1 billion monthly on online grocery orders but that number doubled during the pandemic. Since 2020, Americans spend an average of $6.7 billion each month on online grocery orders. In 2020 alone, online grocery sales jumped 103% year-over-year, and experts forecast that will increase to a yearly total of $85 billion.
Save More: 11 Grocery Items To Buy at Dollar Tree
See: 3 Easy Tips To Turn Your Credit Woes Into Wows
However, what started as a way to stay safe and healthy has become a habit more often for convenience rather than need. While some habits are healthy, buying your groceries online may not actually be the best way to handle your budget or your dietary needs. Here we explore seven reasons why you should consider buying groceries in person if you can do so safely.
Make Your Money Work for You
Avoid Extra Fees
Perhaps the biggest reason to avoid ordering your groceries online (which typically means using a delivery service of some kind) is the extra fees you pay in the process. If you use Instacart, for example, it's either $9.99 per month or $99 annually, not to mention the tip for your shopper. Then with AmazonFresh, it's free with your prime membership, but that membership is $139 per year. Fees vary based on the time of day you want delivery, minimum order requirements and other details, sometimes in the fine print.
Pick Your Own
While you hope to get exactly what you want when ordering the specific products you and your family count on eating and drinking, the fact is, ordering online means you run the risk of receiving substitutions that are just not what you want. This can lead to having to reorder food, potentially spending more money or simply not getting the products you enjoy, which can be a bummer on your meal planning. For some foods, like fresh fruits and veggies, in particular, there's something so satisfying about finding that perfect avocado, apple or potato. Same with cuts of meat and fish — you can't guarantee what you'll get if you don't pick it out yourself.
Make Your Money Work for You
Take Our Poll: How Has Inflation Impacted Your Holiday Shopping Plans?
Shop On Your Own Schedule
While online grocery shopping may seem more convenient, you still have to choose a delivery time for your items, which, with more people shopping online, or at busy times of the day, can mean not getting an ideal spot or paying surge pricing for a better one. If you're not home to receive your groceries, they can sit outside and potentially spoil. Buying your own in-person groceries means that you schedule a time when it works for you and put them right away.
Reduce Packaging Waste
Another issue, for those who are sustainably minded, is that grocery delivery services often use extra packaging to keep your items cold, such as plastic ice packs, extra cardboard or plastic bags, and so on, according to Buzzfeed. By shopping in person, you minimize the amount of packaging you'll just end up throwing away or attempting to recycle (not all packaging is recyclable).
Make Your Money Work for You
Get Some Human Contact
It might seem silly, but with so many of us having busy lives, going from thing to thing with very little pause, sometimes a grocery shopping break is an opportunity to put us back in contact with people, to get us out of the house and away from other obligations. You can use your shopping excursion as a kind of walking meditation. Maybe you'll even run into a friend!
Take Advantage of Price Matching and Coupons
Many stores still rely upon paper coupons in newspaper flyers and other mailers. If you shop in person, you are more likely to be able to use coupons than if you order online. Additionally, many stores have price matching options where if you find a lower price elsewhere, they'll honor the lower price on your product. You have to be in person to get those kinds of discounts.
Find Sale Items
Stores often put select products on sale in their stores that you won't find online. Whether this is a seasonal endcap of products or items that are being discontinued or discounted to make way for new products, these kinds of sales typically require you to be at the store to take advantage of them.
More From GOBankingRates
Make Your Money Work for You