Receive Food Stamps? Make Sure You're Using Dollar-for-Dollar Matching To Maximize Your SNAP Benefits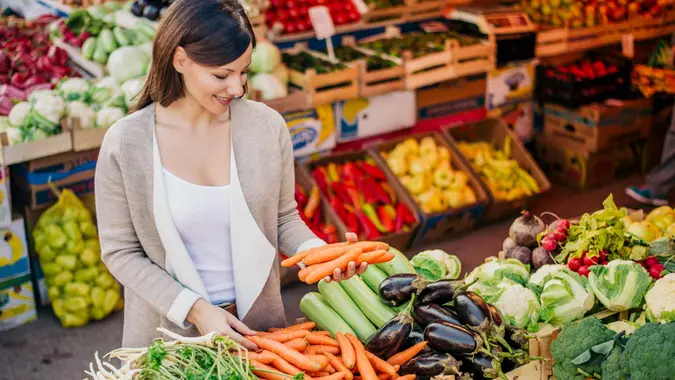 nortonrsx / Getty Images/iStockphoto
The temporary boost to SNAP benefits during the pandemic ended nationwide earlier this year. Since then, the Center for Budget and Policy Priorities (CBPP) says that millions of Americans have seen their monthly SNAP benefits shrink by at least $95. One way Americans have been able to stretch their SNAP dollars this summer is by buying fresh fruits and veggies at local farmers' markets.
The Union Square Main Streets (USMS) and the Union Square Farmers Market in Somerville, Massachusetts, both offer a dollar-for-dollar local match for SNAP for all 25 Saturdays of the market season, Cambridge Day reported.
Across the U.S., some farmers' markets will match every SNAP dollar spent up to a maximum. For example, if you purchase $20 worth of fresh produce, you only use $10 of your own benefits.
Emily Kaplan — owner of P+E Wellness in Somerville and a Tufts Friedman School of Nutrition Science and Policy master's candidate for 2024, wrote that the number of people experiencing food insecurity in Somerville increased substantially since the start of the pandemic. Demand for SNAP match at the food market also increased by 217%, and since the first month of the market season, there's been a 39% increase in participation in the Union Square Farmers Market's match, Kaplan added.
At most markets, shoppers can visit the market information booth to swipe their EBT card in exchange for tokens for market vendors on SNAP-eligible items. These eligible items are the same as what you can purchase at grocery stores — including fruit, vegetables, breads and cereals, meat, dairy products, snacks, drinks and seeds and plants that produce food to eat.
Make Your Money Work for You
Not all farmers' markets participate in the matching program, so contact one nearby to see if it's offered. The U.S. Department of Agriculture Food and Nutrition Service also provides a monthly list of names and locations of markets across the country.
More From GOBankingRates