How To Recreate the Most Expensive Thanksgiving Meal Ever on the Cheap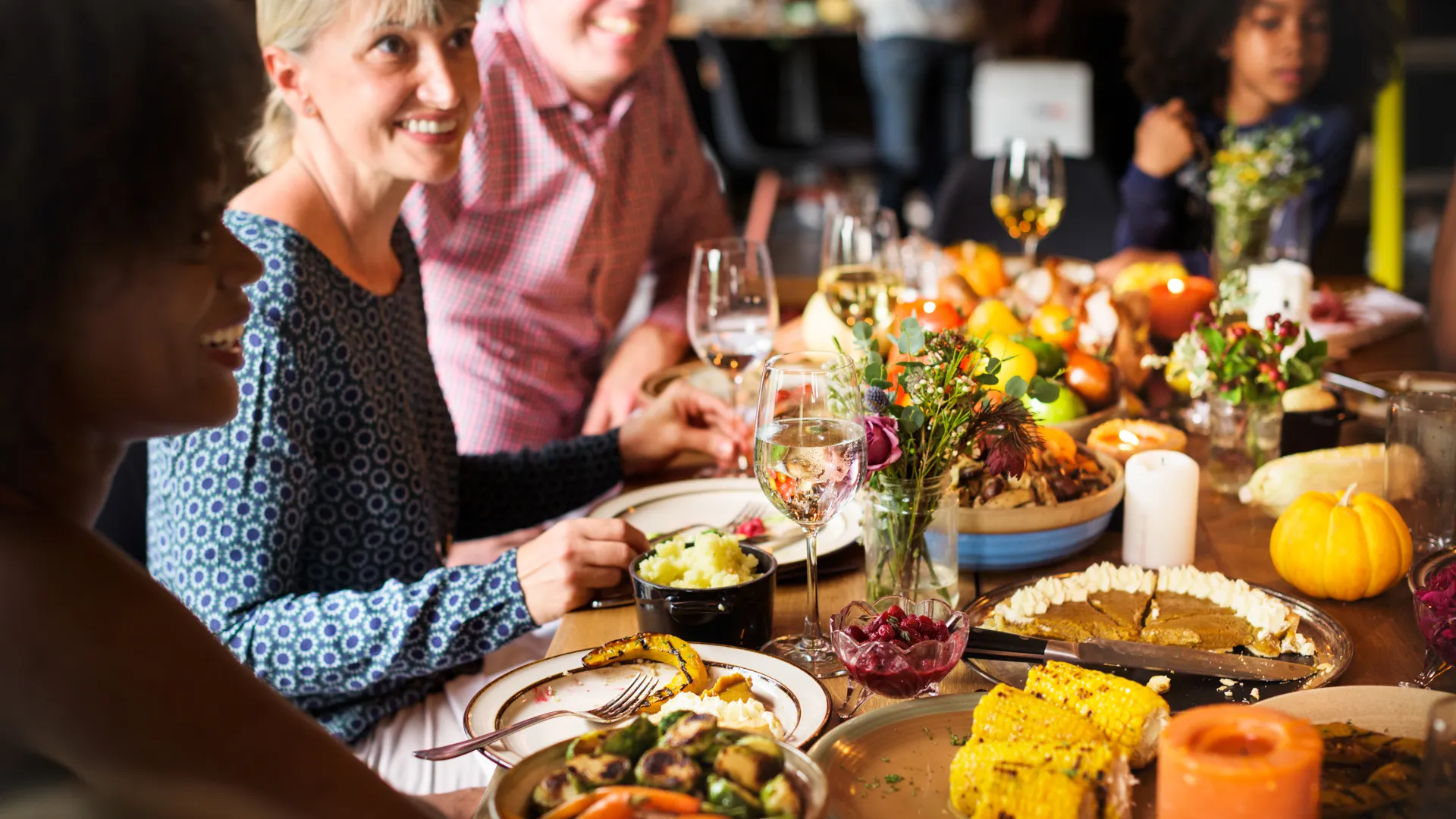 This year, many of us will be enjoying a scaled-down Thanksgiving. There might be turkey (or maybe just turkey breast) and sweet potatoes, but you may be starting traditions all your own. Why not enjoy a Thanksgiving dinner made up of only potatoes? Who wouldn't love a meal that was sides only? The only good news about the pandemic is that if you're doing Thanksgiving on your own, you now have free reign to get rid of anything on the menu that you don't like. (Goodbye, wiggly cranberry sauce!)
But what if you want to get a little fancy this Thanksgiving? Well, if you have around $180,000 (or more), you could call up the Old Homestead Steakhouse in New York and see if it's recreating its Most Expensive Thanksgiving in the World menu. It's a dinner for 12 that includes both extravagant ingredients and gifts that are worth thousands upon thousands of dollars.
Want to recreate that magic at home? Here are all the ingredients that make this Thanksgiving meal so special…and expensive.
Last updated: Nov. 24, 2020
Turkey
You've probably had turkey at Thanksgiving, but you've never had turkey like this. Last year's dinner at the Old Homestead included two 20-pound turkeys that ran $145 a pound. That doesn't sound too bad until you start adding and multiplying and realize that the turkeys alone run approximately $5,800.
But who eats "just a turkey"? At the Old Homestead, each turkey is lovingly covered in $2,000 of edible gold flakes and seasoned with imported spices that run $4,000.
Fortunately, you don't need all that if you're cooking at home. Want to make your turkey luxurious? Hit it with some saffron you can buy off Amazon for $14  and spray that bird down with some edible gold spray — which you can also buy on Amazon for around $12.
Just remember that gold doesn't have a taste! But at least your disappointment will cost you less than $15.
Make Your Money Work for You
Turkey Gravy
For many people, gravy is the best part of the meal. Sauce fans dining at the steakhouse won't be disappointed with the turkey topping being served. The gravy costs $3,650 and is infused with a bottle of Louis XIII cognac — probably to make those indulging forget just how much they paid for gravy.
You could purchase your own bottle of the stuff to infuse the turkey gravy you make at home, but at $3,500 a bottle, it may still be a bit much for one meal. And Remy Martin — who makes the expensive cognac — makes much cheaper bottles. Their VSOP cognac runs about $40 a bottle and will probably be just as effective in getting you a bit of a buzz.
Stuffing
Marc Sherry, who co-owns the steakhouse, told CNBC that "the bread stuffing alone probably costs more than what you have in your savings." That's because the bread is imported from the U.K. and the stuffing is made with champagne instead of water. (Do you sense a theme here?)
But that's not all: The steakhouse's stuffing is full of seafood that you're not going to find at your local supermarket. The ingredients include Alaskan king crab, which runs $50 per pound; Maine lobsters, which come in at a more respectable $20 per pound; and Otoro tuna that's downright affordable at $12 a pound.
Add in the saffron ($600 an ounce) and the $1,800-per-ounce golden caviar from the Caspian Sea and you've got a downpayment for a house.
Want to recreate this at home? Just throw a couple of shrimp into your own stuffing and call it a day. If you've got any of that cheap saffron left over from your turkey, add it to the stuffing. Then cover the entire thing with gravy and enjoy the complex flavors and sensations that the cognac creates.
Make Your Money Work for You
Sides
The steakhouse doesn't skimp on the sides. The sweet potatoes are made with cinnamon that's imported from Sri Lanka and bacon that costs over $1,000 a pound. And the white cheddar is imported from the U.K.
The squash is made with onions imported from Egypt and Wagyu beef that costs $480 a pound. And the cranberry sauce is made with queen strawberries (which can run more than $80 for a package of 12). Plus, almost everything is infused with expensive alcohol.
What can you do at home to recreate the experience without breaking the bank? Maybe just buy some of the more expensive fruits and vegetables at your local market. Though it may seem like eating "the world's most expensive strawberry" will be an experience you never forget — it's still a strawberry. And you need to save some of your money for all the alcohol you'll be infusing your meal with.
An even better option would be to consider which sides you like and which you don't. A small Thanksgiving means you get to decide whether sweet potatoes are on the menu this year. And if they're not, you can devote your holiday budget toward getting a pricier version of something you like more! (Like alcohol.)
Party Favors
One of the things that makes the meal at the Old Homestead so special is that each extravagant Thanksgiving dinner comes with parting gifts worthy of a gazillionaire. In 2019, the party favors included his & hers iPhones, tickets to the Super Bowl, a yacht cruise and, you guessed it, expensive liquor — an $8,000 bottle of Cristal to be exact.
While it would be inadvisable to spend all that money if you're not swimming in cash, you could recreate the feeling of opulence by making your way from the table to the couch, popping on the TV and renting a first-run movie on one of the many streaming services you're no doubt subscribed to! Happy Thanksgiving!
More From GOBankingRates
Photos are for illustrative purposes only. As a result, some of the images may not reflect the items listed in this article.

BEFORE YOU GO
See Today's Best
Banking Offers