18 Restaurant Chains With the Best Happy Hour Deals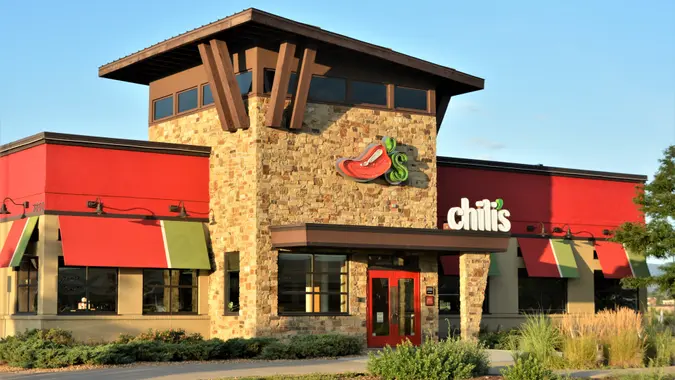 Jim Lambert / Shutterstock.com
It may have been a while since you've seen friends, with the COVID-19 pandemic and all, and you might want to get together. Or, maybe you want to take a date to dinner and a movie on a budget but fear you don't have the cash for both.
Try happy hour. Your local spot might have some good deals for early birds, and plenty of chain restaurants have food and drink specials to keep both your palate and your wallet happy. What's better than having a full stomach and enough money left over after eating for the movie part of your date?
18 Restaurants With Happy Hour Deals
If you're looking for happy hour specials to take advantage of, you have plenty of options to choose from. Here's a look at 18 places where you can score deals.
BJ's Restaurant & Brewhouse
Deals: $3 domestic beer bottles, chips and dips; $4 BJ's signature handcrafted beers; $5 Dark Horse wines and call drinks; $6 Brewhouse Burger and select appetizers; half-off mini deep-dish pizzas
Times: Weekdays, 3 to 7 p.m.; Sunday through Thursday, 10 p.m. to close
BJ's doesn't mess around when it comes to happy hour deals, which is great if you prefer to dodge big restaurant markups. Every day of the week, you can enjoy pub food and booze discounts, too. This nationwide casual joint slashes half off all wine all day Tuesday, for example.
Bonefish Grill
Deals: $1 off draft beer; $5 house wine and select handcrafted cocktails; $6 spirits
Times: Starts at 4 p.m.; end times vary by location
Make Your Money Work for You
Bonefish aims to offer a middle ground between casual and fine dining — good enough for a date, but no ties needed — without leaving happy hour values behind. Most of the discounts focus on drinks, with $5 handcrafted cocktails at center stage. It's not often you can get Absolut Citron with blueberry puree and freshly made sour mix for a fiver, but that's what the blueberry lemon drop provides.
The Cheesecake Factory
Deals: Selection of bottled beers, $3.50; $4.50 draft beers; wines by the glass, well drinks and signature cocktails, $6.95. On the food side, small plates are $5.95 and appetizers are $7.95.
Times: Weekdays, 4 to 6 p.m.
The Cheesecake Factory's happy hour offerings are so extensive that you won't have any room left for cheesecake. Fill up on the Happy Hour Burger, avocado eggrolls or chicken pot stickers.
Chili's
Deals: Two-for-one draft beer (excluding craft beers), house wine, classic margarita with well/call/premium liquor; $3 chips and salsa or fried pickles; $4 assorted appetizers; $5 white spinach queso or fresh guacamole; $6 assorted appetizers
Times: Days and times vary by location
If the Chili's happy hour times don't fit your schedule, enjoy the $5 Margarita of the Month any day or time of the week. The variety changes each month, giving you 12 fresh choices a year. The range of flavors runs from cherry to peach to strawberry, and the Margarita of the Month brands include Captain Morgan Original Spiced Rum, Deep Eddy Vodka and 1800 Reposado Tequila.
Claim Jumper
Deals: Wine and selected craft cocktails, $6 to $8; $1 off 16-ounce draft beers; snacks, $5 to $11
Make Your Money Work for You
Times: Days and times vary by location
Claim Jumper offers both a weekday and weekend happy hour, although the weekend offerings are more limited. Still, no matter which day you plan to visit, you can indulge in a Long Island iced tea and some mozzarella sticks at happy hour prices.
Dave & Buster's
Deals: Half-priced cocktails; $2.50 domestic pints; $1 off 22-ounce drafts; $1 off wine glasses; $3 off wine bottles
Times: Weekdays, 4-7 p.m.; Sunday through Thursday, 10 p.m.-midnight
You need to be careful about how Dave & Buster's convinces you to part with your cash. The games pull you in until you realize you've just spent $40 on Hungry Hungry Hippos, and it's then that you get hungry. And thirsty. At least happy hour prices allow you to spend more money on drinks.
Del Taco
Deals: Three value tacos for $1.49; three grilled chicken tacos for $2.49
Times: Tuesday for value tacos and Thursday for grilled tacos, both from 3-11 p.m.
From elementary school cafeterias to rowdy dive bars, just about everyone loves a good Taco Tuesday. Del Taco knows this, but it's not content with a taco fiesta on just one day of the week. Del Taco has expanded the taco's weekday reign to Thursday, too.
El Torito
Deals: A selection of snacks and drinks priced at $4, $6, and $8
Times: Starts at 3 p.m.; typically available seven days a week (Monday-Friday at certain locations)
El Torito is known for its $2.99 Taco Tuesday deals, but you can enjoy discounts on items such as street corn or loaded tostadas other days of the week.
Make Your Money Work for You
Ninety Nine Restaurant & Pub
Deals: $5.99 full-size appetizers; select adult beverages beginning at $2.99
Times: 2-5 p.m., 8 p.m.-close for food; beverages all day, every day
Boneless Buffalo wings, Mozzarella Moons and potato skins are among the appetizer offerings. You can wash them down with a 16-ounce Bud Select draft.
O'Charley's
Deals: $4 margaritas
Times: All day, every day
You'd think a restaurant called O'Charley's would feature an Irish ale or whiskey as its drink special. Instead, it's a margarita.
Outback Steakhouse
Deals: $6 cocktails and drink specials
Times: All day, every day
What's better with Outback's Bloomin' Onion — or other appetizers — than the restaurant's Blueberry Lavender Lemonade? That's a mix of Absolut Vodka, house-infused lavender syrup, blueberry puree and Country Style lemonade.
Ruby Tuesday
Deals: $2 All-American drafts; $3 traditional or fruit-flavored Ruby-Ritas; $4 sangria; $5 Ruby Relaxer
Times: Varies by location, but Ruby Tuesday happy hour typically starts at 4 p.m. and runs through 6, 6:30 or 7 p.m., then picks up again from 9 p.m. to close
While the restaurant has Tuesday in its name, happy hour takes place on the other days, too.
Ruth's Chris Steak House
Deals: $9 handcrafted cocktails
Times: Sunday-Friday until 6:30 p.m.
Ruth's Chris' happy hour specials are pricier than other places on this list, but it's rare that a mostly upscale dining spot offers a happy hour at all.
Smokey Bones
Deals: Food and drink specials at $3, $4, $5 and $6 price points
Times: All day, every day
Make Your Money Work for You
Smokey Bones has a variety of snack specials, ranging from candied bacon slices to Caesar salad to the Hot Bag O'Donuts. Pair them with a wide variety of select drink specials that include domestic beer on tap, All-American beers, craft and import draft beers, wines and spirits, and signature cocktails.
Sonic
Deals: Half-priced drinks and slushes
Times: 2-4 p.m. daily
From the car-side drive-in service to the shakes, ice cream cones and tropical-themed slushes, Sonic feels like a restaurant stuck in perpetual summertime. And when it actually is summer, you'll be thankful for their array of half-priced drinks and slushes every afternoon.
Steak 'n Shake
Deals: Half off all shakes and drinks
Times: Weekdays, 2-5 p.m.
The '50s-style diner chain comes through with half-priced shakes — including over-the-top flavors such as Nutella and Oreo Cookies 'n Cream.
Taco Bell
Deals: $1 beverages during Happier Hour
Times: Every day from 2-5 p.m.
Of course the same people who serve tacos on a Dorito shell have to be a little different, which is probably why the Bell calls its happy hour Happier Hour.
Yard House
Deals: Up to $2 off beer, wine, spirits and cocktails; half off select appetizers and pizzas
Times: Weekdays, 3-6 p.m.
Sometimes, you just want a beer. Other times, you just want a mind-boggling choice of beers from around the world. The latter is why Yard House is here — this chain features the largest selection of draft beer in the world, plus over 100 items on the food menu.
Make Your Money Work for You
Dan Ketchum contributed to the reporting for this article.
Deals and prices are accurate as of Aug. 23, 2021, and subject to change.